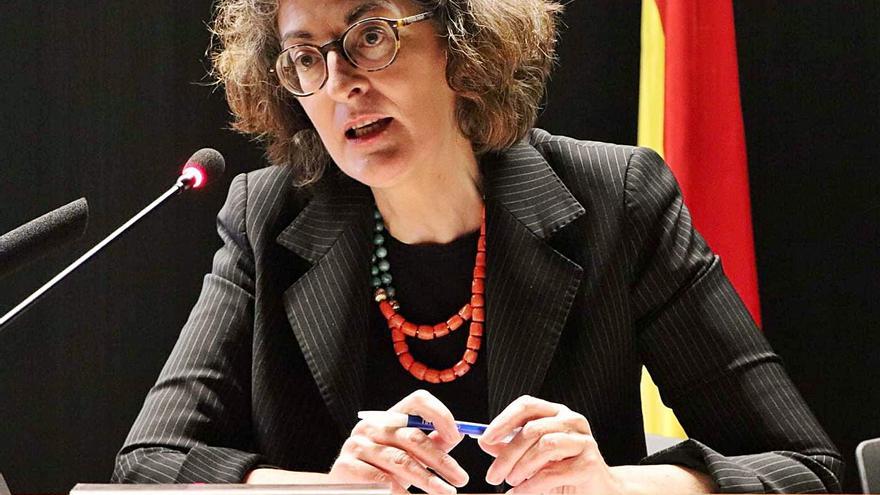 MEP. The CEU has hosted in Elche a conference on political correctness and the rise of populism. The MEP Maite Pagaza has closed the presentations and, in this interview, analyzes the issues discussed during her visit to the city and others such as the growth of hatred or manipulation on social networks.
How do you assess the phenomenon of the rise of populisms?
There is a massive political use of the manipulation of people to take them to extremes and fanaticism. There are moments in the history of societies in which populisms have opportunities and generate problems of coexistence. The 1930s were a time of populism and extreme right and left wing extremism. We all know the consequences, an unfortunate historical situation that caused wars. Now, fortunately, we are in a different moment.
What factors explain the growth of this movement?
The new way we have to interact with technology and social networks causes misinformation. Those who went unnoticed with inflammatory speeches have found a formula to get into the center of public opinion. That strains our society. When populism is a minority, its damage is also. The problem is when populist traits spread from important parties or from power. The erosion of the system is important because the populists try to seize all the power so that there is a single thought. And those who do not think alike are seen as a bad citizen.
Can you give an example of the latter that you comment?
When they tell us that we are bad citizens for eating meat, for example. This is a dogmatic way of seeing reality and it is very negative for society. Democracy is based on the coexistence of those of us who think differently and pluralism is something positive, not something that has to be discriminated against. You do not have to be sectarians or slaves to dogmas. They want us to become soldiers of dogmas, sectarianism and hatred on the internet. The best we can do against populism is not to allow ourselves to be manipulated.
What happens when populism seizes power?
They talk a lot but manage fatally. They are liars, you just have to look at the example of Venezuela. Or that of Catalonia, which takes us closer. Their governments are restrictive and use administrations for their interests. They neither respect the citizen nor manage well. In addition to dogmatism, they manipulate ideas and history with lies. It is one of the most important phenomena of our time and it must be managed calmly. If not, we too will become angry beings, we will replicate their ways and we will be the same.
This breeding ground generates homophobic movements like those seen lately …
May they not become an instrument for political confrontation. Hate crimes exist. Our office is going to publish a report on this issue with data from six European countries between the years 2015 and 2020. It is easy to see the motivation for the hate incident in the fields that we reject. But it is difficult to see hatred when that group displeases us, as with political intolerance. When a young man is beaten in the Basque Country for being from the Popular Party, the rest of the formations turn to profile and never condemn him.
What can be learned about these types of conflicts?
We have to learn that intolerance must be recognized in all its motivations so as not to be cynical or manipulative. Hate motivations must be attacked and minimized. There are human beings who are capable of developing this fearful instinct. And that can't be the "bang, bang, bang" of politics. You have to be rigorous, serious and offer help to all victims.
Now that he talks about victims, it is worth remembering all the commotion caused by the attempt to pay homage to the ETA Parot prisoner …
In no European country would the authorities allow that to exist. This year there have been 61 acts of tribute and many more of exaltation. It is as if those who commit gang rape are greeted as important people or heroes. And there are those who question that the victims complain. There is an asymmetry and insensitivity in society with political intolerance. These facts must be recognized in order to overcome them. But these people still have political power.
What is the best recipe to stand up to all this?
You have to keep working and denouncing what is abnormal without failing. Although there are times when the prevailing thought and power alliances do not want to take care of necessary things, truth and political ethics end up making their way. Political intolerance in the Basque Country has to do with the fact that ETA's heirs have not wanted to condemn and cleanse their past. In Catalonia something similar happens with identity nationalism, which does not want to recognize that it is exclusive and that everyone has to go through the hoop. That is precisely what the Spanish Government is doing.
How would you define the current moment of Spanish politics?
It's a bad time because blackmail gives power. But it will pass, Spanish society is not going to erode all its structures. We cannot say that Sánchez is a populist leader. The problem he has is that the populism of Podemos affects him like a fine shower, with statements such as those that have been made against the Judicial Power or the independence of justice. They have wanted to apply laws that the European Commission has stopped.
Is freedom of expression lacking?
Every populist group tries to impose what is politically correct, both those on the left and those on the right. The more power they have, the more it shows. They use social networks massively and the algorithms of the industry position the thoughts that go to the core well because they are interested in having a lot of use of the networks. We need less toxic digital ecosystems that do not contaminate us with polarized and sectarian thoughts. It is necessary to differentiate between the atrocities that are not illegal and what induces to commit illicit acts.

www.informacion.es
Eddie is an Australian news reporter with over 9 years in the industry and has published on Forbes and tech crunch.