Vigo (Pontevedra)
Updated:
save

A regatta within another regatta, the usual in a competition such as sailing around the world without stopovers or external help, is what is reproduced on day 49 of the Vendée Globe 2020-2021 when half the fleet concentrates on the South Pacific between meridians 134 ° and 150 ° West in the "howling fifty"; well, the howling thing according to classical literature because on this occasion they have had rather scarce winds.
The puzzle of the meteorological systems seems to be being solved with the arrival of a low pressure fleet from the north that pushes the anticyclone that has been disrupting the route of the IMOCAS towards the east to the south.
«Maître CoQ IV» has been the first to come out with a northeast wind, which is allowing it to wind towards the corner of the boundary line south of the EAZ, and which can probably be placed on the northern edge of the storm when it cross your path. Yannick Bestaven was worth the effort to head northeast days ago, and today Sunday (December 27, 2020) he can get back to first position with an 80-mile lead over Charlie Dalin's second "Apivia".
Christian Dumard, a meteorological analyst at the Vendée Globe, is clear that Bstaven must continue to take advantage of the situation: "… You must sail until the beginning of the week with a wind that will gradually pick up, allowing you to accelerate. Charlie Dalin with the "Apivia" is following him in the same climate system. And Thomas Ruyant has regained third place with the 'LinkedOut' and is also following an almost direct route along the edge of this low ".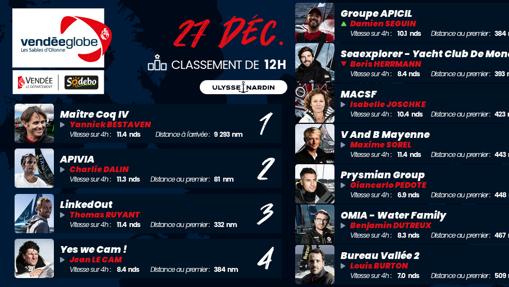 Although very far from Cape Horn, when Bestaven is 2,200 miles away, the prediction in the area indicates that a great storm is moving towards the Strait of Magellan, specifically for January 2 it is expected that there will be a gale with winds that will exceed 45 knots of intensity, with gusts of 60 knots and a rough sea with waves almost ten meters high. This east-moving squall is a difficult "candy" for Bestaven to avoid, unless he slows down the "Maître CoQ IV" to let it pass and get to Hornos in one piece.
"Things are better than two or three days ago," says Thomas Ruyant. "I was a bit confused about how to get out of this and which route to take. Since then, I have made decisions and the way forward is clearer. At the moment, it's a little soft, I'm just in a passage with less wind, but otherwise I have a pressure that is interesting to "get off my perch." A good night for you, a good day for me!
A few days ago, the strategy was quite unclear, quite unreliable. With a high pressure system like that, it is difficult to have a very precise view. My northern route was dictated by the high pressure bubble. It was a mandatory route in view of my position, I had no choice but to go up there. The questions were more about how much latitude and when to go down. It's been a bit difficult for a few days, watching the mileage counter increase between me and the fleet chief. It was a level crossing. There will be a big gap at Cape Horn, but I will not give up, nothing is being done. There are still several weather systems between this area and the cape. And behind him, he has returned well too. At the moment, I can clearly see what is coming.
In this edition, he often comes back from behind, that's how it is! That is the game of the regatta. It's a nice regatta with suspense. "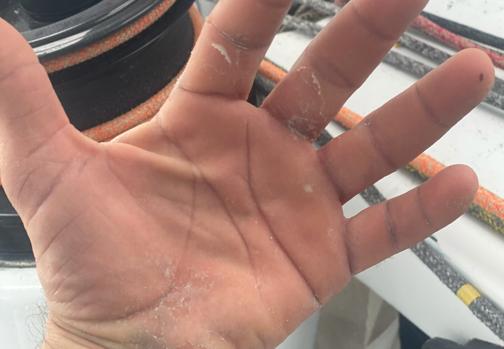 The group of hunters, more than 300 miles west of the first, has entered the same weather system heading northeast. Boris Hermann is the spearhead, although he is in sixth place in the table. They are followed in his footsteps by Jean Le Cam, Isabelle Joschcke, Damien Seguin, Maxime Sorel, Giancarlo Pedote and a little off the hook by Bureau Valle 2; and alone, further north Benjamin Dutreaux.
Another low pressure is sweeping the other half of the Vendée Globe fleet, between the Australian city of Albany and the New Zealand meridian. "Charal" is the closest it is sailing to the front located on the 140 ° West meridian that sweeps the western geographic limit of the Pacific Ocean from north to south, with north component winds that exceed 39 knots in the electronic system on board IMOCA by Jérémie Beyuou.
Alan Roura is carrying his IMOCA "La Fabrique" with chopsticks: "… I'm trying to pick up a bit of speed as the conditions are quite mild, but I'm very tired. We are close to land, to New Zealand, so we had to find the solution at that point before entering the Pacific. At the moment, everything seems to be holding.
The problem with these hydraulic fins is that there is a lot of effort. The pipes or pumping system can break, they are tired parts, and you cannot control them. This is the second hydraulic hose that I have changed. I don't have any more repair kit for that, now you have to knock on wood until you get there… It's a pretty amazing Vendée Globe. We have to fight! I hope I can fight to the end. "
See them
comments

www.abc.es
Digsmak is a news publisher with over 12 years of reporting experiance; and have published in many industry leading publications and news sites.