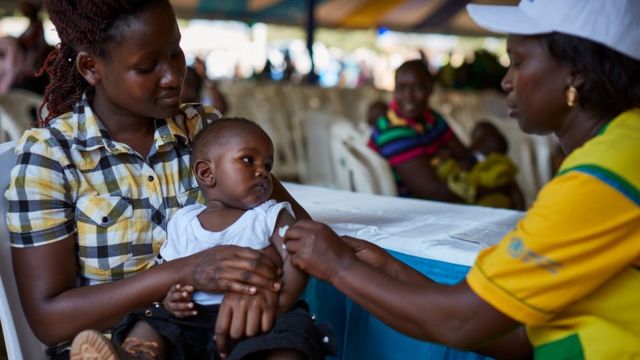 A historic moment in the fight against malaria.
Children in much of Africa will be vaccinated against the disease following the approval of a vaccine by the World Health Organization (WHO).
Malaria has been one of humanity's greatest scourges for millennia and mainly kills babies and young children.
The vaccine is called RTS,S and it proved its effectiveness six years ago.
Now, after the success of pilot immunization programs in Ghana, Kenya and Malawi, WHO says the vaccine should be applied in sub-Saharan Africa and other regions with moderate to high malaria transmission.
Tedros Adhanom Ghebreyesus, WHO director general, said it was "a historic moment."
"The long-awaited malaria vaccine for children is a breakthrough for science, children's health and malaria control," he said.
"(It) could save tens of thousands of young lives every year."
Deadly parasite
Malaria or malaria is a disease caused by a parasite that invades and destroys our blood cells to reproduce and is transmitted by mosquito bites.
Medications to kill the parasite, bed nets to prevent bites, and insecticides to kill the mosquito have all helped reduce malaria, but they are not enough.
Most cases is it so in Africa, where more than 260,000 children died from the disease in 2019.
It takes years of repeated infection to build immunity and even this only reduces the chances of getting seriously ill.
Dr. Kwame Amponsa-Achiano tested the vaccine in Ghana to assess whether mass inoculation was feasible and effective.
"It is a very exciting time for us, with large-scale vaccination I think the number of malaria victims will be reduced to a minimum," he said.
As a child, Amponsa-Achiano repeatedly contracted malaria and that inspired him to become a doctor in Ghana.
"It was distressing. Almost every week I skipped school. Malaria has taken its toll on us for a long time," the doctor told James Gallagher, the BBC's Health and Science correspondent.
RTS, S targets the deadliest and most common of the more than 100 types of malaria parasites in Africa: the Plasmodium falciparum.
The vaccine requires four doses to be effective. The first three are given one month apart at 5, 6, and 7 months of age, and a final booster is needed around 18 months.
The pilot that led to the approval of the vaccine showed that with the administration of 2.3 million doses:
the vaccine was safe and led to a 30% reduction in severe malaria
reached more than two-thirds of children who do not have a mosquito net to sleep on
there was no negative impact on other routine vaccinations or other measures to prevent malaria
"From a scientific perspective, this is a breakthrough, from a public health perspective, it is a historical feat"said Pedro Alonso, director of the WHO Global Malaria Program.
"We have been looking for a vaccine against malaria for more than 100 years, it will save lives and prevent disease in African children," he added.
Why is it so difficult to fight malaria? – Analysis by James Gallagher, BBC Health and Science correspondent
Having watched the world develop covid-19 vaccines in record time, you may wonder why malaria has taken so long.
Malaria is caused by a parasite that is much more insidious and sophisticated than the virus that causes COVID-19. It is like comparing a person and a cabbage.
The malaria parasite has evolved to evade our immune systems. That is why a person must contract malaria over and over again before starting to get even limited protection.
It has a complicated life cycle in two species (humans and mosquitoes), and even within our body it takes different forms, as it infects liver cells and red blood cells.
Developing a malaria vaccine is like sticking gelatin into a wall and the RTS, S can only target the sporozoite form of the parasite (this is the stage between a mosquito bite and the parasite that reaches the liver).
That is why the vaccine is "only" 40% effective. However, this remains a remarkable success and paves the way for the development of even more powerful vaccines.
Malaria in Latin America
After a sustained trend towards the reduction of malaria from 2005 to 2014, in the last Latin America and the Caribbean registered an increase in cases, reported the Pan American Health Organization in June 2020.
This increase is due to increase of cases since 2015 in Venezuela and transmission in endemic areas of countries such as Brazil, Colombia, Guyana, Nicaragua and Panama, as well as sprouts in Costa Rica, Dominican Republic and Ecuador, they are moving towards elimination.
On the other hand, Paraguay and Argentina received certification as malaria-free countries in July 2018 and May 2019, respectively.
While El Salvador, since 2017, and Belize, since 2019, do not present autochthonous cases.
Now you can receive notifications from BBC News Mundo. Download the new version of our app and activate them so you don't miss out on our best content.

www.bbc.com
Eddie is an Australian news reporter with over 9 years in the industry and has published on Forbes and tech crunch.