Celebrations erupted across Italy as the national soccer team secured their victory in the Euro 2020 final after a tense penalty shoot-out.
"It's a unique emotion," said Vincenzo Francavilla. "There is a great love for Italy.
But it was a challenging match. England played well, but Italy had more heart ".
Earlier, Claudia Iacobazzo, a waitress from Rome, said the city had been tense all day. "Obviously I want Italy to win, but I like England so I would be happy for them too."
The European soccer championships had exalted Italy, with flags adorning almost every bar, restaurant and home in the country.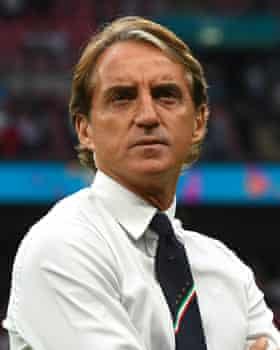 Just three years ago, fans in Italy were heartbroken by the national team's failure to qualify for the 2018 World Cup, the first such failure since 1958.
But coach Roberto Mancini has been widely recognized for transforming the team into a team that Italians can be proud of. "Mancini has been absolutely wonderful," said Andreina Fellini. "He has managed to keep the players calm, focused and united. There are no prima donnas like there used to be. "
Fellini has been watching Italy's progress throughout the tournament at home with her husband, Carmine, 80. "But we have two televisions, so he has been in one room and I have been in the other. I need to be calm when I watch the games. "
Carmine chimed in: "But she's the one who swears during the match, not me!" He said he wanted Italy to win, but he's not as "football crazy" as he used to be. "When Italy won the World Cup in 1982, it was I who led the celebrations. Today I am more mature.
There would have been a lot of expletive when England scored, just minutes from the start of the game. People who missed the kickoff and wandered around Rome knew from the sounds emanating from the bars and terraces that it was not a goal for Italy.
But there was loud applause throughout the city as Leonardo Bonucci tied for Italy minutes after the second half.
"For Italy to reach the final is already a beautiful thing," said Giorgio, who was watching the game from a rooftop bar in Rome's Monti district. "We did not expect this. It is a beautiful finale ".
Expectations were low at the start of the tournament, especially with the pandemic and its consequences still threatening. But as Italy progressed, the excitement grew.
For the first games in Italy, only a few regulars gathered around the small television that Daniele Lorenzetti installed outside his traditional Rome drinks kiosk on Piazza Vittorio in the Esquilino neighborhood. When the final came, the venue was so busy that he had to purchase a maxi-screen.
"It's funny. Only about 5% of Italians really understand football. Then when you go that far, you get thousands of football experts," Lorenzetti said.
"The point is that, in a way, we are not so used to supporting Italy, as we are very focused on our local teams, be it Roma, Juventus or Atalanta. The only time we really come together for Italy is when they go this far in a tournament. "

www.theguardian.com
George is Digismak's reported cum editor with 13 years of experience in Journalism