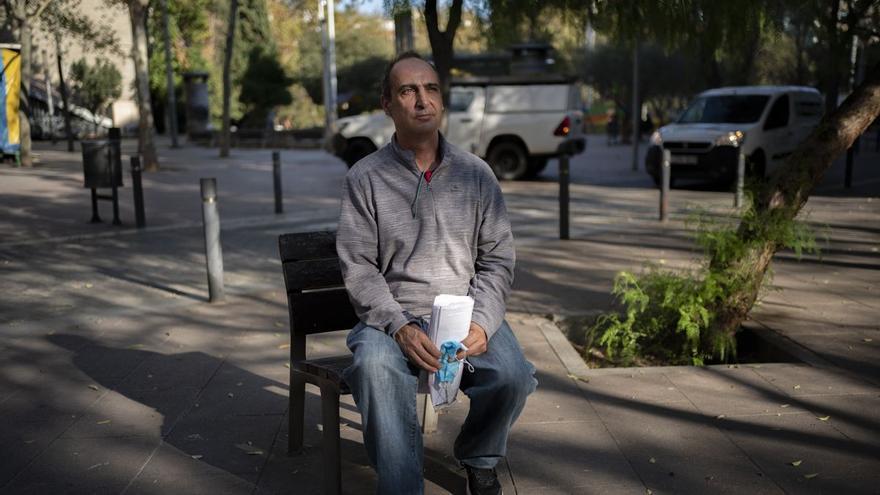 The last contract he had was as an assembler of cologne packs, the kind that are sold in the supermarket. It was in the summer of 2019, the contract expired, he signed the settlement and until today. "I know all the automated responses that you get after submitting the resume", he confesses." I just want to work and be able to pay for my flat and my food, it's something very basic, that everyone should be able to do. I don't understand why it's so complicated, "he adds.
For him the previous crisis never ended. The pandemic has been nothing more than another chapter of the same nightmare and of the current recovery, which at a macro level the Social Security figures draw month after month, he does not want to hear about it. "I recognize that it has been a long time since he watched the news. I do not believe them, I have enough with mine ", he says." How can politicians be so optimistic? Around me I only see people who are having a bad time, "he adds. everything for housing. It's been four months since I applied for the minimum living income and they haven't told me anything … ", he says.
How can you live on 451 euros a month?
In recent years, Manel's life has been one of rowing through thick and thin. With no job or income, he had to sell his apartment when he still hadn't paid off the mortgage. He got into a cheaper one, which he later had to sell again to keep shooting. In between, his partner with whom he had shared more than 10 years died. Exhausted unemployment benefit, They granted him the subsidy for people over 52 years of age: 451.92 euros per month.
How can a single person pay for a room and eat with that money? "It can't be done, of course," Manel replies. "That's where the cards come in," he adds. This Barcelonan accumulates some 20,000 euros of debt during the last years, taking extra income from plastic to reach the end of the month with the minimum. Bread for today and hunger for tomorrow, because the debt is increasing.
If it was difficult for more than one to manage being locked within four walls during confinement, having a debt that grows fat every day while job applications remain unanswered does not help. Despair can play tricks and some scoundrels gave Manel the lace. Searching the internet in search of employment, he found an advertisement to invest in bitcoins, which was nothing more than a disguised scam and which is currently being investigated by the National Police. "I was hooked by despair," he acknowledges. Since then he has collaborated with several affected by the scam with 'victifin.org', where they try to alert people to what are the most common tricks in this type of fraud and thus help to avoid them.
A collective scourge, not an individual failure
Manel started going a few days ago to the T'Acompanyem association, on Biscaia street in Barcelona. A refuge where people who are standing -but not still- share experiences, job offers, take courses and make each other see that being unemployed is not an individual failure, but a scourge that affects more than three million people throughout Spain. This 55-year-old man recognizes that he has good feelings and that he has felt well received, although he does not hide the nervousness that surrounds him. Well, solidarity goes further than seems possible, but not to everything. And he suffers for the payment that the landlord who rents him a room will claim at the end of the month.
Two months ago he had to renew the subsidy – a procedure that was done automatically during the pandemic – and it passed. "I need work for now, yesterday it was too late. I'm scared if I end up sleeping on the street ", he says. After calling the SEPE – without success – and searching the website, he managed to exchange emails with the employment offices and solve the problem to renew the subsidy and not run out of anything. "HUntil I don't get paid on the 10th, I won't be a little calmer", He affirms, twisting the papers in his hands with the imprint of his 28 years of contributions.

www.informacion.es
Eddie is an Australian news reporter with over 9 years in the industry and has published on Forbes and tech crunch.