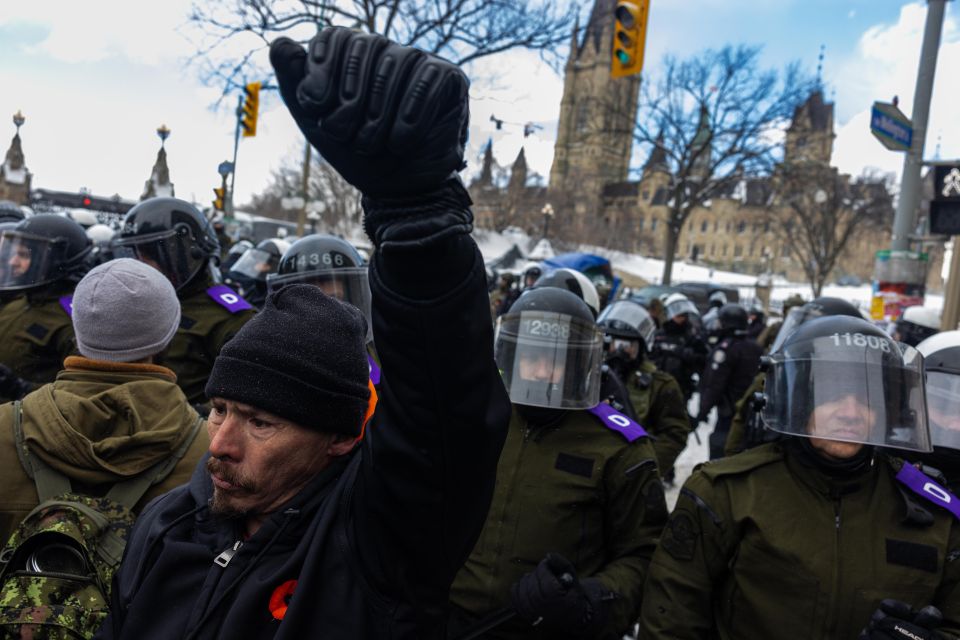 Foto:
Alex Kent / Getty Images
Tras la intervención policial canadiense para neutralizar las protestas antivacunas, las autoridades afirmaron que se realizaron 47 arrestos este sábado en Ottawa mientras despejaban el centro de la ciudad.
En una operación sin precedentes en el país que contó agentes municipales, provinciales y federales que inició el viernes por la mañana, manifestantes fueron sacados de sus camiones y automóviles, los cuales bloqueaban las calles. Se registraron más de 100 arrestos y 21 vehículos remolcados durante esa jornada.
Se despejó la calle que está ubicada frente al parlamento y se espera que la policía siga restaurando las calles para intentar restablecer el orden en los próximos días.
"Los manifestantes continúan siendo agresivos con los oficiales. Se niegan a cumplir con las órdenes de moverse", indicó la policía este sábado en horas del mediodía (hora del este). "Habrá visto a los oficiales usar un irritante químico en un esfuerzo por detener el comportamiento agresivo y por la seguridad de los oficiales".
Asimismo, informaron que arrestaron a manifestantes que tenían granadas de humo y fuegos artificiales, mientras que otros usaban chalecos antibalas. Algunos de estos instrumentos fueron encontrados dentro de un vehículo.
"Un manifestante lanzó un bote de gas y fue arrestado", indicó la policía de Ottawa en un tuit, agregando que tendrán en cuenta la seguridad pública y la de los agentes.
"Fuimos lentos y metódicos, pero ustedes fueron asaltantes y agresivos con los oficiales y los caballos. Basados en su comportamiento, estamos respondiendo, incluyendo cascos y porras para nuestra seguridad", añadió la policía.
En horas de la mañana del sábado, la policía advirtió que los manifestantes debían irse e instalaron más de 100 puntos de control para evitar que más integrantes de las protestas entren a la ciudad.
Durante las protestas del viernes, se llegó a un punto en el que la policía de Ottawa dijo que los manifestantes antivacunas agredieron a los agentes e intentaron quitarles sus armas.
Se conoció que una persona fue detenida después de arrojarle una bicicleta a un caballo.
Las tensiones en Canadá han comenzado desde hace semanas debido a las medidas preventivas que ha adoptado el país por el COVID-19, incluyendo requisitos de máscaras y vacunación.
Las tensiones en Canadá llegaron a un punto álgido cuando el primer ministro, Justin Trudeau, invocara poderes de emergencia para disipar las manifestaciones y que no se aplicaban en la nación desde 1988.
"El objetivo de todas las medidas, incluidas las financieras, previstas en la Ley de Emergencias, es hacer frente a la amenaza actual y controlar totalmente la situación", dijo Trudeau el jueves ante la Cámara de los Comunes.
Con información de CNN
También te puede interesar:
• Juez ordenó a camioneros antivacunas retirarse del paso principal entre Canadá y EE.UU.
• Declaran estado de emergencia en Ontario, Canadá, por protesta de camioneros antivacunas contra la COVID-19
• Camioneros de California amenazan con protesta en el Super Bowl por mandato del uso de mascarillas en escuelas



eldiariony.com
Eddie is an Australian news reporter with over 9 years in the industry and has published on Forbes and tech crunch.