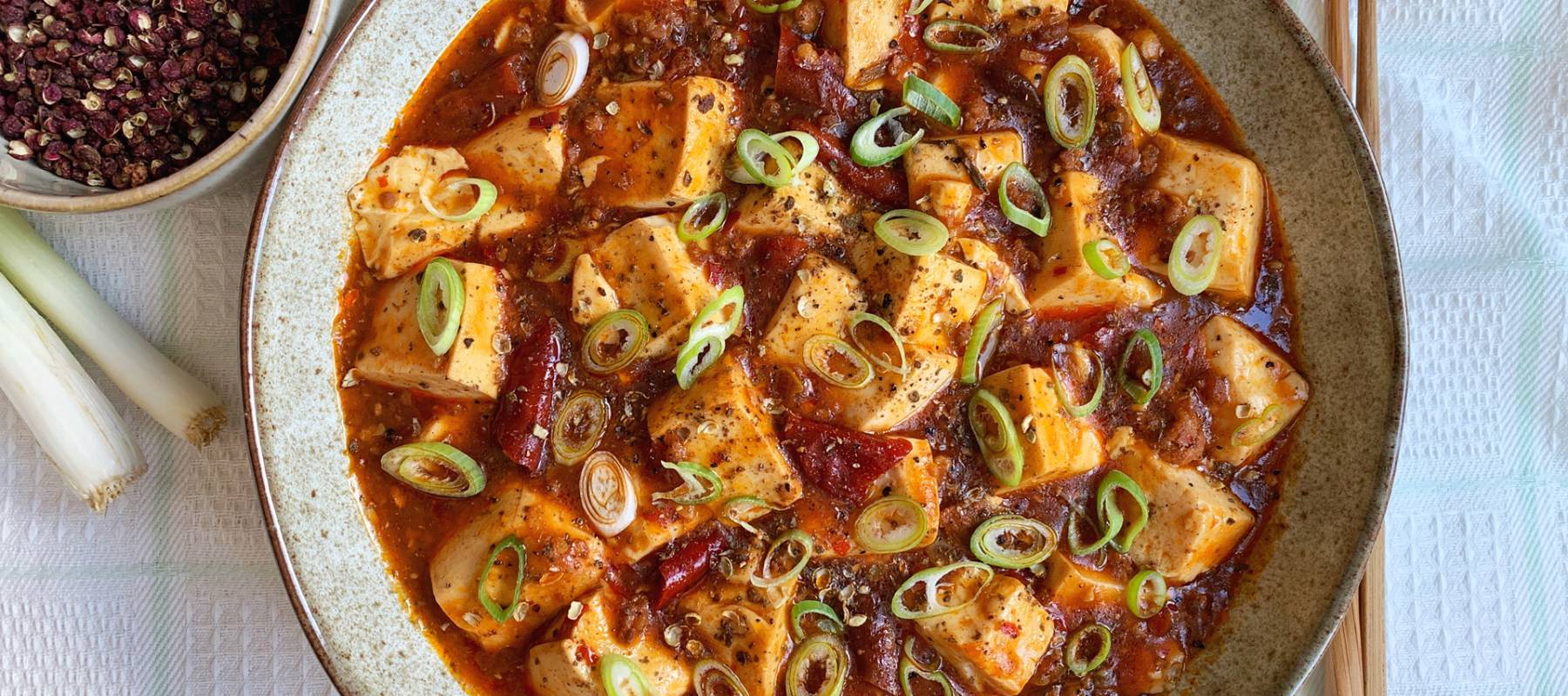 Chinese gastronomy has an immense variety of identities, due to the enormous geographical extension it represents. One of the most characteristic arises in the province of Sichuan, where the gastronomy is spicy, floral and powerful due to the use of fermented ingredients. In Sichuan the mapo tofu O doufu, an iconic dish made with soft tofu, doubanjiang, Sichuan pepper and meat. It perfectly represents the spirit of its gastronomy and the tastes of its people.
To understand the mapo tofu we have to understand, first, two of its main ingredients: doubanjiang and Sichuan pepper. The first is a fermented bean and chili paste that is used to flavor all Sichuan cuisine (so much so that it is known as "the soul of Sichuan"). This pasta arises in the Pixian district, and it is considered that it can only be made there due to the ideal climatic conditions to make this pasta; sun and humidity, mainly. It is spicy and very salty, as it is fermented with thick layers of salt exposed to the sun for more than a year.
The second basic ingredient is Sichuan pepper which; Despite its name, it is not a pepper, but a berry (therefore it cannot be substituted for any other variety). It has a very powerful floral and citrus aroma, and its peculiarity lies in the sanshool, a compound that causes tingling in the mouth. The combination of these ingredients results in Sichuan's best-known flavor profile, called mama is, which translated would be something like "spicy and numbing".
The difficulty of this recipe lies precisely in finding these two absolutely essential ingredients. Today they are easily found in Asian establishments, but if you can't find them, don't be ashamed to ask at a nearby Chinese restaurant. Lard can be perfectly substituted for a neutral oil, but I prefer to use it because the minced pork that we usually find in Spain contains little fat, while in Sichuan cuts with a higher percentage of it are used. You can also substitute the meat with mushrooms, seitan or similar to make a vegetarian or vegan version.
Difficulty
Once you have the ingredients, it's easy to sing.
Ingredients
For 2 hungry people
450 g de tofu blando (silken tofu)
500 ml of chicken broth, vegetable or water
120 g of minced pork
8 dried chilies (or to taste)
1 heaping tablespoon lard
1 tablespoon garlic
Half a tablespoon of minced fresh ginger
1 Chinese spring onion
1.5 tablespoons doubanjiang
1 tablespoon low salt soy sauce
2 tablespoons of rice or sherry wine
1.5 teaspoons white sugar
1 heaping teaspoon ground Sichuan pepper
Half a teaspoon of ground white pepper
2 teaspoons cornstarch
Preparation
Cut the tofu into cubes of about 1.5 cm and add them to a saucepan with cold salted water. Bring to a boil and set aside immediately. Leave the tofu resting until the moment of use.

Chop the previously crushed and peeled garlic, the ginger, the white part of the chives and cut the dried chilies in half.

In a large skillet, add the lard and, once melted, cook the ingredients from step two over low heat for one minute.

Add the minced meat and turn the heat to medium-high. When it starts to brown, set aside the pan and add the doubanjiang. Sauté until the fat turns reddish and mix with the meat for a minute.

Add the soy sauce and the two tablespoons of rice wine and cook for 20 seconds.

Add the sugar, white pepper, and half of the ground Sichuan pepper. Mix and immediately add the broth (or water). Bring to a boil and cook for five minutes.

Carefully scoop out the tofu and add it to the pan. Mix carefully so as not to break it and cook over medium heat for five minutes.

Mix the cornstarch with the necessary amount of water to dissolve it. Add one half to the pan, stir, and add the remaining half and stir again to thicken. Plating.

Add the remaining ground Sichuan pepper on top and the green part of the Chinese chives. Serve with white rice.
If you make this recipe, share the result on your social networks with the hashtag #RecetasComidista. And if it goes wrong, complain to the Chef's Ombudsman by sending an email to [email protected]

elcomidista.elpais.com
Eddie is an Australian news reporter with over 9 years in the industry and has published on Forbes and tech crunch.