National Kleefstra Syndrome Awareness Day is typically celebrated on September 17th to bring awareness to people diagnosed with the rare genetic condition. MIA's students and faculty instead celebrated early on Friday, September 16th, clad in the color purple to show their support for Wynne Lockwood and Kleefstra Syndrome Awareness Day. Wynne Lockwood, diagnosed with Kleefstra Syndrome, is the four-year-old granddaughter of MIA's Key Club Advisor and Kiwanian, Marie Lynn McChesney.
In at least one way or another, every student put their best foot forward to help put together and execute the event. Students decorated the school with hand drawn posters, streamers and balloons, baked dozens of sweets, and brandished purple bracelets all in support of Wynne and people impacted by Kleefstra Syndrome. The event would not have been possible without the students' combined efforts. The school's efforts to raise awareness and funds are in partnership with organizations like IDefine and Wynne's Warriors that are important because they provide support for the families impacted by the rare disease.
To raise funds for Wynne's Warriors and Kleefstra Syndrome, students sold purple bracelets that read: 'MIA Wynne's Warriors Kleefstra Syndrome Awareness' and sold a variety of home baked goods during Key Club's Kleefstra Awareness Bake Sale. The outcome of the fundraising was greater than expected with more than $500 raised. All of the proceeds will go toward Kleefstra Syndrome research and other families impacted by Kleefstra Syndrome like Wynne's.
There is no absence of local support for Kleefstra syndrome as IDefine has supported past fundraisers involving Marco Island Academy and Tour de Taverns on Marco Island that helped to rally public support for Wynne. However, the global support for Kleefstra syndrome is still growing. In just the past two years IDefine has made many steps towards Kleefstra Syndrome research and global awareness.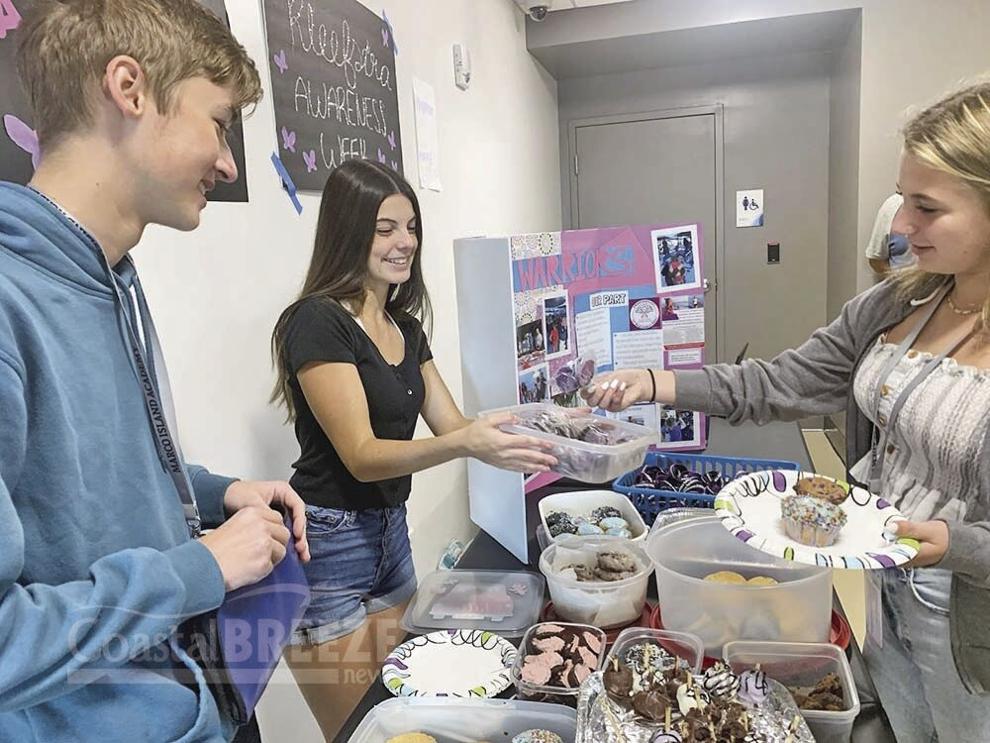 In order to raise global awareness of Kleefstra Syndrome, IDefine has made it easier for individuals with Kleefstra syndrome to connect with one another. Educational webinars are held across the globe and the 2022 North American Kleefstra Conference gave the organization the ability to meet in person after COVID-19. IDefine also launched a worldwide map indicating the families with Kleefstra Syndrome so that they can connect locally and regionally.
As far as contributing to researching the condition, IDefine recruited a Scientific Advisory Board and launched data collection partnerships which gives families the opportunity to contribute to Kleefstra research. IDefine is also awaiting the launch of BECK: The Biomarker and Endpoint Consortium for Kleefstra Syndrome, which will help them to identify clinically meaningful outcomes for a potential clinical trial.
The support from Marco Island's local community and Marco Island Academy is overwhelming and has raised both awareness about Kleefstra Syndrome and funds for Kleefstra Syndrome Research. The continued efforts of the community will be a beacon of light for families with Kleefstra Syndrome.
George is Digismak's reported cum editor with 13 years of experience in Journalism