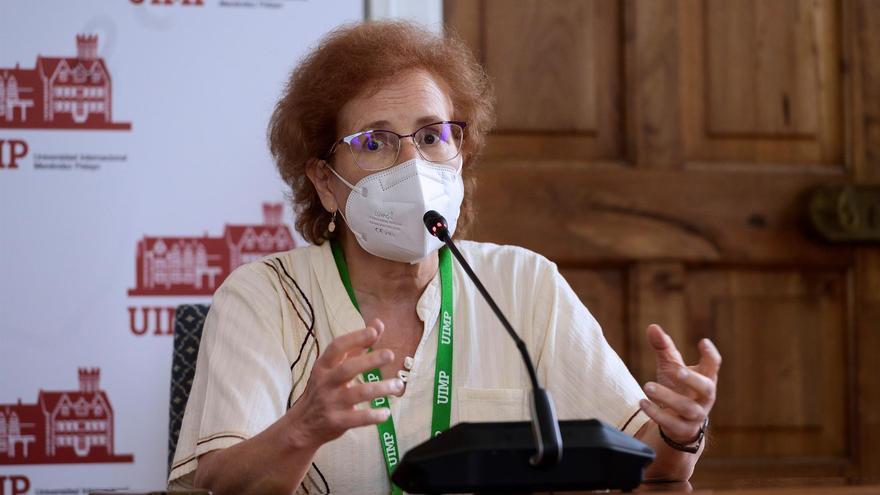 The virologist and immunologist Margarita del Val has warned that there will be "silent outbreaks" of covid that will be "difficult to detect", due to asymptomatic infections among the already vaccinated population and young people, and has highlighted the need to investigate the sequelae that can leave covid-19 among young people.
In the opinion of Margarita del Val the evolution of the pandemic "is going to give surprises" in terms of the fact that there may be an increase in cases that "get out of hand" because, since they are not yet largely vaccinated, "young people are now one of the main risk groups."
In addition, Del Val has considered that in Spain "the research is not yet being supported" as it should be done, which is why it continues to be in a "very precarious state", despite the fact that there is already a social awareness of the importance it has as consequence of the results achieved in the fight against the covid pandemic.
"It remains to be seen whether science will really be supported", Margarita del Val stated at a press conference, pointing out that there are "two levels" in the perception of the importance of scientific research: on the one hand, that of a society that "is going to ask for more scientific knowledge presented by experts" and, on the other, that of public administrations that, in his opinion, should support science more.
This is how the researcher from the Severo Ochoa molecular biology center of the Higher Council for Scientific Research (CSIC) expressed herself in her appearance before the media, before receiving the medal of honor for social values ​​awarded by the Menéndez International University Pelayo (UIMP).
"Society's respect for science is something intangible that will remain," Del Val stressed, lamenting that, despite this, for research "there is no more investment" in general budgets, "there is no more stability, there is no more flexibility in management and we remain precarious, although with a small gap, the shock plan that has come to Spain with European funds ".
"Investment is not increasing to the level that is needed", has insisted, emphasizing that "science in Spain is of a very good quality and you only need to water it for it to flourish." Something that, in his opinion, it is necessary to do "in all areas and in a stable manner."
Regarding the current situation of the covid-19 pandemic, Margarita del Val has opined that "now the indicator is not going to be hospital pressure", because it has gone from a situation in which the virus "affected everyone" and from danger of collapse of the health system, to another marked by the beneficial effects of vaccines.
"Before it was necessary to protect the elderly as the most important risk group," recalled Del Val, for whom the risk now focuses on young people, a very large sector of the population that "still does not have immunity" and that raises the need to know what are the sequelae that young people who experience the disease may have.
For Del Val, whereas before the outbreaks were more localized, now there are "many shoots that are going to be silent"due to infections between people who have been vaccinated and, mainly, asymptomatic young people, which in addition to making" their detection more difficult ", can give" worse surprises, in the sense that there may be an increase in cases, that we will go away of the hands ".
The virologist has highlighted the "maturity" shown by society since the February wave occurred, awaiting the arrival of vaccines, but has warned that "we are still in a pandemic" and although on the one hand it is necessary to help "many people who still do not leave home because they are afraid"On the other hand, we must also raise awareness that the" big question "of how the coronavirus can affect young people remains.
Asked about the Delta variant and how it is affecting young people, Margarita del Val has indicated that "there doesn't seem to be more gravity " than with other variants and has pointed out that the presence of young people in ICUs was already something that occurred in the first phase of the pandemic, but in a much lower percentage because most of the admissions in these units were of people from groups that are now vaccinated.
"Vaccines are the final solution to infections, because prevention is better than cure", he has emphasized aside from the fact that there are always people who" do not respond well "to vaccines.
Regarding the medal awarded by the UIMP, Margarita del Val stressed that it is a "very special recognition", because she considers that "it values ​​that scientists share what we know with society".
"It is an award for me and for my teammates," added Del Val, underlining that it is vital "to provide information to be able to make decisions." "It is very important that this remains," he added, alluding to the interest that has arisen in society to know what scientists are working on.

www.informacion.es
Eddie is an Australian news reporter with over 9 years in the industry and has published on Forbes and tech crunch.