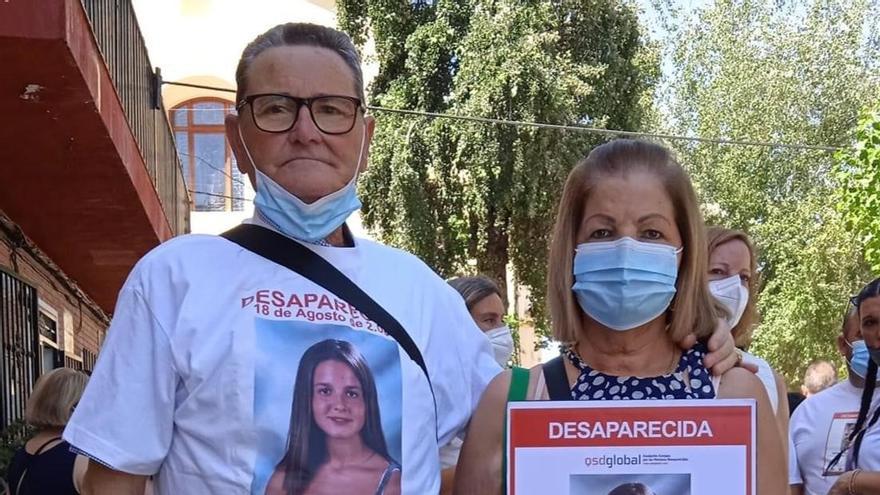 August 18, 2000. Motril (Granada) is in festivities. María Teresa Fernández, 18 years old just turned, has a date with a boy the one you're meeting, Philip Hassan. They go to a Café Quijano concert. "You don't have to take me there, Dad." She got out of the car, 200 meters from the bus stop that would take her to the concert. From the traffic light, her father watches her. No one, except her abductor, has seen her daughter again.
Maria Teresa would never have left. His parents know it and the police check it. Her friend Philip says that she did not make it to the concert. The parents denounce the disappearance, there are posters, beatings. Days, months, years. 21 years later, three more of those who saw her be born and grow up, her parents, Antonio Fernández and Teresa Martín, are still waiting for answers.
The pain squeezes. "Squeeze and drown." Who speaks is Teresa, mother of Mari Tere. They are 21 years of waiting. "We only ask to get to know where our daughter is. Not who did it, but where is it. We don't have the strength ".
Mari Tere, as those who love her call her, I would now be 39 years old. In his house his last image is from when he was 18. His parents, humble people who became a life working in Switzerland, where Mari Tere was born, they need to mourn her knowing where she is.
During all this time, in agony over the disappearance of their daughter they have suffered scams, threats and even physical assault: false psychics, wrong clues, anonymous messages. They have fallen and risen.
"The next one is going to be you "
December 2008. Teresa, mother, walks through Motril. Behind her she hears the voice of a young man who seems foreign to her because of his accent: "As long as you keep looking for María Teresa, the next one is going to be you.", he tells her before attacking her. "He took me by the neck. He tried to drown me and slammed me against a wall. He threw me to the ground. From behind he was hitting me with a brass knuckles. I ended up covered in bruises and wounds. He smashed my ribs. The doctor told me that if he squeezes for five more seconds, he breaks my windpipe ". He denounced as soon as he released her and was able to get up. "He was wearing military pants and military boots, I didn't see any more." It was never known who he was.
Then came the anonymous letters, which they received at home with letter scraps. Before there were red herrings with false promises. Following them, looking for their daughter, Teresa and Antonio have visited hippie communes, hostess clubs and roadside bars. Many people assured them that Maria Teresa was there. They traveled the roads of Alicante and Valencia because they were told that the young woman was cleaning windows at the traffic lights in that area.
"We have suffered thousands of scams. They would come home and say, 'I'll tell you where your daughter is if you give me 25 thousand pesetas… here. I tell you… take it ", remembers the mother. "The biggest was the one where we paid 250,000 pesetas. They scammed us with a contract and a lawyer and the police in front of us, "recalls Teresa. "Two gentlemen came to the house, one American and the other who translated. They told us that they gave us a letter and that in that letter was the place where Mari Tere was. What are you doing? At first we doubt. What are you doing? If you tell him to go away and you have the same for life … ". They accepted half.
"We told them, let's go to a lawyer, we signed a contract that in this letter I am going to find my daughter with the information that you give me. When I find it, I'll give you the other 250,000 pesetas. If I can't find it, you give it back to me ". Time passed, they received the signs, "a road, with a dirt road, a house, with a hole… he laughed at us. Antonio asked him for the money and he said that if we hadn't found it, we should keep looking ". In court they explained that this was a breach of contract and that there was little to do.
The last night
It was nine thirty at night when Antonio and his daughter, María Teresa, were driving through the streets of Motril. Two hundred meters from the bus stop, María Teresa gets off. Some friends of hers, riding in a car, remember seeing her at the stop. I was there, alone. It was 9:53 p.m. While waiting for the bus, she sent a message to her boyfriend saying: "It may be late, but I'm coming. Wait for me."
Mari Tere's family always knew that it was a disturbing, forced disappearance, that she was not partying. "I had always been a very responsible girl. He was never late. A very lively girl, very happy, affectionate, kissing, trusting, very… very good ". At that time, complaints of disappearance were filed after 48 hours. The parents managed to overtake him a bit.
In these 21 years of searching, truckers and fishermen have brought (some still carry) Mari Tere's photo in case they found something on their routes. They have searched for his body in coves, in ravines. They were doing searches and searches, "the neighbors accompanied us for years," his mother remembers gratefully. Nothing has shed light on a case that took a long time ago.
Tentatively superseded, but alive, opening up whenever something new can be tried, the investigation fills four volumes. More than 1,000 pages with more than a hundred statements taken by the National Police or the Civil Guard in different parts of Spain. A proper name, that of Francisco Pérez Polo, chief inspector of the National Police in Motril, and responsible for the investigation for 18 years. He is still working on the case. It is your thorn. Your engine. He does not forget that when he arrived at the police station, Antonio and Teresa had been looking for their little girl for three years.
Two key moments
Although it did not work, there were two moments that seemed to move the case forward. One would arrive when the tracking dogs, from the cynological unit, returned from Motril beach with a template. It was a size 41, the same as the missing girl. "Then they discarded it because it had rained a lot and, in addition, it was in a pond, the Suárez Charca, which today is a protected area. It was their foot number, but they couldn't get anything out, "explains the mother.
Another twist would come with Tony King. From prison, convicted of the deaths of Rocío Wanninkhof and Sonia Carabantes (which occurred in 1999 and 2003), he sent a letter pointing out to his friend Robert Graham: "Tell him that I will make him pay for what he did to the girl from Motril." Maria Teresa's parents came to see King on several occasions in jail. "I'm going to help you," King told Teresa. It was given some starting credibility, but it was discarded. "Graham was brought back recently because there was something there that did not fit the inspector who is handling the case, but nothing came out. We have bad luck everywhere ".
The daughter in a drawer
Francisco Pérez Polo, the inspector of Motril, continues investigating as the first day. "The summary has recently been reread again. He spoke with new people, he traveled to various places, but so far it has not given him any results ". Eternal gratitude, that of Mari Tere's relatives, for that perseverance. "It makes me sad because he has a year left to retire and I don't know if someone will be as involved as he is. I hope they don't give her a folder, that they don't leave my daughter in a drawer ".
The years pass and weigh. María Teresa walks with them. There is not a day that they do not feel it. "We have requested that they put a monolith in his memory." Teresa takes a breath before finishing. "Nothing of her appeared. We have nothing else ".
Antonio reconstructs over and over again everything that happened that day. Millions of times with his mind he has traveled the street where María Teresa said goodbye. His pain does not stop. Their grandchildren – they have four – their daughters María Mercedes and María José, they clothe and take care of them, but Maria Teresa is missing, 21 years old. A lifetime.

www.informacion.es
Eddie is an Australian news reporter with over 9 years in the industry and has published on Forbes and tech crunch.