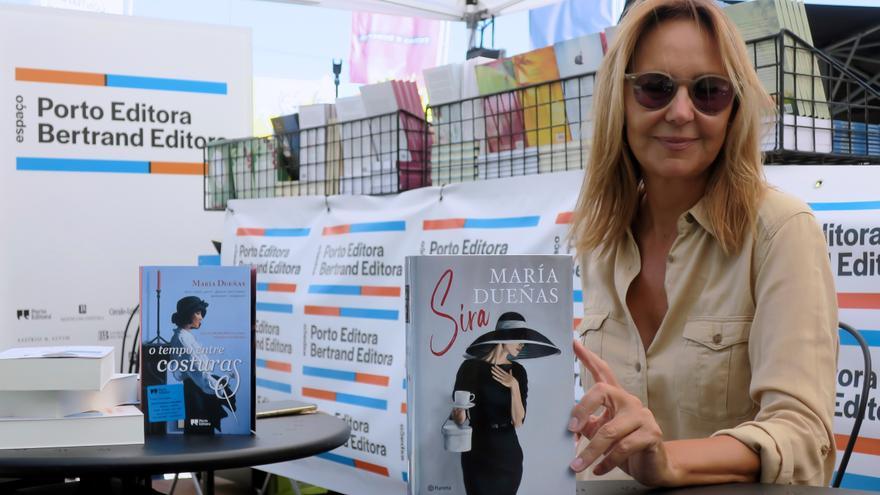 "At the moment I have no intention, what I want is to get out of the pandemic! Not to go into it again." Maria Dueñas does not want to hear about the virus which, he acknowledges in an interview with Efe, has "affected everyone" and from which he begins to escape in Lisbon, where he resumes his international circuit.
Dueñas (Puertollano, 1964) confesses with "enormous joy" at the Book Fair of the Portuguese capital, an appointment to which he arrives with star category and that "frames a before and after" for the promotion of his latest novel , 'Sira', and also for herself.
"It is the first time that I leave Spain with the new novel, that I come again to the Lisbon Book Fair, and I am delighted because even though there are still restrictions and care, we can already see the light ", she says.
The writer exhibits classic gestures from the first times after the confinements of the last year and a half: she is surprised by the traffic of the fair, she is grateful for the breeze on her face; Arriving in Portugal, on the border with Spain, is suddenly like arriving in an extraordinarily distant country.
Dueñas is summoned for an autograph signing that serves as an advance to the landing of 'Sira' in Portuguese lands, where the character has already lived adventures in 'The time between seams', and which is now presented as another historical escape to forget a present to the that, "for the moment", the writer does not want to dedicate herself.
"They have asked me several times and I have also asked myself, at the moment I have no intention ", to write about the vital earthquake that the pandemic has caused, and that, he suspects, "is going to generate a lot of novels and a lot of essays."
"It is going to be something that will remain engraved on us because it has affected us all, and also each one in a different way and all that is already generating literature that I am convinced is going to be excellent. I still have no interest in enteringBut who knows later, from the distance of time, it still occurs to me to go back to the memories of these years, "he suggests.
Its best-seller status has allowed it cope with this time better than most of his fellow professionals, for which these days curious aids are promoted that precisely want to promote the mobility of authors.
Among them, those recently announced by the Spanish Ministry of Culture, endowed with a maximum of 10,000 euros per beneficiary to cover stays abroad of up to two months.
Any "push" is "always welcome"reflects Dueñas, who admits that he does not need to join this type of aid although, laughing, he emphasizes that he would like to dedicate "two months exclusively to reading, writing, working on new projects."
"What happens is that we always have to make a balance between one thing and another, between promotion and all that it entails and what we are creating new," he explains.
His rhythm is constant, delving into a kind of hybrid role between the production of novels and his increasing foray into the audiovisual world. As the promotion of 'Sira' is working on scripts "for a new audiovisual platform for the United States and Mexico."
After taking 'La Temperance' to the small screen, the next step is to adapt "The Captain's Daughters", and in parallel he prepares high-level classes after finishing an "audio fiction".
"We really lived a moment, I think it was excellent for that transfer between the pages of books and the cinema or television screens, I think it is very positive, very enriching for everyone, the books win, the authors win, the audiences win," he says
It is a paradigm shift, which does not know if "it has come to stay" but considers enriching for the storySince, if before the production companies bought the rights and the authors "were much less involved", now there is more "consideration" for their voice.
In fact, in 'Las hijas del Capitán', Dueñas will participate in the executive production.
"We are gaining ground and I think that is good for everyone", he believes, attributing part of this change to the very" multiplication "of audiovisual platforms, eager for content.
Good news for authors and readers, especially those of historical novels, one of the kings of evasion, before and after the pandemic: "We also like things that take us out of our reality a bit, that we have enough with the day a day, "smiles Dueñas.

www.informacion.es
Eddie is an Australian news reporter with over 9 years in the industry and has published on Forbes and tech crunch.