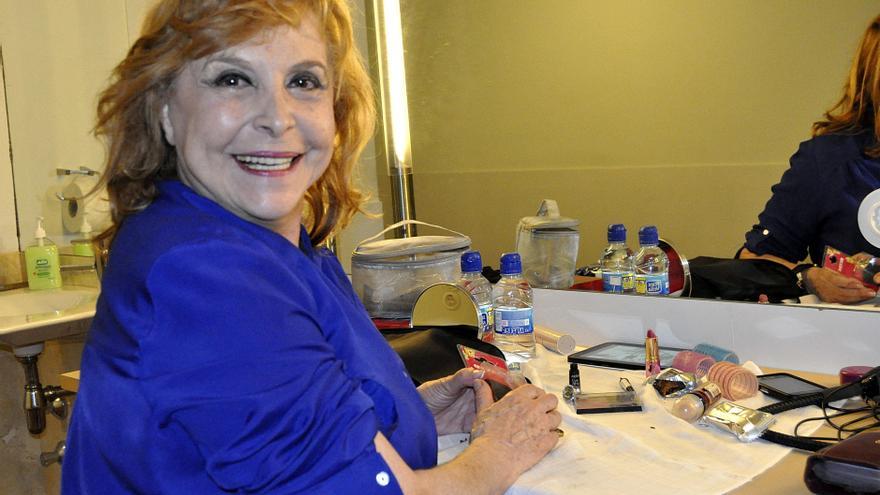 With the cards that have touched him in life, María Luis Merlo, feminist and woman ahead of her time, has learned to be happy even though she has worked like "a mule" in what he likes the most, the theater, an occupation in which he continues with the tour 'Smart Lies', a comedy about sex and matrimonial secrets.
This Monday, September 6, he will turn 80 and, for now, does not think about retirement: "I'll be while I can", María Luisa Merlo explained in an interview with EFE, while ensuring that her children "already know it, if my head fails or my strength fails, I will withdraw."
For Merlo, the theater "is everything". From his mother's womb he breathed theater. It is the third generation of actors. His grandparents were "very first actors" in Valencia; his mother was the actress María Luisa Colomina and his father was "the great" Ismael Merlo, whom he remembers every day as an actor and as a person.
He was only 4 years old when he first got on the charts. He was backstage, watching his father, who was playing a pharmacist, and suddenly someone gave him a little push and he came on stage. Her father asked her: "What does the lady want?" And she, with great grace and salt, replied: "I want bicarbonate."
This is how he earned his first salary, five dollars. Since then he has not left the job, he has worked like "a mule" since he was 15 years old. First "as a dancer!" at the Opera House in Verona (Italy) with Alberto Portillo.
Later, when he returned to Spain, he made films. The theater came next, and then television, "those wonderful Studio 1 shows" and also series like 'Siete Vidas' (2006) or 'Los Serrano' (2008).
His intention is to withdraw without making a noise. "I will go through the back door, I will not tell anyone. I will do it when I consider that I am no longer fit or I do not like how I am doing, but I will do it very discreetly."
Now she continues to enjoy the theater, her vocation as an actress alongside Juan Jesús Valverde, Jesús Cisneros and Ana Escribano in the role 'Smart Lies', in which she is a businesswoman as well as an actress and takes it "divinely" because Cisneros "does everything and Then he tells me; I trust him completely. "
She considers herself a feminist and does not distinguish between men, women, transsexuals or heterosexuals. "I care what happens to the human being", adds this Valencian who has received the Gold Medal for Fine Arts 2017, the Ercilla 2009 award for "Artistic Career" and the Palencia Theater Festival award. It has also been awarded the Pepe Isbert National Theater Prize along with the entire Merlo saga, in 2019.
After almost 65 years of profession, María Luisa Merlo takes stock of her career: "It is good to have been born in a country where culture it has not been as good as in other countries. The best thing has been the public. "He never imagined what his career would be like." I don't think about the future, I live in the present, "adds the actress.
She married actor Carlos Larrañaga with whom she formed a company, and her children also followed in the professional footsteps of their parents, grandparents and great-grandparents, a whole saga.
For more than 20 years, every morning he has done "a little exercise and meditation" To better connect with herself, she even leads classes in what she calls "spiritual psychology", a technique that has served her "a lot" in her life because it helps her to be in "another state" different from the one that would be doomed by the "demands" vital around you.
Disciplined thanks to dancing, rebellious, vindictive and grateful for everything that life gives her. "You have to learn to be happy with the cards that have touched you; I have been happy with what has touched me in life."

www.informacion.es
Eddie is an Australian news reporter with over 9 years in the industry and has published on Forbes and tech crunch.