Patricia Sulbaran
BBC News Mundo correspondent in Los Angeles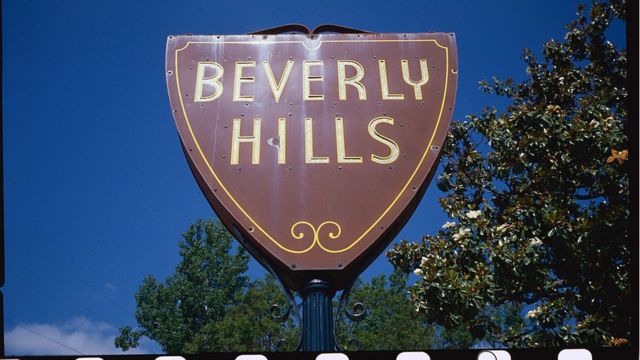 Before Beverly Hills was one of the most expensive residential areas in the United States, a Hispanic-Mexican woman and descendant of slaves owned those lands.
It was called Maria Rita Quintero Valdez Villa And, in the 63 years that he lived, he witnessed profoundly transformative events, not only in the history of California but also in Mexico and the United States.
So much so that he was born in 1791 in New Spain, lived in Mexico and died in 1854 in the United States, without leaving the place.
She was the owner of a vast territory of 1,800 hectares where he successfully raised cattle and horses.
Although nothing remains of what was his ranch, the "Rodeo de las Aguas," Beverly Hills authorities point out that Valdez's home was the first home built in what is now that city.
Great-granddaughter of a african slaveThe granddaughter of one of the founders of the city of Los Angeles and the daughter of parents originally from what is now northern Mexico, Valdez's life reflects the intense dynamics that have characterized Los Angeles since its establishment.
Who was María Rita Valdez
Valdez was born on May 21, 1791 and was baptized three days later in the Santa Barbara mission, in what is now California, just a decade after the founding of the People of Los Angeles.
"She is the granddaughter of Luis Quintero Valdez, who was part of the 11 families recruited by the government of Spain to found the city of Los Angeles ", explains David Torres-Rouff, professor of history at the University of California, Merced.
Spain summoned families from regions that are currently part of northern Mexico "under the promise of giving them land, animals, seeds and tools," says the academic.
"They were looking for poor people, landless workers, and this was an opportunity to get out of the caste and hacienda system," he says.
Of course, the promised lands were on the other side of the dangerous Sonoran desert, and the so-called settlers would found a city "in the middle of a indigenous society huge, "adds Torres-Rouff.
According to the historian, Valdez's father appeared in the records of the time as black, while his maternal grandmother appeared as a mulatto, a mix between a white person and one of African origin.
"María Rita Valdez has several Afro connections in her ancestors and in academia we would say that she is Hispanic-Mexican. afrThelatina", Explain.
In 1808, at age 17, Valdez married a Spanish soldier named Vicente Ferrer Villa, with whom he had three daughters, according to the story of Robert Lee Johnson in the book Notable Southern Californians in Black History ("Major Southern California Characters in Black History").
Ferrer Villa died in 1828, seven years after Mexico reclaim its independence and establish a new nation. With this, Los Angeles became a Mexican colony.
The Mexican governor at the time allowed Valdez, now a widow, to remain on the grounds with his family.
"He built his home on what is now Alpine Drive and Sunset Boulevard and once a year he would hire additional cowboys to herd his herd of cattle for a rodeo," writes Lee Johnson.
At the time, the right to occupy the land was granted but the property title was obtained based on the productivity they generated, explains Professor Torres-Rouff.
Valdez was "a great entrepreneur" and most likely employed domestic workers and staff, who were generally native-born, he adds.
At that time, the main economic activities were concentrated in raising and selling livestock.
In 1838, he obtained the title to his house from the Mexican government.
A decade later, he would fight for ownership of his land after Los Angeles was occupied by US forces in the war with Mexico.
"Layers of colonialism"
"She must have witnessed a great commotion in the lives of the indigenous peoples of the area, who suffered a demographic decline due to diseases brought by Europeans and an American period that exerted much more violence, "says historian William Deverell, of the University of Southern California.
The lands Valdez occupied with her husband weren't exactly desolate.
In fact, it was a place considered to be sacred by the native Tongva communities, which the Spanish colonizers would later refer to as "Gabrielinos".
In the area there were streams that ran down from the hills and emptied into plains, which facilitated prosperous life and eventually benefited Valdez.
"The story of María Rita shows the layers of colonialism in Los Angeles. She was the granddaughter of people who are the product of colonialism. Her grandparents are part of that project to colonize Los Angeles and she takes a piece of land that is in a sacred indigenous space, "says Torres-Rouff.
"She goes from being a mestizo woman with African roots from a humble Mexican family to a colonizing Californian daughter of the country", Add.
The arrival of the Americans brought hostility toward Mexicans, although many white men also married women belonging to the Hispanic-Mexican elites or californias.
With the Anglo-Saxon government a new attitude towards race was also imposed.
"Before the arrival of the Americans, there was no society based on skin color," explains historian Torres-Rouff.
"There were 'people without reason' or 'people with reason'", a division tied to socioeconomic status, clothing, but which could include mestizo people, such as Valdez.
Over time, Torres-Rouff adds, Americans built an image of Los Angeles that "marginalizes his Mexican history, to consolidate power and market the city as a haven of real estate and orange trees. "
Valdez sells his land
According to reports, in 1852 three men ambushed Valdez's ranch and there was a confrontation.
"That battle may have influenced her decision to sell her ranch two years later to Benjamín D. Wilson Y Henry Hancock for $ 4,000, "says the Beverly Hills website.
Wilson and Hancock, both white men from other US states, gained much influence in Los Angeles through their land acquisitions and held political positions.
The new US government required all those who had received land during the Spanish and Mexican dominions to prove their ownership.
Valdez testified that during the conflicts sparked by the arrival of US troops in 1846, he had lost his documents.
"My family and I ran away from home (…) with the political unrest and the arrival of the Americans in the city. And when we returned, we realized that our house had been looted, "he told the Land Commission in 1854.
Valdez died that same year and more than a decade later, when the land was in other hands, the government officially recognized that she had been its owner.
A series of ventures were carried out unsuccessfully at Rancho Rodeo de las Aguas in subsequent years.
Until a Wisconsin native, Burton E. Green, frustrated at not getting oil underground, envisioned a residential paradise and called it Beverly Hills.
Now you can receive notifications from BBC Mundo. Download the new version of our app and activate them so you don't miss out on our best content.

www.bbc.com
Eddie is an Australian news reporter with over 9 years in the industry and has published on Forbes and tech crunch.