Marcos Gonzalez Diaz
BBC News Mundo correspondent in Mexico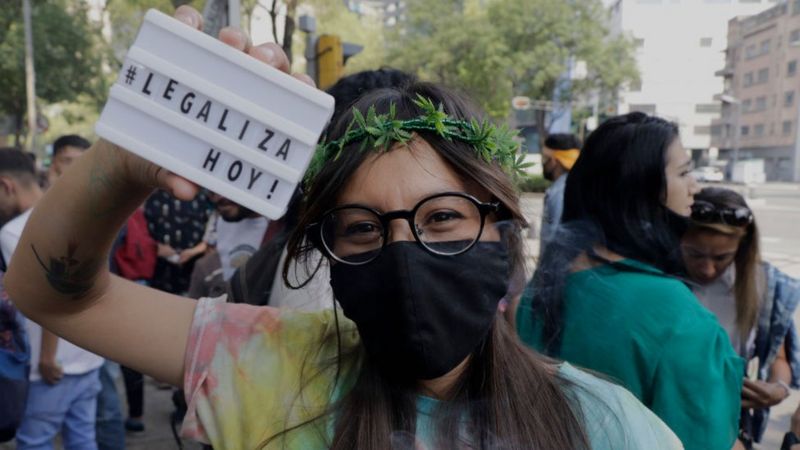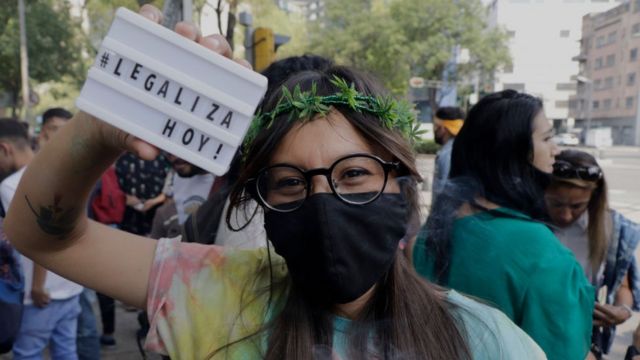 Is recreational marijuana use already legal in Mexico?
The decision of the Supreme Court this Monday to issue a general declaration of unconstitutionality on the rule that prevents the recreational use of cannabis in the country raised many doubts about what this means in practice.
The affair comes from afar. Already in 2017 the same body had declared unconstitutional the articles of the General Health Law that contemplate the absolute prohibition of personal consumption of cannabis, for which it ordered Congress to legislate for it to be a regulated substance.
This law, which would allow its commercialization and create a legal market for this substance in Mexico, has not yet seen the light of day. by the inability of deputies and senators to reach a consensus despite the three time extensions granted by the Court.
That is why the agency decided to issue now the declaration with which cannabis and THC are outside the legal articles that prohibit their recreational consumption and that only allow their medicinal or scientific use, considering that there are no collective health risks.
Many interpreted that Mexico thus became the second country in Latin America (after Uruguay) to approve the recreational use of marijuana or that it was even already decriminalized.
But, waiting to know how the Health authorities will act now, the Supreme Court's decision leaves such a void scenario (at least, temporarily) that many of the doubts about the use of cannabis in Mexico they still don't have a clear answer.
These are some of the most frequently asked questions.
1. Will I be able to consume marijuana without the need for any procedure or authorization?
No. Consumers must obtain a permit to grow, possess or transport cannabis for personal use before the Federal Commission for the Protection against Sanitary Risks (Cofepris) of the Ministry of Health.
This requirement, in fact, already exists today. According to the United Mexico Against Crime (MUCD), an organization that has actively promoted the regularization of personal cannabis use, some 2,500 people have applied for this permit since 2018.
The answer they got was always negative due to the prohibitions provided so far in the law.
This forced consumers to resort to an amparo lawsuit. in which the magistrates accepted to grant them permission based on the existing jurisprudence on the unconstitutionality of the regulations.
But now that the Supreme Court has eliminated these articles from the General Health Law, the health authorities will have to issue such permits.
In practice, therefore, the main change is that the interested parties will no longer have to go to court for their personal consumption to be authorized.
2. Will anyone who requests it get permission to use marijuana?
No. The Court orders authorizations to be issued to adults, but provided they meet certain criteria.
They should not consume in public spaces, which indicates that they will have to do it in their home privately. It is prohibited to consume it before minors or third parties who may be affected without their consent.
Nor should they trade in cannabis or supply it to third parties since its use is exclusively personal. Nor will they be able to drive dangerous vehicles or machinery after having consumed it.
But organizations and activists have doubts that, even when consumers respect the requirements, the authorities will effectively comply with the issuance of permits.
"Until now, Cofepris has constantly acted with delaying and bureaucratic practices to avoid or delay as much as possible to respond to requests for authorizations, which was what you needed to go after the amparo trial," Frida Ibarra tells BBC Mundo, MUCD Advocacy Director.
"So we watch with concern how he can act now and if he will use any new tactic. Hopefully none, and abide by and issue the authorizations as dictated by the Court, "he adds.
3. How much cannabis can I have for personal use?
It is not known. When the declaration of the Supreme Court is published in the Official Gazette of the Federation, it will be Cofepris that must issue guidelines (it is still unknown when) with specific criteria on personal consumption.
MUCD anticipates two possible scenarios. One, that no type of limit is set, as recognized in the authorizations obtained by those who appealed for amparo.
The second, that Cofepris does impose a maximum limit on the amount that can be owned or transported.
"What we expect to be a possession greater than five grams (the amount currently allowed) because, if not, it would not make sense for people to acquire the authorizations, "says Ibarra.
The last bill debated without success in Congress contemplated the possession of up to 28 grams of marijuana and six plants at home per person (or eight if there were more users in the same home).
4. Will the sale of cannabis be allowed? Where can I buy it for my personal consumption?
No, marketing is still prohibited until Congress legislates on it.
Thus, the question is where in Mexico consumers will be able to buy it for recreational use once they obtain the corresponding permit.
Therefore, the Supreme Court also ordered Cofepris to define relevant guidelines on acquiring seeds for personal cultivation.
The option chosen so far by many consumers was to import the seeds from other countries where their sale is legal, but that is not available to everyone.
"Hopefully these guidelines are not an obstacle and address the circumstances of those who want to consume legally," says Ibarra.
"If not, what will happen is that people they will continue to acquire the substance through illegal means ".
5. Is it true that recreational marijuana use has been decriminalized in Mexico?
No. The declaration of the Supreme Court "does not decriminalize the activities necessary for the personal consumption of cannabis without the corresponding authorization," they emphasize from MUCD.
This is due to the fact that, despite the General Health Law being amended now, the Federal Penal Code continues to consider crimes against health some performances such as carrying substances or drug dealing.
This discrepancy between regulations can generate, according to many experts, a kind of legal vacuum until Congress finally approves a law in this regard.
Ibarra qualifies the declaration as "symbolic and historical because it reiterates that the prohibition is unconstitutional." but admits that it "falls short" because there are still many aspects to define.
"In no way is there regulation (of the personal use of cannabis) in Mexico," he stresses.
According to the MUCD spokesperson, "the system will not be resolved until we have comprehensive regulation of the entire chain that involves a cannabis market: how do you acquire the products, the routes of administration, the points of sale … all that We will only be clear with a law. "
"And that is why it is urgent that Congress get to work and put the regularization of cannabis as a priority, "he concludes.
Now you can receive notifications from BBC Mundo. Download our app and activate them so you don't miss our best content.

www.bbc.com
Eddie is an Australian news reporter with over 9 years in the industry and has published on Forbes and tech crunch.