Bethan Head
BBC Witness History
"For 76 years, it was considered the ninth planet in our solar system, but today, scientists have demoted Pluto for being too small".
With those words, BBC journalist Fiona Bruce gave the news that was going around the world on August 24, 2006, causing a wave of widespread indignation.
While those in charge of updating the information in encyclopedias and textbooks put their hands to their heads, the internet multiplied memes in which Pluto appeared expressing emotions ranging from anger to loneliness, passing through sadness.
And the person responsible for the tragedy had a name: Mike Brown, an astronomer at the California Institute of Technology known as CalTech.
He had specialized in the study of the Kuiper belt, a band of astronomical bodies that remained after the formation of the Solar System.
In 2005, Brown and his team found an object called Eris and That find sealed Pluto's fate.
"Had it not been for Eris," Brown told the BBC, "Pluto would possibly have been swept under the rug forever. Although since the early 2000s, astronomers were clear that Pluto was part of the Kuiper belt, too. it was clear that no one really wanted to change their status as it would be difficult and troublesome. "
Astronomers weren't keen to fight the public, and there really wasn't a compelling reason to change the Solar System, the scientist explained.
"Even if it didn't make sense in scientific terms, it was okay for it to stay that way. The problem is, after we discovered Eris and realized that Eris is more massive than Pluto, we had no choice but to do something."
That 'something' was finally decided by the International Astronomical Union in August 2006 after they decided to define what a planet is.
"Something big"
Although in this story Mike Brown plays the role of the bad guy, the truth is that he never had anything against Pluto … quite the opposite.
"I remember when I was little I had a poster on my wall with all the planets, their orbits and even some asteroids. The artist had imagined the surface of Pluto with needles that rose towards the sky and were so delicate that it seemed that if they you touched they would break …
"How could I not be fascinated by such a distant, strange and delicate place? Pluto was one of my favorites as a kid".
The now dwarf planet was discovered in 1930 by the American astronomer Clyde Tombaugh.
GETTY
Did you know…
.
2.380 km is its width, which is equal to half the US or 2/3 of the Moon

248 yearsterrestrial equals 1 Plutonian year

5 moons and one of them, Charon, is so big that Pluto and Charon orbit each other like a double planet
Source: NASA
Astronomers had been searching for it since the discovery of Neptune in 1846 by the Frenchman Urbain Le Verrier. It was thought that "something big" was gravitationally pulling Neptune and its neighbor Uranus, affecting the shape of their orbits.
"The American Percival Lowell, who called it 'Planet X', founded an entire observatory to look for it: the Lowell Observatory in Flagstaff, Arizona."
An accident
Lowell died without finding it, but the observatory continued the search by looking at the area where he had predicted there should be a planet.
"In 1930 Tombaugh found a pinpoint of light moving. Moving meant it was part of the solar system; moving slowly meant it was very far away," explains Brown.
"If you assume there must be a planet and you find something, you assume that is what it must be.
"Lowell's prediction was not wrong, but it was based on incorrect data. It turns out that the orbits of Uranus and Neptune are not disturbed at all; both planets are exactly where they are supposed to be. But people did not know at the time. .
"The discovery of Pluto was a total accident".
"My jaw dropped"
In the 1930s, there were no criteria for comparing Tombaugh's discovery, nor a definition of what a planet was.
The concept was somewhat vague: a planet was generally somewhat dominant and round in the Solar System.
So when Brown and his team discovered Eris in 2005, and revealed that it was larger than Pluto, it was clear that things couldn't go on like this.
"A committee was formed, the committee was dissolved, and a new committee was formed, and the new committee was dissolved. Eventually the International Astronomical Union, the authority to do these kinds of things, formed another committee with scientists and historians who prepared a proposal for the 2006 meeting ".
Brown didn't want to get involved.
"In fact, I hid with my family on a small island in the Pacific Northwest where I assumed no one would find me. But, in the course of this meeting of the International Astronomical Union, they found me and my phone started ringing …
"The proposal was that Pluto would retain its planet status, Eris would be a planet, the asteroid series would be a planet, and Pluto's moon would be a planet.
"My jaw dropped: It's the craziest proposal I've ever seen in my life".
Case closed
If it had not been for him, Pluto would be what so many of us had learned it to be: the ninth planet in our Solar System.
But the author of "How I Killed Pluto and Why He Deserved It" was not silent.
"They were about to say that I had discovered a planet -Eris-, which would have made me the only discoverer of planets with life and therefore famous, but I strongly argued that that didn't make sense.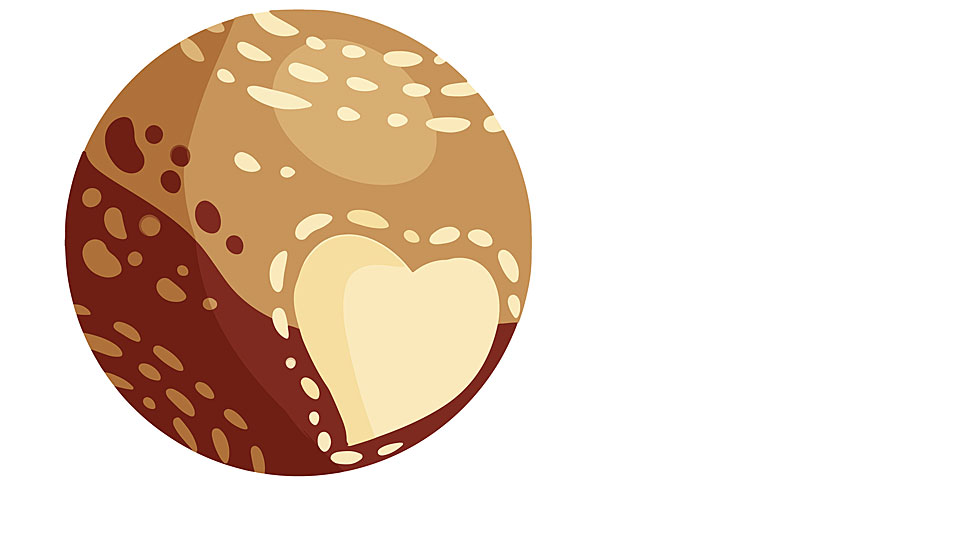 GETTY
Did you know…
.
It's the only world (so far) named after an 11 year old girl

Venetia Burneyof Oxford, England, suggested in 1930 that they call him after the Roman god of the underworld.

Ice heartPluto has a larger heart-shaped glacier than Texas.
Source: NASA
"I didn't discover a planet. I discovered this cool little body that is the most massive Kuiper belt object we know of, and that's very amazing, but it just doesn't have the scale of a planetary discovery.
"My argument finally prevailed overwhelmingly in the vote that took place at the International Astronomical Union, and that was it: Pluto ceased to be a planet.
"I would say that Pluto never was. The case was closed and Pluto will never be a planet again."
Mixed feelings
The International Astronomical Union, for the first time, specified a definition of a planet.
To be a planet, an object must orbit the Sun, be round, and have a clear neighborhood, in other words, have no other objects nearby. In that last condition Pluto failed.
"At the time it happened, it was exciting; it was not an easy decision to make and astronomers made the right one. It was amazing, I never really would have predicted it was going to happen".
But as much as Brown tried to explain what happened, people were enraged.
"That first year, they sent me rude hateful messages. I received real death threats."
The astronomer was struck by the fact that people had such strong feelings about Pluto.
In spite of everything, he has no regrets.
"It was and still is scientifically correct. It is the correct classification scheme for our solar system and it matters because it allows us to really understand what it is like.
"So I am delighted to have had a role in helping the Solar System to be described in the right way for scientists and the public."
And what is that description like?
"I think the best description of the Solar System is: 8 giant planets, a band of asteroids between Mars and Jupiter, and a band of objects outside Neptune in the Kuiper belt."
Remember that you can receive notifications from BBC Mundo. Download the new version of our app and activate them so you don't miss out on our best content.

www.bbc.com
Digsmak is a news publisher with over 12 years of reporting experiance; and have published in many industry leading publications and news sites.