08:03
European stocks open lower amid tighter Covid lock downs
The first rally of 2021 has been truncated. Here are the first impressions of the major indices in Europe:
The FTSE 100 is down 0.17%
The FTSE 250 is down 0.4%
Germany's DAX is down 0.3%
France's CAC 40 is down 0.5%
The IBEX in Spain falls 0.6%
The pan-European Story 600 is down 0.3%.
07:55
Gove: Chancellor to Announce More Business Support Today
CBI CEO Tony Danker also told the BBC that he expects the Treasury and the business department "to come out in the next few days" with support for businesses.
But it seems that today may be the day.
Cabinet Minister Michael Gover has just told BBC Breakfast that Chancellor Rishi Sunk will make an announcement later on Tuesday. Stay tuned.
07:50
CBI Chief: Government Must Offer More Business Support Before March Budget
The head of business lobby group CBI, Tony Danker, says the government cannot wait until the March budget to implement additional support for companies affected by the new Covid restrictions:



We have seen lock downs before, we know the impact they have, and therefore I am afraid that more comprehensive restrictions require a more comprehensive economic response.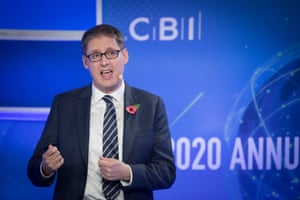 Speaking to the BBC's Today program, Danker said there were three pressing issues the government needed to address in its emergency response for business.
The first is restricted cash flow, which could be helped by more VAT deferrals, tax breaks, and more generous government grants.



The second is probably to fill the gaps that are now most exposed by learning the lessons of last year. What we learned most of all in terms of gaps was probably the role of supply chains. If the hospitality industry closes, it also has a huge impact on food and beverage manufacturers. Close airports and aviation, and tens of thousands of people in the supply chain. [are] affected.

And I think the third thing is to sign up support for as long as it lasts, so that companies stay on track rather than act rashly.



I don't think we can wait until the March budget to review support. Businesses will see it sooner, so I think we should respond very soon and not wait for the budget.
07:28
Introduction: England and Scotland plunge into new blockades
Good morning and welcome to our continued coverage of the global economy, financial markets, the eurozone and business.
Monday's market rally, which lifted major European indices and raised the FTSE 100 by nearly 3% in the first trading session of 2021, has been halted.
An increase in Covid cases and concerns that health services could be overwhelmed have prompted further nationalock downwn measures in Scotland and England. While England's measures will be legally binding on Wednesday, Prime Minister Boris Johnson has asked people to begin following the restrictions from Tuesday night.
It means that most businesses will close their doors, including all non-essential retailers, nail and beauty salons, gyms, and leisure centers. Pubs will also not be allowed to offer alcohol to go.
UK business lobbyists are now calling for more government support, including more tax breaks, VAT deferral, cash grants and an extension of the low-interest recovery loan program for small businesses.
Cabinet Office Minister Michael Gove said this morning that the government will review the restrictions on February 15, hoping to progressively lift them after that.
Meanwhile, futures for major European indices, including the FTSE 100, are pointing to a negative start for equity markets Tuesday morning:
US stocks also tumbled overnight amid concerns about a surge in Covid cases and uncertainty over the outcome of a doublSAPenate race in Georgia that will determine whether Republicans or Democrats control the chamberHighgh. ThSAP&P 500 tumbled nearly 1.5% while the Dow Jones fell 1.2%. The Nasdaq also fell 1.5%.
Asian trade has been mixed, with China's Shanghai Composite up 0.7%, Hong Kong's Heng Seng up 0.6% and Japan's Nikkei down 0.3%.
The agenda
8.55 a. M. GMT: unemployment in Germany (December)
9.00 a.m. M. GMTSmutMT new car registrations (December



www.theguardian.com
George is Digismak's reported cum editor with 13 years of experience in Journalism