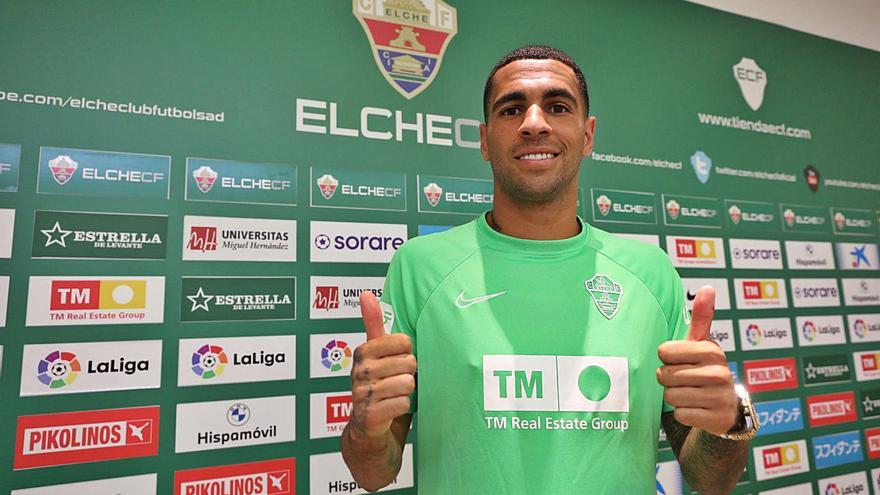 In this sense, the Canarian highlights the immediate challenge after the LaLiga Santander stoppage due to international competitions. This circumstance has come «at a good time. It is better to have won and continue with that dynamic during these days. You rest better with victory.
Now, Elche has three teams in front with similar objectives. For this reason, «those of now are finals against direct rivals because they are games where you can hit the table. The games against direct rivals we must make it clear that we want to win and we are going to go to death for the three points in all of them ».
The former Real Madrid player, Eintracht Frankfurt or Schalke 04, arrived at the club after LaLiga started and with an "atypical preseason, in which I only trained with my previous team." For this reason, he considers that "I have gone from less to more, both physically and soccer, joining the team." Assessing the team's career, he assures that «the beginning has been positive, we have competed from beginning to end in every game; no rival has passed us by. For small details we have not achieved everything we could have deserved, but we have always competed ».
Unlimited
Personally, "I don't set limits. My highest level is yet to come. The way forward is to do my best in each game and keep growing. Here I have had the confidence and as soon as I get better physically and get to know my teammates more, the performance will be better ». He has only signed for one year, but «it is a year of contract with the maximum enthusiasm because it is the club that trusts me the most. Since I arrived he has shown it. Now I just want to go day by day growing with the team. When the time comes to speak with the club, I will be delighted and will be sure to reach an agreement.
Elche, as a club and as a team, «has positively surprised me. It has been a pleasant surprise since I arrived; the day to day is spectacular in this club and in this city. Furthermore, "Elche has an incredible margin for improvement. In the future Elche is going to increase and together we are going to make that possible ", concluded the Canarian player. And yes, this team is an attractive place; "undoubtedly".
Regarding the affection of the fans, Mascarell emphasizes that the fans "support us from minute one to the end and that gives us a lot of strength to continue with the positive results. The Sunday schedule was a factor that did not suit us very well because it was very hot and it was hard for us but also for the fans. We encourage you to come because I am sure that with everyone together it will be easier to have a beautiful year. Annoyed by a quadriceps burn, the result of the last game, he stressed that his injured teammates continue to "recover well" and that yesterday the players experienced "a very good gym session"; today "we train, to rest for the weekend."
Asked about his competence with Marcone for the position, Mascarell assured that "she is healthy. It hasn't happened yet, but maybe the two of us can play together one day. We have a very good relationship. Sometimes one will play, other times another, but we have a common goal.
Regarding the coaching staff that directs the squad, the player highlights "how close he is and the good vibes there is. I come from a club where knives used to fly. Here I found a family, where everyone helps each other and gets along. There are many people on the coaching staff who make us feel at home. And that is important.
Finally, Mascarell wanted to make it clear that the team responds: «For us, competing is non-negotiable. This team leaves the skin in every game.
"I am excited to see how people are supporting La Palma"
Omar Mascarell yesterday appreciated the campaign that he himself has launched with the support of the club to help the people affected by the La Palma volcano and was "happy and at the same time excited to see how people have been involved in this campaign. I just saw in the stadium warehouse all the boxes that have been collected. It seems incredible to me. We are having very hard times in the Canaries and seeing how people show solidarity … I thank you all from my heart, "he said, visibly moved by the support received from Elche for his Canarian neighbors.

www.informacion.es
Eddie is an Australian news reporter with over 9 years in the industry and has published on Forbes and tech crunch.