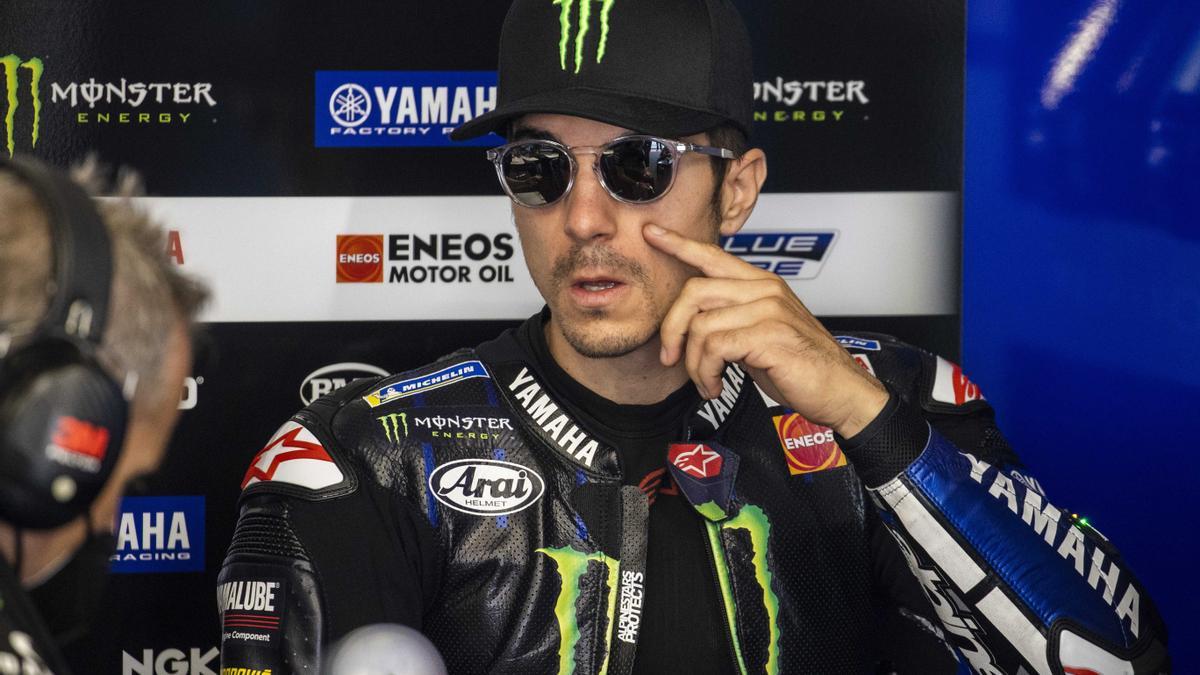 The Spanish Maverick Viñales, sanctioned by Yamaha without riding the MotoGP Austrian Grand Prix for his attitude on the track during the Styrian Grand Prix, has asked for forgiveness to the Japanese manufacturer during an interview with the Italian television 'Sky'.
In a conversation with the 'Sky' journalist Antonio Boselli, the Spanish pilot was sincere, for the first time, and acknowledged being "sad, very sad, because it is a very strange situationThat is the clearest fact and it is difficult for me to be in this situation, although I feel fortunate to have people around me who at the moment make me go through this situation better. "
"I am very sad about how the situation has gone and because of the frustration I feel after so many races that have not gone as I thought in my head and that not a good situation for me in no way ", recognizes the Spaniard, still on the Red Bull circuit in Spielberg.
Maverick Viñales knows the content of the Yamaha statement with its suspension and also the images that were used to sanction it, in which an incorrect use of its competition prototype is appreciated. The Roses pilot acknowledged in the interview that for him it was a "moment of great frustration since in the first race everything was perfect and I had entered strongly into the leading positions, but then, in the second race, everything went wrong and it was an explosion of frustration that I did not know how to channel in the best way and that is why I have to make excuses for Yamaha, but the frustration was so great that I did not know how to manage".
Maverick Viñales stressed that, despite everything, had received the support "of many people in the paddock and even other riders, thanks to which I have been able to see that there are many fantastic people, great people, who have understood the situation. "" It is difficult to handle these situations because in the end it is a very great ambition that of any pilot for this sport and the frustration generated by knowing that you're not as strong as you can beIt makes you make mistakes, but I have never wanted to put myself at risk or put anyone at risk with this situation, "emphasizes an affected Maverick Viñales.
Viñales insists that "it is a frustration that comes from far back and is what makes me saddest, and the truth is that the last days have been very complicated for me to manage and that is why I insist on apologizing to Yamaha, because I really did not want to behave like that. "
"There are many messages that I have received but as I said at the beginning, my only intention is to be able to enjoy all the potential that I am capable of displaying," says Maverick Viñales, who admits not knowing what his next step will be by stating that "for Now I do not know, I want to be calm and reflect to return centered, calm and with everything in its place".
To questions from another of the 'Sky' journalists, Guido Meda, who praised knowing how to apologize, the Spanish rider insisted that "it was a Yamaha decision that I respect a lot and for now I am still a Yamaha rider and I have to accept their decisions as they are, period. "

www.informacion.es
Eddie is an Australian news reporter with over 9 years in the industry and has published on Forbes and tech crunch.