Max Verstappen won the French Grand Prix for Red Bull after a passionate fight with Lewis Hamilton, whose Mercedes came second on the penultimate lap. Sergio Pérez was third for Red Bull and Mercedes' Valtteri Bottas was fourth with McLaren's Lando Norris in fifth.
Verstappen won after a tense and superlative race that ebbed and flowed between the two as they battled on the track and their teams tried to outmaneuver each other from the pit wall. Ultimately, it was Red Bull and the Dutchman who triumphed, with Verstappen now holding a 12-point championship lead and his team a 37-point lead over Mercedes in the constructors' championship. The head-to-head fight between the two title contenders was indicative of the intense battle they have joined this season.
Red Bull team principal Christian Horner had said that if his team could beat Mercedes here, where they have been absolutely dominant in recent years, they could beat them anywhere. This victory was a definitive statement that Red Bull has an advantage across the range of circuits. Horner's analysis seems eerily accurate and Mercedes now knows that they are trying to catch up and without the comfort of an advantage on certain tracks.
For Verstappen, his first win in France, where his previous best result had been second, provides even more momentum and will somehow offset the disappointment of losing a likely win after suffering a tire explosion while leading in the final round in Baku.
His thirteenth career win is the third this season after a dominating win at Monaco and another at Imola. He had to work hard to take the flag here at Paul Ricard.
Verstappen cleared the pole cleanly and held the lead at turn one, but slightly lost the rear end on cold tires and was forced to cut the corner at turn two. Hamilton, who had stayed in line, swooped in to take the lead. No action was taken against Verstappen for cutting the corner.
It was a hugely costly unforced error and Hamilton made the most of it. He immediately struck a gap in clean air up front, with a second and a half over the Dutchman on lap five, which the pair held steady with a series of metronomic laps. However, they were struggling with tire wear on the medium rubber with which they had started the race.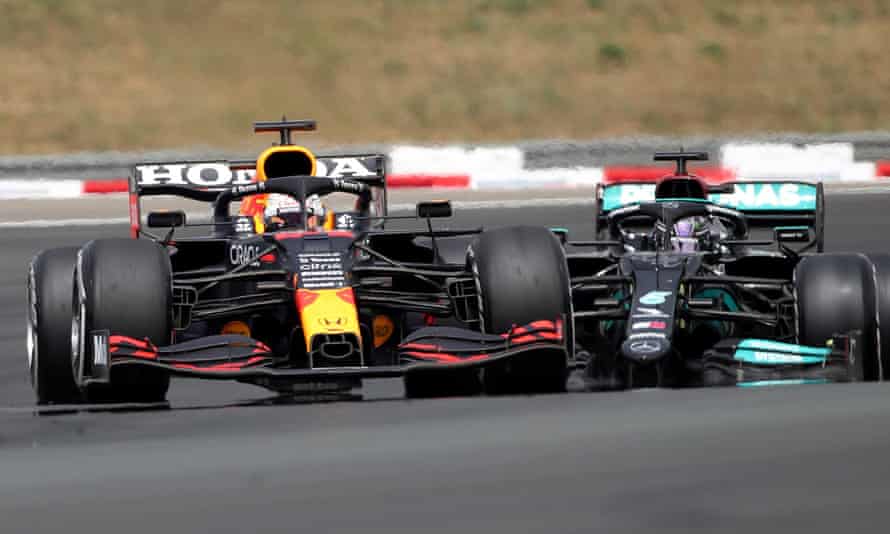 Hamilton had a three-second lead on lap 17, when Bottas was the first of the leaders to pit to take the hard tire. Verstappen covered him with his save a lap later and emerged in front of the Finn. Hamilton stayed out and pushed on his lap to pit on lap 19.
His stop was clean and quick, at 2.2 seconds, a tenth faster than Red Bull's, but Verstappen's lap had been huge and the Dutchman took the lead at turn one when Hamilton came out of the pits. He had nullified a three-second lead through stops when the cut paid off for Red Bull.
With 33 laps remaining, the hard tires were destined to hit the flag. Hamilton was disappointed and his race engineer Pete Bonnington admitted that Mercedes wasn't sure how he had lost the lead, but the team had faced Bottas first, giving Red Bull the option to test the undercut against Hamilton.
The three forwards were even in pace, the line aft a second apart, with Hamilton tucked under Verstappen's wing. The two were quickly on a race of their own with Hamilton putting great pressure on the Dutchman.
Verstappen warned that the tires would not last the race at the rate they were competing, as Mercedes appeared to have committed to a second stop. Red Bull duly went ahead and faced Verstappen on lap 33. They had been beaten in Spain, unable to react when Mercedes made a late second stop, and did not want to be caught again.
There were 20 laps to go, but the possibility of Mercedes making a cut on Red Bull was gone as Verstappen trailed Hamilton for 16 seconds. On new mid-size tires, he was very fast and was two seconds per lap behind the leader. If this wasn't tense enough, the two leaders struggled with radio communication with their teams.
Mercedes was playing an observation report with Hamilton to see if he could stay out and keep the lead before committing to trying to get to the finish. Verstappen caught Bottas on lap 43 and passed him one lap later. With nine laps remaining, he was five seconds behind Hamilton.
As he had done in Bahrain, Verstappen closed on cooler tires, but Hamilton kept the distance, earning an extraordinary living from his tires. The gap narrowed to 1.6 seconds with three laps to go and at the penultimate circuit, Verstappen made his lead count as Hamilton's grip wore off and he passed him to the Mistral chicane.
It was enough to secure a good win with Red Bull's strategy paying off to overcome the Dutchman's initial mistake.
Daniel Ricciardo was sixth for McLaren, Pierre Gasly in seventh for AlphaTauri, Fernando Alonso in eighth for Alpine, with Sebastian Vettel of Aston Martin and Lance Stroll in ninth and tenth.

www.theguardian.com
George is Digismak's reported cum editor with 13 years of experience in Journalism