Htet Htet Win and her husband returned home late Sunday night. He passed the board-imposed curfew at 8 pm when his motorcycle passed through the streets of East Mandalay. The security forces reportedly yelled at them to stop and then opened fire when they failed to do so. Her husband was beaten but managed to escape. She was knocked to the ground.
TO grainy photograph, taken by a spectator, shows her lying face down on the cement, with her arms extended above her head, her upper part and her buttocks purple marked with dark spots.
Doctors believed she was still alive, but residents warned them that soldiers were waiting nearby. They feared it was a trap. "I felt like they were ambushing us," said one of the rescuers. "I think it would have survived if we could pick it up as soon as it happened," he said. They waited more than an hour before the soldiers finally withdrew. It was too late.
For Myanmar doctors, it is a sadly familiar story. The doctors told the Observer the army routinely attacked them with violence and were prevented from treating the victims of their bloody attacks. They reported incidents in which the security forces, trying to suppress opposition defiant to the February coup, raided their facilities, searched and shot their ambulances, detained, beat and even killed their colleagues.
Raha Wala of the advocacy group Doctors for Human Rights said the army was "systematically persecuting doctors", both for treating anti-coup protesters and, in the case of many government doctors, for participating in a national strike. .
Every few days, news spreads of more arrests of medical personnel, carried out in clinics, protests or from their homes during night raids. Some are released after being questioned, others are less fortunate. "If they arrest him today, tomorrow they will return his body with torture marks or something like that," said a doctor from Yangon who was in hiding.
Last Saturday, orthopedic surgeon and university professor Dr. Kyaw Min Soe was transferred from his home in Yangon. A photograph apparently taken at the scene shows him being driven into a van, with a bag placed over his head and his hands tied behind his back. Since then, two pediatricians have been brought to Mandalay; a clinic was raided in Yangon, and soldiers detained four volunteers according to local reports; one facility was raided in Monywa, where two staff members were taken to a police station for questioning, according to a local source, and another facility in Kale was reportedly raided, although no personnel were present at the time.
According to the Association for Assistance to Political Prisoners, which has tracked hundreds of deaths, at least five doctors have died in the violence. Among them was 20-year-old nursing student Thinzar Hein, who was shot and killed while treating injured protesters in Monywa on March 28. She had protested the hit and shared her medical experience with others.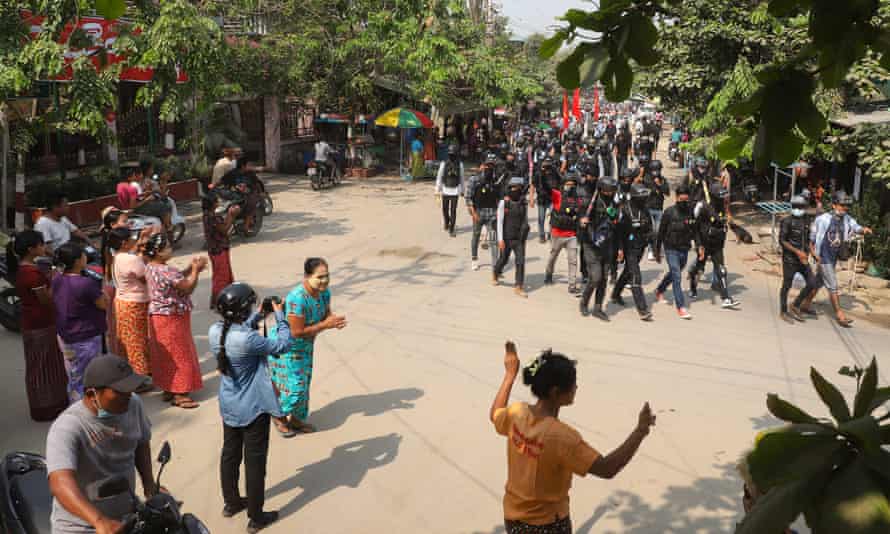 "It's like we're dealing with barbarians," said a doctor in Mandalay, who described being shot while trying to treat a patient, despite being dressed as a doctor. "We were wearing gowns, a medical placard and a stethoscope," he said. On another occasion, on March 27, his ambulance was fired upon as he tried to pick up an injured patient. His colleagues, he said, were detained and beaten when they tried to pick up a body on April 1. "They [the military] I want to remove all the evidence, "he said.
In some areas, doctors no longer wear uniforms, fearing this will put them at even greater risk. Government doctors who refuse to work in state hospitals but are finding ways to treat patients elsewhere are especially vulnerable. They were among the first groups to announce a strike after the coup, which caused a large number of workers, in services ranging from customs to transportation, to tools, practically paralyzing the country.
While many governments have condemned violence against peaceful protesters and the UN security council has expressed concern about restrictions on medical personnel, the brutality has continued. On Friday, military spokesman Zaw Min Tun accused the government doctors of murder, claiming their strike had contributed to the Covid deaths. "They are killing people in cold blood," he said.
At least 618 people have been killed by the army since it took power, while thousands have been detained, most in unknown locations.
"Seeing dying patients is not unusual for a doctor, but these days it's heartbreaking because the patients are just teenagers," said a second doctor in Mandalay. If medical teams could safely treat the wounded, the death toll would not be as high, he added, describing how he previously had to flee his clinic, along with patients, when the army approached.
At least 43 children have been killed by security forces, the youngest being just six years old.
"We even cry when we do CPR. But we encourage each other, we have to move on because we can't be like that, "said the doctor.



www.theguardian.com
George is Digismak's reported cum editor with 13 years of experience in Journalism