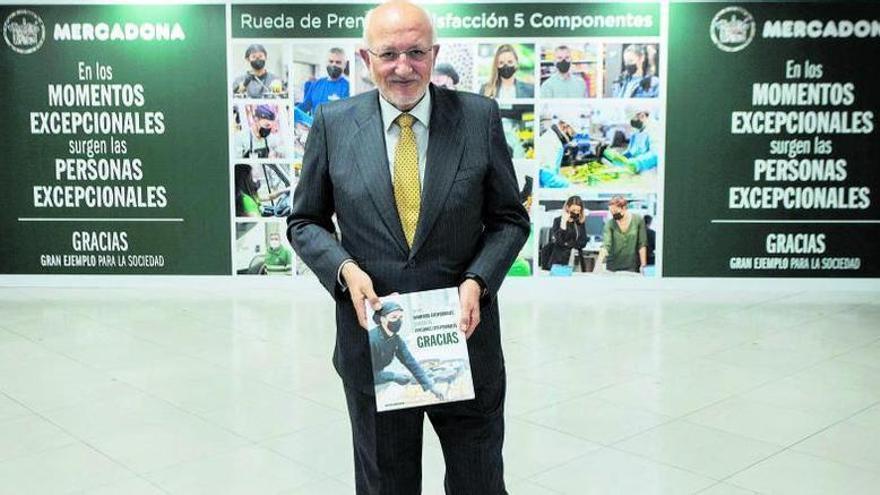 «It has been the year of best management in the history of Mercadona». This is how the president of the flagship of commercial distribution in Spain summarized, Juan Roig, an exercise, the first of the coronavirus era, in which the company has raised its sales to 26,932 million euros during 2020, which represents an increase of 5.5% compared to the previous year. What's more, net profit shot up to 727 million euros, 17% more than the previous period. Undoubtedly, the covid-19 does not seem to take its toll on the Valencian family firm because it was also able to create 5,000 new jobs (the workforce already reaches 95,000 workers) and invest 1,500 million euros, with its own resources, to accelerate its announced « brutal transformation ", which contemplates a commercial" more digital, productive and sustainable ", according to Roig.
When taking stock of the fateful year for the economy in general, Mercadona's chief executive acknowledged that «2020 has been hard, rare and difficult, Although it has allowed us to reaffirm that the true strength of the company's transformation are the people who make up this project and working as a team to open the company's more than 1,600 supermarkets every day. In the first days of the state of alarm, sales doubled due to the psychosis of hoarding in homes.
In your opinion, «Health and the economy are like breathing and eating, health is important but so is the economy ", which is why, in the face of the health crisis, Mercadona has undertaken more than 100 extra measures, starting with the purchase of masks for workers, partitions, gel, signage, car park, security, control of capacity, or the installation of a call center with 60 doctors for the workers.
Tourism takes its toll
Loss of tourists (especially in autonomous regions where it has a greater presence, such as the Valencian Community, the Balearic Islands, the Canary Islands and Andalusia) it has passed a certain bill to Mercadona, as well as the strong expansion of regional chains, circumstances that have made it lose 0.5% of market share to the supermarket firm. Mercadona ended the year with 1,641 supermarkets, after opening 70 supermarkets, 10 of them in Portugal, and closing 65 stores that did not conform to its new, more efficient and sustainable model. However, the opening of stores will not stop throughout 2021.
That is why it will continue to promote its 2018-2023 transformation plan and, for this, it plans invest another 1,500 million in 2021, which will be used mainly to open 97 new supermarkets, 88 in Spain and 9 in Portugal, as well as the reform of 88 supermarkets to adapt them to the new efficient store model; and the implementation of the new Ready To Eat / Soon to Eat section in another 200 supermarkets. In addition, it will inaugurate new logistics blocks (including the first phase of Parc Sagunt). And it will create more than 1,600 jobs in 2021, between Spain and Portugal.
However, Roig ruled out buying new chains to grow. "It is not our model," he declared. Nor does it contemplate establishing itself in other neighboring countries after its landing in the Portuguese nation.
Profitability «online»
Satisfied after transformation of the web and internet sales channel, the helmsman of the supermarket chain indicated that online sales are already profitable for the company, whose business rose to 176 million euros, double than a year earlier. In large cities such as Madrid, Barcelona and Valencia, where it has warehouses to distribute goods via e-commerce, these sales already represent 4% of its total turnover.
The Roig-Herrero legacy
Roig clearly recognized that he is one of the richest in Spain, although he explained how both he and the vice president of Mercadona, Hortensia Herrero, His wife, share and reinvest in society an important part of Mercadona's dividends and of their personal assets: 70 million euros in 2020, 40% more, through the Legacy Project in its different initiatives (Entrepreneurship, Training, Sports , Entertainment, Art and Culture); and 100 million expected in 2021. This commitment, which began more than a decade ago, was born from the conviction on the part of both that "knowledge and money bring happiness … If you share them." And, where appropriate, through different sustainable and solidarity projects, such as Marina de Empresas, Fundación Trinidad Alfonso, Valencia Basket Club, l'Alqueria del Basket, Licampa 1617 (Casal España Arena de València) and Fundación Hortensia Herrero.
The president of Mercadona also seems clear that he wants to focus on "improving the quality" of the products he offers. "We are not going to enter a price war, our war is quality." In fact, he admitted that some Hacendado products "lack more quality", so they are going to influence this area. In addition, he commented that the client will notice this commitment to quality in the coming years, and explained that he is even willing to look for new suppliers.
"Mercaurante"
Stated to talk about the stores of the future, Roig highlighted the expansion of the section "Ready to eat", which had to close for six months with the outbreak of the pandemic and is now resuming with a view to growing at "cruising speed." In 2020 the section was installed in 650 stores with an investment of 170 million euros. In addition, he admitted that more competitors have emerged in this time with the increase in "take away" and "delivery", but he persists in his commitment to the section and predicts that the kitchen will be reduced in the houses and that the supermarket will become in "Mercaurante", a concept taken from the association of the Aecoc distribution.
In 2021, it foresees a turnover of 27,850 million, that is, 3.7% more than in 2020. In addition, it expects to maintain profits. Near Lisbon it will open a logistics center to continue its expansion in Portugal, whose stores sell 10% more than the Spanish ones. According to the IVIE, Mercadona generates 2.2% of GDP and 3.89% of employment (direct and indirect), with 661,000 jobs, in Spain.
Shared benefit: 1,500 million euros
At Mercadona they like to give their shares unique names. In the same way that the client is known as "the boss," the annual benefits are referred to at the firm as "shared." In the 2020 results, of the 1,500 million benefits obtained, 409 will go to workers in the form of bonuses that are usually equivalent to two months' salary. To society in general they go 364 million in taxes and shareholders receive 727 million. This profit sharing formula was implemented in 2001.
Elena Tejedor replaces Germán in External Relations
Elena Tejedor, until now director of the Hortensia Herrero and Trinidad Alfonso foundations, is the new general director of External Relations, occupying the position that last year the resigned Juan Antonio German. Tejedor joins the management committee to which thirteen executives belong (five are women). The new head of external relations has worked closely with Mercadona's vice president and Juan Roig's wife, Hortensia Herrero, in the implementation of cultural patronage initiatives. While, Patricia ramos takes the general direction of Informatics. Before, it had Works and Expansion.

www.informacion.es
Eddie is an Australian news reporter with over 9 years in the industry and has published on Forbes and tech crunch.