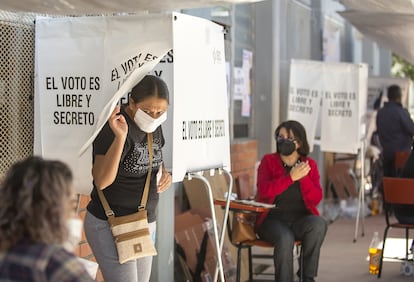 On June 6, Mexicans will go to the polls to elect new federal deputies. Incidentally, 15 states will vote to select a new governor. And, as if that were not enough, the municipal presidencies and, in some cases, other auxiliary positions will be renewed. In short: the distribution of political power in Mexico will be reconfigured. That size is the importance of the day.
The Government has endeavored to turn these elections into a kind of plebiscite on its popularity (and viability). The president has intervened in the campaign, setting positions and attacking rivals, in a manipulative role that a Mexican president had not adopted in many years. And it is not because their immediate predecessors did not want to, but because the political culture of the moment led them to keep the forms and operate, more or less, under the table.
But Andrés Manuel López Obrador thinks he is far above them. He believes that the candidate who will be voted (or not), deep down, is him. And his strategy has been to stay in perpetual campaign. Institutionalism and the obligation to govern for all are things that come to him very guangas. The president believes that his main function is to ensure that his figure (and, already in those, his party) predominates at all costs. Governing, understood as managing the state apparatus as best as possible and trying to resolve the country's conflicts, does not interest him so much.
The opposition has also paved the way for these elections to be seen as a turning point in the history of Mexican democracy. A good part of the messages from López Obrador's opponents has revolved around the cardinal importance of June 6. "Now or never" is the message they crush. "Either we stop them now or they will dismantle democracy and be unstoppable." This, which sounds like paranoia, is supported by the obvious official will to break the laws and burst all the counterweights to favor Morena and her allies.
But the opposition alliance and the other parties that are not part of the ruling party (because, much like the old PRI, Morena has an escort of satellites that exist only to praise the president and atomize the vote) face a serious problem: they are political forces. that they have a lot of tail to be stepped on. Because we are not talking about young renovating movements, but about the PRI, the PAN and the PRD of a lifetime, that is, about the parties that dominated the scene for decades, and from which an immense file of errors can be extracted at any moment. , inefficiencies and corruption. And we are talking about the Citizen Movement, a convincing party where they exist. The best proof is that no one has the slightest idea what part of the political spectrum MC inhabits. Is it right, left or center? Not even its militants try to answer the enigma. His thing is to make an effort to climb to command posts and that's it.
Who to vote for, then? In Mexico, power always manages to be a cancer. Anyone who becomes president does all the damage he can to it, with the assurance that he will profit and go unpunished. López Obrador and Morena are no exception. It would take an encyclopedia to fully address his various errors, failures, abuses, pettiness, disasters, and especially his riotous and destructive spirit. On the other hand, it must be understood that the opposition, in this game, plays the role of chemotherapy. It is poison, beyond all doubt. It does a very great and verifiable damage. Nobody takes it for pleasure. But there is no other way to deal with cancer.
We Mexicans have a bleak outlook ahead. We must assume that chemotherapy may stop the disease, but only because it waits for time to be cancer again. And that the opponents will have to be thoroughly criticized, in due course, if they return to the government.
They do not leave us with another: in this country you have to make personal marking to the one who gets on the chair. And that, reduced to the issue of elections, means always voting against power, even if it is with a stuffy nose.
Subscribe here to newsletter of EL PAÍS México and receive all the informative keys of the current situation of this country

elpais.com
Eddie is an Australian news reporter with over 9 years in the industry and has published on Forbes and tech crunch.