Mexico hit the stretch in the epicenter of football. El Tri won the gold medal against Brazil on the grass of old Wembley. It is the greatest Mexican triumph in a team sport in the Olympic Games. Those afternoons raised to the top a whole generation that, at least that tournament, moved away from "already merit". That 2-1 in front of the Canarinha de Neymar made Mexico party. Marco Fabián (Guadalajara, 31 years old) was the creative man of the team that, in London 2012, did not appear as a favorite. Of the 18 players, only five were able to play in the elite of Europe, the rest have maintained a place in the Mexican League. Marco Fabian played for Eintracht Frankfurt and won an unexpected German Cup against Bayern Munich.
Question. More than nine years have passed since he touched the Olympus. What do you miss most about those days in London?
Answer. Everything. You relive it all the time. I am one of the people that maybe people see you in people and recognize you for being part of the most important achievement of Mexico, until now. That makes you proud, but when the subject comes up to you, you see images … you live again. From the beginning: it was not only to arrive and be champions, it took several years to be part of that generation. To form a family. From Panamericanos, in [el torneo Esperanzas de]Toulon, the Pre-Olympic. It was a great process and the gold medal was created there. A great team was formed with the coaching staff. We got along well on and off the pitch. It was a dream that for many was impossible. Before traveling the expectations were to reach the podium. We achieved what was unattainable. The country opened its eyes much more. As Mexicans we open our eyes to say: yes, you can.
P. What do you remember in particular? The game against Brazil?
R. The most was when the referee whistled the end against Brazil, knowing that already, that we achieved the impossible. I remember that I turned to heaven, I saw my family was there in London. Wembley was packed. It was a dream. The last minutes were very tense. We had Brazil on top of us. You start to imagine all the sacrifices you made. I remember my goal against Japan. It was an atypical one of those I've done in my career because it went headlong. It was at the right time in the semifinals.
P. Oribe Peralta's goals in the final are valued, but little assistance you gave
R. It seems that Brazil was training with us. The play came out better than in training. It's a ready-made play, a blackboard one. We practiced it a lot and it didn't come out. I was in charge of collecting the corner kicks. The one who had to score was Chatón Enriquez. Oribe wanted to do it. And it came out. We all go out on our biggest afternoon.
P.How were the 24 prior to playing the Brazil of Neymar, Marcelo, Hulk?
R. Whoever tells you that they did not feel nervous, is lying. You can't stop thinking about the game. Mexico was celebrating for having the money, but we saw each other with great confidence. We knew we were going to face the best in the world, in a dream stadium. Brazil came out confident. They looked down on us a bit and we ended up there. The first minutes were key. I didn't sleep the night before. Although we had the effort, the game of our lives, but it was difficult to rest.
P. After so many changes you have made, where has the medal been?
R. It is well kept. In Guadalajara. It's a treasure. It is something that will last me for a lifetime. Right now it is saved, but I do want to put a mini museum of personal things.
P. He says London 2012 had a good atmosphere. Why was it so important to you?
R. In football we do what we like. You have to do it with that emotion. If you do something you don't like, you no longer do it well. In football it is essential to enjoy it and trust is everything. When you have confidence, you have streaks, everything comes out. Sometimes you hit him from anywhere and score great goals. When fears enter you, mistakes come. Soccer is a team. We depend on everyone. Where there is a rotten apple, others are contagious. We depend on others. In 2012 we all wanted to transcend. There are teams in which three or four want and that is where they emerge where there is no success.
P. Has it been the best team where you have been?
R. Yes. We were between 21 and 23 years old. And we were all at the peak of our career. After the Olympics, two or three disappeared, some more triumphed. At that time we were all at our best.
P. Not all of those 18 players were lucky. Why couldn't a talented player like Chatón Enríquez reach a place in Europe?
R. It is important to have a mental line to maintain yourself. Continue having the hunger to reach the highest. And sometimes the mindset plays a lot. Sometimes the mind does not give you to want something more. There were players who unfortunately, because they are my brothers and I love them very much, but it is sad that with such quality and future they did not do well. They thought they got to the top and jumped down a slide. Or they didn't take the next step. Some continue to play, but they did not succeed as they could have. I left Europe, I played two World Cups. Today Raúl Jiménez is an idol in England and now Chuy Corona champion with Cruz Azul.
P. Is it still written with some?
R. I speak to everyone. With Giovani [Dos Santos] I talk very often, with Héctor [Herrera], Raúl [Jiménez].
P. Did you never give Chatón Enríquez advice to motivate him?
R. Obviously we told him. There were plenty of people to tell him. I went back to work with the teacher Luis Fernando Tena and we talked about it. Tena loved Chatón very much, she told him a lot. Sometimes it already depends on you. If you don't take that step, no one will come with the magic wand. Maybe there were circumstances behind his life that we don't know about. It gives us courage that many players and their talent did not give their best.
P. Mexico is a particular case. He gives the big surprises by beating Brazil, Germany in a World Cup, youth champion, but ends up losing against lower-ranking teams. Why does that happen?
R. Over time there has been talk of having stability, of having a process. In Mexico we despair and we want to have everything. But I think that in this desperation come the decisions to cut processes, to want to get ahead of ourselves. There have been many changes within the Mexican Federation. Maybe it is because there are no good results, but around the world they respect these processes a lot. We see the United States where soccer was not their strong sport. And now he already competes with great teams. It is to you for you. They come from years ago with a process, with coaches, of young players. In a moment they have results. Many players are having the opportunity to go to Europe. Today we have a coach who can put together a good team. In Qatar the feat has to be broken. We cannot have scares with inferior teams, because we can achieve feats. We are prepared.
P. What advice could you give to a Marco Fabian who just won the gold medal?
R. The advice would be to be more attentive to your surroundings, not to deviate from the path because there are too many circumstances, people, places, thoughts that make you hesitate. When you're so focused … I don't regret the good or bad in my career. You learn a lot from mistakes. They made me value more. He would give me the advice to be more aware of what one wants.
P. Do you think those mistakes have sentenced your career?
R. Deep down I am calm. I know what kind of person I am and also around me. I will not deny anything. I had my mistakes when I was young. In Guadalajara, especially in Chivas, where the eyes were on me. He was not attentive to what he was experiencing. I have known other countries. I ventured out of Mexico for seven years. In those years nothing was ever said about me. I've been the same here and there. It's not like I had a wine here and not there. I've always been the same. One mistake overshadows all achievements.
P. How do you see the Olympic team this year?
R. I've seen them a bit in the pre-Olympic. I know most of them. I have given you advice. I have told you: they have everything to make history. They have talent to spare, they are an incredible group. The most important thing will be to form a good group, to enjoy the moment. Give everything.
P. Is it seen in any player?
R. In Alexis Vega. Besides being one of my friends, I have given him a lot of advice. It has many characteristics similar to me. He's in a good time. It may be the time for him to shine, for him to be the one responsible for being essential.
P. You left for Europe negotiating to be allowed to test yourself in Germany
R. Everything comes in time. I wanted to succeed: I made my debut in Chivas and wanted to get out of Mexico. The football elite is in Europe. When I was 20-21 years old I received an offer from a German team, from Stuttgart, and I was excited. And I got along well with Jorge Vergara [quien era dueño de las Chivas]. It helped me a lot, we made a good relationship. I told him to let me go and he wanted to let me go, but he had to do with Chivas. "Stay this year and you go. We have to be champions, "he told me. Total that I stayed. The problem was that it was like this for several years. It is not that easy. I was going to turn 24 and my contract had to be terminated. There he no longer had anything in his power to convince me. My dream was in Europe. We had offers from Schalke and Eintracht. I met both clubs. Frankfurt beat me. I lived my best years. I achieved incredible things, I was a Cup champion. I was the team's scorer in the tournament. I learned German a year. Four very beautiful years.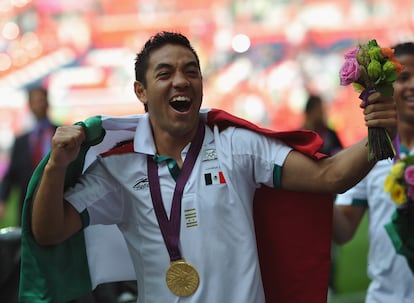 P. Why did you leave Germany?
R. No footballer plans to be injured. I had a pain in my back, a hernia in my back. Many doctors told me that I would never walk again. I couldn't even dress myself. I stopped playing last year. It took three or four months for them to detect me. They operated on me twice in a month. The rehabilitation lasted six months. I was in my prime. There were great teams asking for me. A year without playing cut me everything. I came back and my contract was up. Against many bets I went back to walking and playing. And I dedicated myself to enjoy. I got an offer from the US I went to MLS, I was in Philadelphia. What fits me is good inside. And then to Qatar: Xavi called me to play for six months. I was free and I stayed. Too bad the pandemic started, I only played two games and football was suspended. And from there I returned to Mexico.
P. He has a certain touch of champion: he won the Cup with Chivas, a Concachampions with Cruz Azul, the German Cup …
R. My only year where I have been to duty is on my return to Mexico. I did not achieve my goals. With Chivas we reached a final of the Libertadores, the Sudamericana. I came with Cruz Azul, to be a champion and to play the Club World Cup. We beat Bayern. In Philadelphia Union they had never reached a semifinal and the year I was there we made it.
P. What do you think of Tata Martino, coach of the Mexican national team?
R. It has taken an important process. It works in an amazing way. He knows the moment of each of the players. To have the best. Now come the important tests, like winning the ticket to the World Cup. Hopefully this is the World Cup.
P. Do you need 10 players, a classic midfielder, in this new football?
R. They are in danger of extinction. In today's football they cannot stand out as before. They didn't need to run as much but I hit him with both legs. They knew where to locate. In today's football there is not so much anymore. You can have creativity, but if you don't fight or fight, you can't play anymore. In Germany they taught me a lot. You can lose 10 balls, but if you don't fight for the ball and run. You have to run 12 kilometers per game.
Subscribe here to our special newsletter about the Tokyo Games

elpais.com
Eddie is an Australian news reporter with over 9 years in the industry and has published on Forbes and tech crunch.