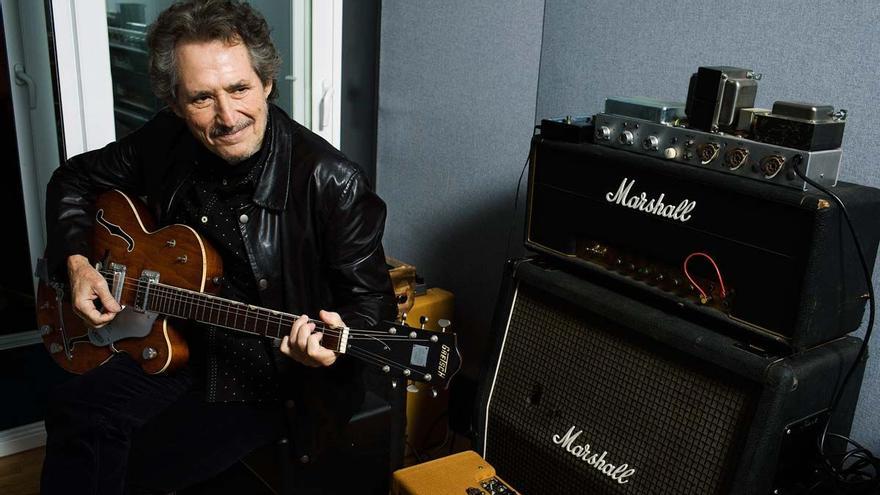 -What has prompted you to return to the studio to record 'A long time', when it seemed that you were not going to do it again?
-The songs. Songs are the 'motives' that move our world. If you have new songs, you have to go out and play them. Well, also having a 'partner' like Jose Nortes made things much easier. His studio is a luxury for creation.
-The touch of the album, decanted by blues, the acoustic texture, with folk and country tracks, can make you think of the albums that a mature Johnny Cash recorded with Rick Rubin, or the last of Tom Jones. Have they been references?
-At this point in my career, references are piling up. Everything is apprehended, the problem is knowing where the source is! The idea of ​​the album stems from a performance in 2014, when he was retired, at the Monumental Theater in Madrid for the campaign 'A toy, an illusion', by RNE. I performed with Jose Nortes, Luis Prado and Edu Ortega. That solidarity concert, who was going to say it, was the germ of this album.
-Your accomplice is The Black Betty Trio, a name that refers to a piece by Leadbelly. Did you discover blues pioneers in your day through the Rolling Stones and British bands of the 60s?
-I think the Stones have not been sufficiently credited for introducing American popular music, blues in particular. They and John Mayall were the bridge that facilitated their arrival. Although at first I thought it was my own stuff, because black music in the mid-60s was more identified with soul, Otis Redding, people at Atlantic Records, Motown and so on.
-Is this the album you have always wanted to make but was commercially too risky?
-I don't think I would have been prepared long before to make this album. I have suffered musical vacui horror. I liked filling the records with sound: many guitars, synthesizers, symphony orchestras, 'big bands' … The time to do this sound strip is now, when you have already overcome all kinds of saturations and the stories you tell are only sustained by the breath.
-'El blues of the third age 'speaks of his generation through a figure, Ana, of "welfare pension". Do you feel that this strip of citizenship is not being treated as it deserves?
-I think it isn't. The commodification of life has even accounted for when you are profitable for the system. In the so-called first world, senescence has lost accounting prestige. But the 'preboomers', my generation, were the ones who made being young have its weight, and the 'young' became a status. Now they want to corner people in residences, but there are many and many who continue to fight. They are trained.
-'The line of Cain 'talks about the pandemic and says "it is not the catastrophe, it is their dress rehearsal." Do you feel apocalyptic?
-That phrase I "stole" from Lluis Bassets. I believe that enough environmental episodes are taking place for us to take urgent measures if we want to stop the catastrophe. Unbridled growth and obscene inequality, in a system that would need the resources of three planets to continue down the path of suicidal waste, has no way out except with drastic measures that no one is willing to take.
– "There are rich in Mercedes who scream freedom", sings in this song. What effect does the right wing's use of the word 'freedom' have on you?
–I am amazed at the impudence with which they appropriate the symbols they most detest. But with the triumphant arrival of Trump and his denialist methods, the reign of lies has subverted reality. In the case of the traditional use of the term, in the last elections in Madrid, it is sainete.
-In 'Por San Juan' he refers to the "heat of the nit of Sant Joan".
-I have performed in many 'nits de Sant Joan' in Catalonia. On one occasion, with suspension and all because of a terrible storm. But the song has more to do with the idea of ​​a Manuel Vicent column than with any specific event. Although I am a fan of the fire tradition and the playful and ritual sense of the party. And I love the sound of the phrase in Catalan.
-Shortly after publishing the album, he has released another new song, 'Hola Ríos, hello'. How has that been?
-It is a joke that tries to explain in a sympathetic way the reasons for my failed withdrawal. And it was not in the spirit of the album, nor in time. This is a song to start a concert in a good mood.
– "I owe you more than a thousand apologies," he says, adding that "that farewell tour" turned him into a "liar for life." Do you regret announcing retirement a decade ago?
– I do not regret almost anything, and less of that. I really thought it was the ideal time to quit. It was a bit dry and I didn't feel the need to roll the gum. It took me a world to make new songs that were worthwhile. And I stopped. The problem is that my name cast a long shadow on the national rock scene and, like when you leave it, you don't lose your voice, or your hair falls out, and your colleagues keep calling you for collaborations …, you keep inoculating small doses of poison . But the song talks about all that.
-What awaits the public who go to see Pedralbes? A concert with another kind of electricity in the environment?
-You will see an absolutely unprecedented concert in my career. Somewhat difficult when you have almost 60 studs on the road. This is my second Pedralbes, and it cannot be two more disparate concerts, although with the common denominator of acoustics. In the previous one, the 'Symphonic Ríos', with more than 50 musicians, and in this one, something more naked, but with the incentive of the new songs. Martín Pérez, the festival handyman, told me at the end of my debut concert: "don't change a single note of the repertoire, it's perfect". It was a compliment, because Martín knows a lot about show business.

www.informacion.es
Eddie is an Australian news reporter with over 9 years in the industry and has published on Forbes and tech crunch.