A corral close to the seventy sheep waiting, in the morning light, for their shepherds. It is eight o'clock in the morning and the three apprentices, having already eaten breakfast, start their day wrapped in the dust raised by their hooves and filter the pale rays of the sun. Her teacher, Alexia Lozano, is the first to enter the ring. "Maaa, maaa!" He yells, and the sheep respond with the same bleat and scramble almost like wild colts to avoid being caught. Alexia grabs one by the hind legs and takes a good kick. "This is fatal to the eye," he tells his students. They are a student, a lab worker, and a lighting technician. All three are formed to be
21st century shepherds.
Jesús Huertas is 36 years old, lives in Moratalaz and has been working for almost eight years in laboratory quality control of a Spanish pharmacist, where routine tasks have ended up boring him. "I've been looking for a change in my life for a long time, not a professional one, but in general life," he says, among the Alcarreño sheep at the El Gurugú farm in Guadarrama. The shepherds school Inside Field, who for three years has been teaching this millenary profession in the mountains of Madrid, has been his accommodation for fifteen days and now dreams of creating his own herd to make cheese.
After a month of theoretical training, in which they absorb knowledge of veterinary medicine, animal management and livestock operations, the students of the only herding school in the region move to the countryside to learn, not a job, but "a philosophy of life », In the words of Alexia, her tutor. The aim of this introductory course is to show that herding can be a sustainable and profitable business and pass on a legacy who has lost the ancestors who taught the new generations.
The 'face' twice a day – in the jargon, taking the animals out to graze – is the practical part. José Espigares, a 44-year-old from Madrid from Tetuán, puts on a straw hat, carries a backpack and grabs a stick. In the city he is dedicated to performing arts lighting, above all, dance and theater. This year he told his mother that he was going to be a pastor. "He burst out laughing, I have it recorded," he says, laughing. Although he has not yet decided when he will make the professional leap, he already knows how to cure, milk, feed and cuddle sheep by means of livestock. "I have always liked this world, it is a way of getting closer to it," he acknowledges. While the animals pounce on the fruits of the brambles, José sits on a rock to rest and takes out his mobile. The pastor of the second millennium seeks to be calm, not isolated.
From the 'top blanket' to the herd
Although it may seem like an occupation from another time, grazing is still in force. "It is not in decline, it is just a generational leap," says Alexia. His grandparents looked after flocks, while his father went to the city to seek his fortune. She left Oviedo to study Pedagogy and a master's degree in Neuropsychology, Until the day arrived. "Dad, I'm going to be a pastor," she announced. "Oh, my daughter, what joy you give me!" He replied. At 36 years old, a mother of two children, ages 5 and 2, she still combines her psycho-pedagogical therapies as a self-employed person with the herd of the Guadarrama school, but she has promised to have 170 goats and live off them.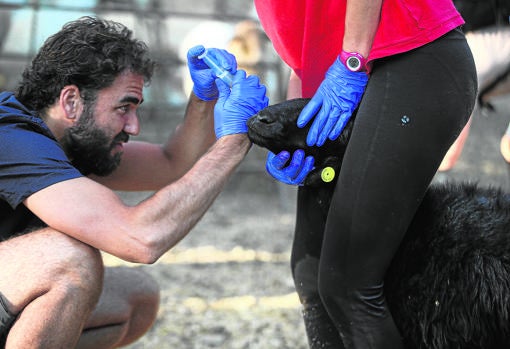 The Campo Adentro school was born in 2004 in Picos de Europa. Then he instructed five students and in this edition he has received a hundred applications. «It does not appear as a bucolic look to the past, is a production strategy», Explains by phone its director and promoter, Fernando García, that has detected a "boom" in recent years. "Grazing has a great environmental, social and cultural value," he points out.
The profile of these 21st century shepherds? "They are between 25 and 35 years old, half have a university education, half are women … there are also hospitality people who at the age of 50 want to change their lives," Garcia describes. The trade is not on the way to extinction, on the contrary, every week a shepherd is necessary in some cattle operation. Campo Adentro has a job bank and scholarships for migrants to help them build a new life. Mohamed, a young Moroccan from school, has left the street and the 'top blanket' to regain the treatment of animals that, at just 10 years old, he dominated in his native country.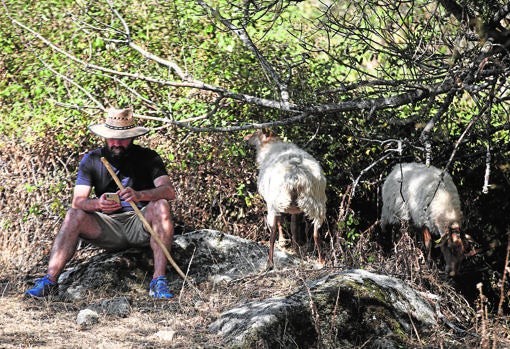 The exodus to the rural world – a more attractive option after the outbreak of the pandemic and the introduction of teleworking – and the desire to achieve a sustainable future make extensive livestock farming a attractive alternative for young people. "Instead of macro-farms and hormones, we demand small herds that sell quality products within a radius of no more than 50 kilometers, which is called 'kilometer 0'", describes Alexia. Although subsisting with a herd is not easy.
"There have been many failures because farmers do not know how to calculate a breakeven point," says Alexia. For this reason, in the shepherds' school they influence the business strategy to obtain quality production. "The idea is to program the farrowing pens and have two a year," he points out. The three males of the El Gurugú farm remain separated from the females until the breeding season. At the end of August they will carry out an ultrasound on the specimens to better serve the pregnant women and obtain good milk for six or seven months. The liter is sold for 1 euro and from a herd of 70 heads you can earn up to 50 euros a day. They also get cheese, meat, and wool.
Boom in recent years
Carolina García, the youngest of the class, 21 years old, leads the herd with her cane along the cattle track that runs next to an urbanization in Guadarrama. He moved from the Castilian-Manchega town of Valdepeñas to the capital to learn International Studies and Economics at Carlos III University, but last year he changed the course. "It was not quite my site and, after thinking a lot, I found a volunteer platform with farmers and family projects in organic farming and livestock. I realized that I wanted to learn, in a city you can read many books but it falls short ", he sums up.
Carolina catches the sheep, grabs them, checks their hooves and eyes, and marks the sick ones with red chalk. Now it is remotely formed in Environmental sciences. "The truth, being a pastor is something I would likeI'm very young and I don't rule out any path, "he reasons. Many are speechless to hear the plans of these modern pastors, but they prefer a simple life, a return to the roots. "People are needed to do this," ditch Jesús, who is considering leaving the laboratory next month. The sun is high and the sheep are sheltering under the shade of the trees. The shepherds, meanwhile, enjoy non-alcoholic beer and lemon water. The work is hard and the day is not over.

www.abc.es
George is Digismak's reported cum editor with 13 years of experience in Journalism