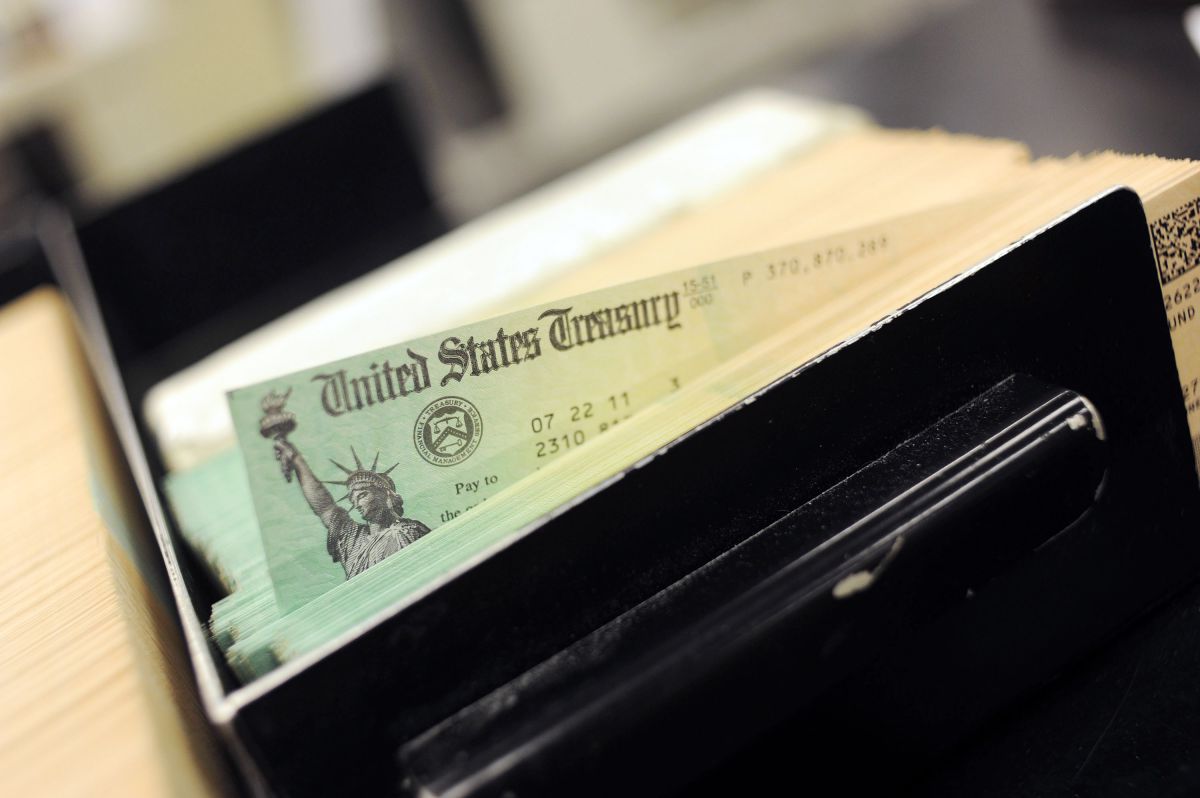 There are different applications for your cell phone that you can use to cash your stimulus check in cash.
Foto:
William Thomas Cain / Getty Images
The Internal Revenue Service (IRS) began sending direct stimulus payments to eligible beneficiaries over the weekend. President Joe Biden pledged this week so that his administration can deliver up to 100 million payments to citizens over the next 10 days.
Money from the third stimulus check is being sent three ways: direct deposit, EIP debit cards, and paper checks.
More and more Americans have some kind of bank account, however, more than 5% of people in the country did not have a bank account in 2019 according to the Federal Deposit Insurance Corporation (FDIC).
If this is your situation and you are one of the people who receive an Economic Impact Payment (EIP) perhaps you should consider what your options are to keep the most of your stimulus check payment in cash when you charge it.
Fortunately, there are several ways to change your paper check to another payment method so that you can use the funds to make purchases or pay your bills.
Some things to keep in mind before cashing your stimulus check:
Before going to cash your stimulus check you should consider which option suits you best depending on your needs, the commissions that can be charged and the amount you will receive from the EIP. This will be the largest payment of the three that the IRS has made so far and some exchange options may limit the amount of money you can collect.
It is always advisable to read the fine print before you hire any service and inform yourself in advance. You must also make sure if cash is the best option you have so that the check is deposited through a debit card or through an electronic payment system to be able to use the money.
Contact your bank to cash your stimulus check
This option could allow you to solve two problems in one: open a bank account and safely store the stimulus money until you need to use it. However, if you don't want to open a bank account, you can ask a local bank if you can cash your stimulus check, what fees they charge, and if they have a money limit.
Banks are more likely to be able to cash the stimulus check. The FDIC has encouraged financial institutions to help people affected by the COVID-19 crisis through the exemption of fees and allowing the relaxation of restrictions for the cashing of checks to people who are not customers.
Call ahead to find out what, if any, fees the bank charges for cashing your stimulus check, as well as any other requirements they may request.
Check with local businesses to see if you can cash your stimulus check
Some supermarkets offer a stimulus check cashing service up to a certain amount and may possibly charge you a fee for that service. Check with grocery stores to cash your stimulus check for free, although some restrictions may apply.
Walmart will allow you to cash a government check for up to $ 5,000, but you will have to pay a fee of between $ 4 and $ 8 dollars.You can also deposit the money on a prepaid debit card through Walmart MoneyCard, but you may have to pay a monthly fee.
Related: How to avoid having your $ 1,400 stimulus check garnished
Use your smartphone to cash your stimulus check
With the camera of your smartphone you could put at your disposal various services to cash your stimulus check. Each one varies in terms of the rate and the amount you can charge. If you're willing to wait, most services forgive the commission. However, always make sure you understand the fees and other requirements before requesting their services.
This option can also be useful for other transactions as it allows you to make purchases, withdraw money from ATMs or stores and cash other types of checks.
Check cashing apps for smartphones:
PayPal "Cash Plus"
Netspend
Ingo Money
Venmo
7-Eleven Trans @ ct Card
Related: How to track your third stimulus check?
You can collect your money at check cashing storess
Every city and many towns have at least one check cashing store that also offers payday loan and title loan services. This would be a good option if you don't have a nearby bank, grocery store, or retail store that can help you cash your check, but be prepared because you could pay a much higher rate.
It may have a cash limit of $ 5,000, but some exchange houses may deposit some of the money on a prepaid debit card. It would be best to call ahead so you can compare rates and judge if this is the best option for you.
You may be interested:

eldiariony.com
Eddie is an Australian news reporter with over 9 years in the industry and has published on Forbes and tech crunch.