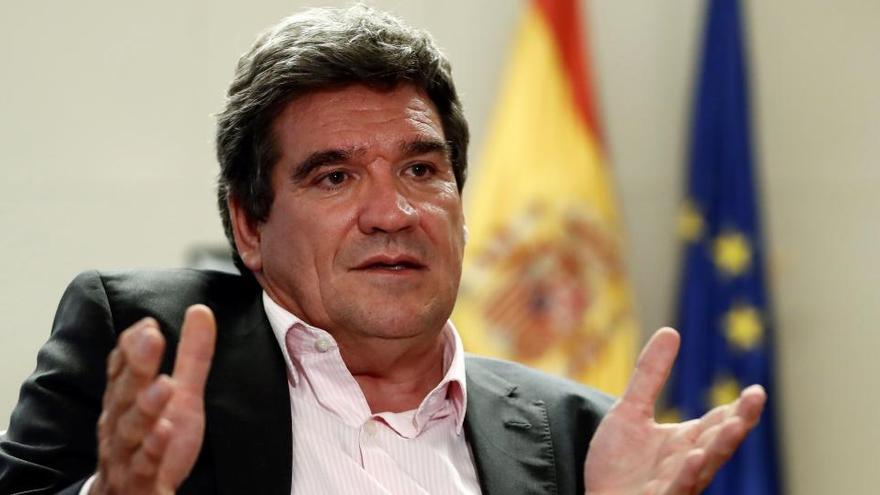 The Minister of Inclusion, Social Security and Migration, José Luis Escrivá, has advanced that employment will improve again in November despite new restrictions, which at the moment are not giving rise to an avalanche of temporary employment regulation files (ERTE) or layoffs.
In an interview with EFE, Escrivá points out that enrollment until the middle of this month of November points to an improvement in employment with an increase, in seasonally adjusted figures, "higher" than October.
In October, affiliation grew by 45,365 workers in these seasonally adjusted figures, which eliminate cyclical components such as the end of certain campaigns or the reinforcement of education with the start of the course.
"Employment is not falling but improving during the month of November"says Escrivá.
On the evolution of ERTEs in the face of the new wave of covid-19 infections and the restrictions approved in some areas, Escrivá acknowledges that there are new files but "in no case of the magnitude of the previous moment" and, in addition, "with a very large sectoral concentration ".
The CSIF union pointed out this week that the SEPE had processed in the last two weeks 150,000 ERTE that affected more than 720,000 workers, while UGT warned of an "avalanche" of layoffs in the coming months.
Asked if it is possible to speak of a new avalanche of ERTE, Escrivá rejects it: "With the information we have, in no case."
The Social Security, he explains, will offer updated data at the end of the month on the workers in ERTE and how many are in the new limitation and impediment modalities launched in October with the new agreement reached with employers and unions.
Maintain the scheme
On whether more layoffs can be expected in the coming months, Escrivá emphasizes that the protection scheme developed with the ERTEs should continue to be useful to avoid them. "We already have a framework in which administrative restrictions are in force in different autonomous communities (…) and what happened in October and in the middle of November does not have to continue happening going forward," he says.
"I don't know (…) we will continue to monitor very closely but, in principle, it does not have to be very different from what we have seen so far," he says.
In recent months, unemployment has registered some moderate increases, while affiliation has chained six months of growth in October after the harsh impact of the pandemic in March and April. "It would not surprise me if in quarter-on-quarter terms the last quarter of 2020 compared to the third had an employment growth of over 2%," says Escrivá, pointing to improvements in "many sectors."
"There are many sectors that are doing well, otherwise the data would not be so good", defends.
For the minister, this evolution of employment data in such a complex context is an indication that the ERTE and self-employed protection scheme "is working well."
Thus, is in favor of maintaining it and that the extension beyond January 31 -which have just started to negotiate with employers and unions- have a deadline again.
"This has been very useful because it has allowed us to readjust over time", he says.
For the hotel industry, the sector most affected by the new restrictions, he says that there could be "additional protections or support", but "very focused territorially" and in time.
Pension reform
Escrivá has other far-reaching reforms on the table, such as pensions or the contribution by real income of the self-employed, which he wants to address with gradual changes in the general Social Security Law, but which will have to wait until 2021 to enter into force given the complex legislative calendar of Congress in the remainder of 2020 for the Budgets.
Too they will have to wait for the "first session of next year" changes that will ensure the purchasing power of pensions or measures to discourage early retirement and encourage voluntary work beyond the legal retirement age.
Escrivá acknowledges that one of the options contemplated is to give a single payment to those who decide to delay leaving the labor market.
Another option, he adds, would be reflect it with an increase in the monthly amount of the pension, although it is a matter that is still under discussion.
Minimum vital income
On the Minimum Living Income (IMV), Escrivá explains that at the end of the year an evaluation will be carried out to see how much is left for the objective of 850,000 beneficiary households and why it has not been achieved.
"We will try again to put mechanisms in place to achieve the objective", get moving.
"We know from the beginning that 850,000 is a goal that due to the nature of this benefit (…) there is always a percentage of households that (…) are not inclined to approach this type of benefit even when they need it (… ) or that the service is poorly designed and for some reason we cannot reach them ", he reflects.
"It can be the two reasons, it is necessary to analyze very well who we have reached and who we have not and try to implement remedies and even open new access channels," he concludes.

www.informacion.es

Digsmak is a news publisher with over 12 years of reporting experiance; and have published in many industry leading publications and news sites.