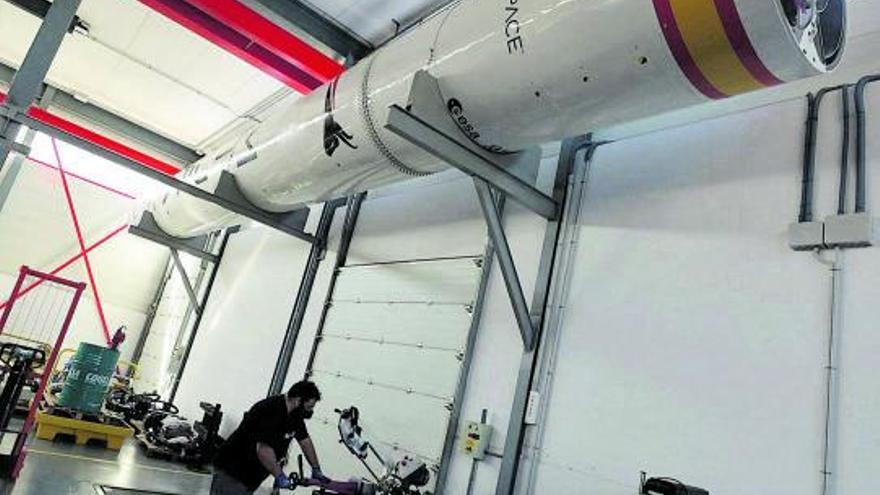 Raúl Torres is one of the founding partners of the company along with Raúl Verdú and José Enrique Martínez. To the question of what led them to enter this adventure, he answers that "the passion for the development of space technology. It's like when a kid gets excited about racing cars and he ends up fully immersed in Formula 1. Well, in this case it is the same, but with rockets ». Verdú had studied Industrial Engineering and Torres, Aeronautical Engineering. "We had not been in contact with any company in the sector, and I think that fortunately, because it is very likely that we would not have undertaken the project, given its enormous complexity. The trigger for everything was that we won an entrepreneurial contest and, from there, we set up a business plan and, gradually, all the company structures, from operations to purchasing and sales, passing through engineering. and logistics. And all of this starting from scratch ", says Raúl Torres.
Currently there are four European companies that are fully involved in the race to launch the first satellites into space. Two are in Germany, one in the United Kingdom and the fourth, PLD Space, in Spain, which is very well positioned after these years of research and development work. Also thanks to the trust placed in it by important companies in the space sector, such as GMV and Aciturri, investment funds such as JME Venture Capital, the Alzis group and, recently, the Arcano group of independent alternative asset management and financial advisory companies. Partners. Additionally, it has received institutional and financial support from the Center for Industrial Technological Development (CDTI), the European Space Agency (ESA) and the European Commission (EC), as well as operational support from the National Institute of Aerospace Technology (INTA).
Since 2011, the company has received financing of 32 million euros, of which 75% are national private investment. And how do you go about generating such a level of investment when the first rockets have not yet been launched into space? Raúl Torres is clear about it: «We are talking about a country project, of granting Spain the ability to access space. All investors who have seriously analyzed this opportunity have not hesitated to give us their support, "he says.
And the results are just around the corner. Next year, the launch of the Miura 1, a suborbital rocket weighing three tons and a height of a three-storey building, is scheduled to carry out tests and experiments related to weightlessness, and which is the previous step to the Miura 5, this one is an orbital rocket of 30 tons and a height of seven floors, with which in 2024 it will be possible to deposit satellites in space. According to Raúl Torres, "this launcher will have the capacity to transport satellites of between one and 300 kilos into space, or, what is the same, the size of a milk carton to that of a washing machine."
The range of satellites that can be used by the Miura 5 is very wide and for very diverse fields. These include agriculture, defense and intelligence, energy and infrastructure, forestry, global communications, in-flight connectivity, rural coverage, or climate change and natural disaster monitoring. The company highlights that they have already formalized agreements with some companies, in an interest that is in growing dynamics.
PLD Space operates in three strategic locations, such as its headquarters in Elche, dedicated to engineering, laboratories and manufacturing; Teruel airport, where engine tests are carried out; and the El Arenosillo experimentation center in Huelva, where the launch of the Miura 1 is planned. For the Miura 5, the European space center in French Guiana will be used.
However, the intention of the company is to go further. It currently has 62 workers, and the aim is to reach 250 coinciding with the launch of the Miura 1. And, from there, much more, because, according to Raúl Torres, «we are not going to stop with these two rockets, as we want to increase our capacity. A target could go through the launch of GPS satellites, which would require a rocket weighing a thousand tons and 27 stories high. The space adventure, therefore, has barely begun.

www.informacion.es
Eddie is an Australian news reporter with over 9 years in the industry and has published on Forbes and tech crunch.