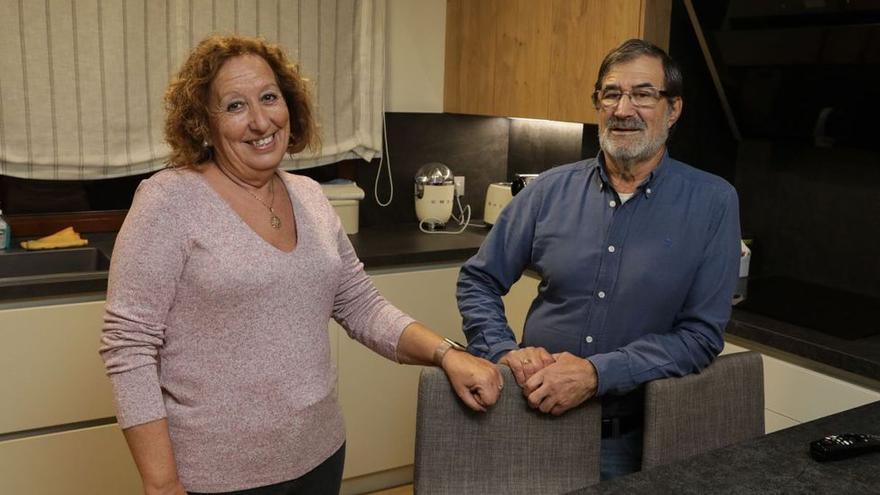 It's 6:13 p.m. and next to the Puerta de Alcalá in Madrid a young woman's voice is heard. "You are Juanma, right? The one from 'Masterchef'. Where did you leave Miki? Juanma Castaño (Gijón, 1977) answers while holding the phone. "Yes, it's me. I've just been with Miki a while ago! ". Juanma's mother witnesses the scene from the kitchen of her son's apartment in Gijón. The smile is not removed. "If this 'Masterchef' thing is tremendous. Look, look at all the people who come to you! A kiss, darling! ", He says Maria Teresa Menendez (Gijón, 1958), the mother of the sports journalist from La Cope, recent winner of the popular TVE contest together with the comedian Miki Nadal. Castaño is the winner (shared), but his parents took much of the spotlight.
Above all, she, who is still surprised that her son has won the contest. "Look, I used to say that this (his son) couldn't last three weeks. But he had never stopped to cook in his life! At most a white rice with tomato, and canned. When he went to Madrid to work he called me: 'Mom, how do you make white rice? Why yes, Juan Manuel? Juan Manuel Castaño (Benavente, 1949), a retired national policeman, is the father. "He inherited his mother's taste for cooking, but didn't develop it until very recently." The Castaño couple was the protagonist in the grand finale, encouraging their son on the set with the Gijonian's girlfriend, the journalist Helena Condis.
His mother had already attended "Masterchef" before and was her son's pinch in one of the twelve programs in the contest. Menéndez remembers how badly the journalist had it during the filming. "He called me after every episode. I saw him completely out of place. He was like, 'Mom, this is not for me. Where did I go? Today I made a cake that looked like a cow dung. ' I told him to be calm, that 'Masterchef' is very demanding and complicated ". The father of the Gijon man agrees. Juanma Castaño's mother remembers the details of the programs perfectly. "They started shooting on May 10, on his (Juanma's) birthday, and ended on July 31, on hers (of Ana, the journalist's sister)." She also remembers the woman from Gijón, who worked "all her life" in a supermarket and is now retired, when she was called to attend the program and cook with her son. "I was on the beach and I had several calls from a weird number. I didn't take it because I thought it was from some phone company or some insurance company, what do I know. On the fifth, I answered. They told me: 'We are going to do the program by giving the contestants a surprise and we want you to come to Madrid.' I was shocked. I told them that I would consult it with my husband ".
And Juanma senior, a very calm guy, took it easy: "I told him to do whatever he wanted." Teresa Menéndez gives more details. "He was so calm. Can't you see it? I decided to go down and it was the best thing I did in my life. We had a phenomenal time". Chestnut father agrees. "It is a show to see all those people working. There are more than 100 people ". The Gijón's mother admits that she has been more aware of her son's adventures in the kitchen than of his programs on the radio. "It's that football for me … At night my husband puts on his headphones to listen to it and I put on the TV," he jokes. The Castaños will never forget their time on the program because it was also the day they finally met their son's girlfriend, the journalist Helena Condis. "She had already been here (at Juanma's house), but we had not met her. She is very nice, "says Juan Manuel Castaño. His son even said that if he won "Masterchef" he would ask for marriage. His mother downplays it. "That was part of the show. Nothing, nothing … Come on, I don't think so! ", Says the amateur cook, who after her appearance on" Masterchef "has received a call from a television program. Attentive to your screens.

www.informacion.es
Eddie is an Australian news reporter with over 9 years in the industry and has published on Forbes and tech crunch.