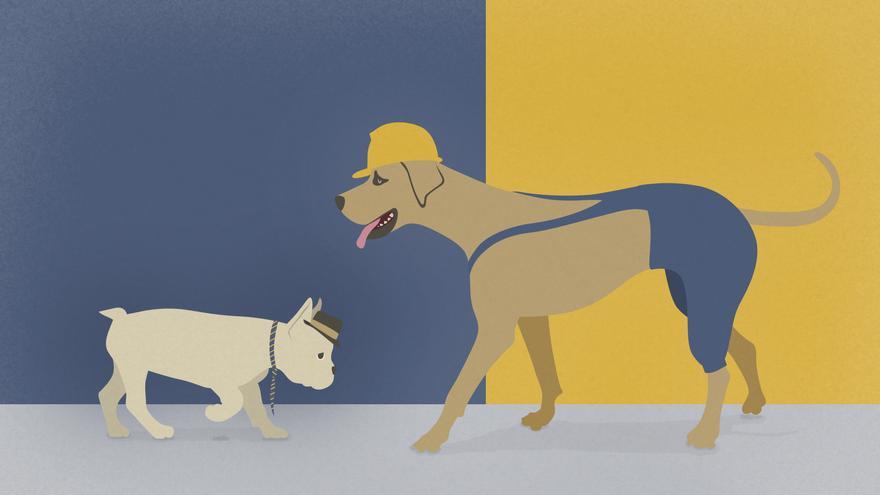 There are in Spain 13 million pets, the majority dogs, more than humans under 15 years of age. This figure, and the number of births that are plummeting, would make any government tremble, unless the plan is to put our best four-legged friends to work to pay the pensions of the future. A ministry of Ecological Transition and Demographic Challenge In conditions, he would stop to think about the country that we are left with, a desert of love, and instead of advising citizens to iron at night to save electricity, he would send free candles to light a romantic dinner with a happy ending for our population statistics. The most pets, whose number has grown 40 percent in the last five years, lives in cities and according to sociologists, its presence seeks to scare away loneliness, as well as other benefits such as promoting activity and socialization. The increasing presence of neighbors who dress their dogs and walk them in their arms and in strollers leads me to think that perhaps infants are being directly supplanted by creatures that receive more attention and elicit more respect from our authorities. It has been much easier to be a dog than a child during this pandemic, and it has been infinitely more rewarding to be a pet owner than a parent of one or more humans during this pandemic. Walks in the open air during confinement forbidden to children, pet parks opened before playgrounds and their veterinarians have not bargained for face-to-face attention. Children, who are finishing the course as champions, do not usually deserve any mention from the health authorities. Despite catching covid almost nothing and infecting even less, they are subjected to absurd invasive tests that adults (vaccinated) no longer need to travel. The part of the public matter that concerns them most, education, does not appear highlighted in the plans for resilience and rains of millions of Europeans that are announced. What a bad business that of the offspring.
I know of at least two families that have just received the trail notification fines of 600 euros in the name of one of his teenage sons. The minors were denounced a year ago, in the first de-escalation. At least one for being with two friends on the street doing a little exercise when you could only practice individually. The other one, who knows, maybe they had lowered their mask because of the heat. 600 euros to a child is a paste. And a folly, today, when hundreds of tourists gather at night on the beach to make bottles, and when they see the police they move a hundred meters to continue drinking. When hundreds of Thirties and Forties they huddle on the terraces and have drinks in hand to the rhythm of the loudspeakers. They have had twelve months to take that fine from the kids and throw it in the trash, as they have done with practically all the complaints that the agents of all the bodies have processed during the health crisis, but they have preferred to send it to parents, such as gift of end of the third wave, or the fourth. We are not going to ask how many sanctions for dog owners who do not collect their excrement or walk loose have been processed, and their amount, so as not to delve further into the difficult demographic challenge.

www.informacion.es
Eddie is an Australian news reporter with over 9 years in the industry and has published on Forbes and tech crunch.