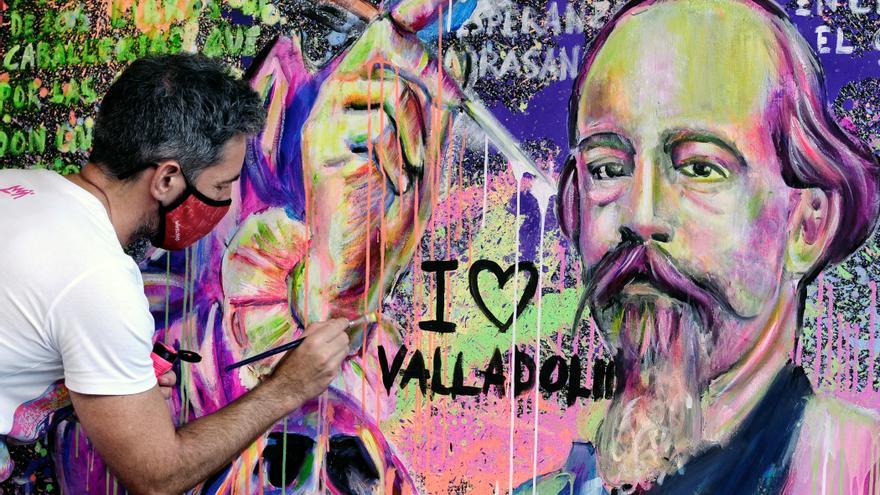 The Mallorcan artist René Makela admits that no one knew him, but Instagram was the key -the showcase and the large showcase so that his pictorial work, now internationally valued, has gone viral after give a "swerve" to his life from the television scripts, for having studied advertising – to his true passion: the painting.
He retains the innocent gaze of someone who has been run over by fame, but he continues to tread firmly on the ground. Even he himself is surprised at how it has been Everything and questions from Efe qualify its history, wrapped in coincidences, as a "great explosion."
In his opinion, Instagram is the "most effective" social network because only with a good image "you attract a lot of attention". To the point that Makela has in her account 'Makelismos' almost 27 million followers.
"I painted since I was little although I studied advertising because I saw that fine arts did not have many outlets, so I entered the world of television as a screenwriter, but the crisis came and there was a hiatus, so I returned to Mallorca and dedicated myself fully to painting"This is how Makela sums up her entire career, not by chance without merit and" many hours of effort ".
He emphasizes again and again that through social networks his paintings began to go viral and various personalities contacted him because, as he acknowledges, "the ball of social networks is unstoppable, it became very big and I became popular like that, suddenly. Now I don't stop working. "
Draw large canvases with portraits of iconic characters such as Cam Newton, Austin Rivers or Griezmann, who are among his clients. Not only the networks, but also the "word of mouth" has made him internationally recognized for being the reference painter of Madonna, Cara Delevingne, Pope Francis and various sports stars, such as NBA players.
And in the middle of all this, Makela landed this Thursday in Valladolid, where he has made a unique piece of art that pays tribute to all the great icons of the city, and which is exhibited in Milbby's facilities in a Valladolid shopping center.
The work has been presented today directly by the artist himself, although he acknowledges that it has been based on photos or videos and that he has not yet visited the city in detail. He will do it this afternoon after eating "a good lamb."
The painting, by the way, was completed by Makela while making these statements and will be on permanent display at Milbby's premises. It is the largest chain of fine arts and creativity stores in Spain and has opened a point of sale in Valladolid.
The company wanted to take a further step in its commitment to the city through Makela, creating the most instagrammable point in the city, as far as crowds of curious people have come today, mixed among the firm's clients.
Some watched him putting the final touches on the canvas, in which the figure of Zorrilla stands out along with Cervantes, Colón and the Valladolid cathedral, elements combined with a modern style bathed in fluoride, which characterizes the author.
A challenge
"I try to give everything a twist, the large format of the paintings also attracts attention and with this one, in particular, I have realized the importance that Valladolid has had in history," he stressed.
In the words of the Mallorcan, This artistic action is "very motivating because every corner, every city, every town in Spain is a source of inspiration for cultural and social icons. to which we owe a lot as a nation. "
He assures that in his professional career he has been fortunate to capture numerous international icons on canvas that are tremendously respected in their countries of origin. "Being able to do the same with our symbols is a challenge that I face with great enthusiasm", asserts Makela.
In the midst of this rapid journey towards world recognition, the artist recalls that he began exhibiting in Los Angeles, Miami, Paris or New York and, at that moment, the actress and model Cara Delevingne appeared, captivated by the portrait he made of her. artist, in which he combined his facet as an angel with that of a demon on the same canvas.
After Madonna asked the painter to be in charge of making the mural for the Raising Malawi Foundation, promoted by the singer to offer help to children in need. And there was René putting his imagination at the service of solidarity, an aspect of this, that of supporting noble causes, which has been valued by Pope Francis, who received the Mallorcan artist in audience to appreciate his work and publicly acknowledge his work. .
Barcelona's French forward, Antoine Griezmann, has been the last to join the extensive list of famous admirers who have decided to request René a 'Makela', a type of work that passed in a few years from Instagram to the celebrity lounge already the most prestigious galleries in the world.

www.informacion.es
Eddie is an Australian news reporter with over 9 years in the industry and has published on Forbes and tech crunch.