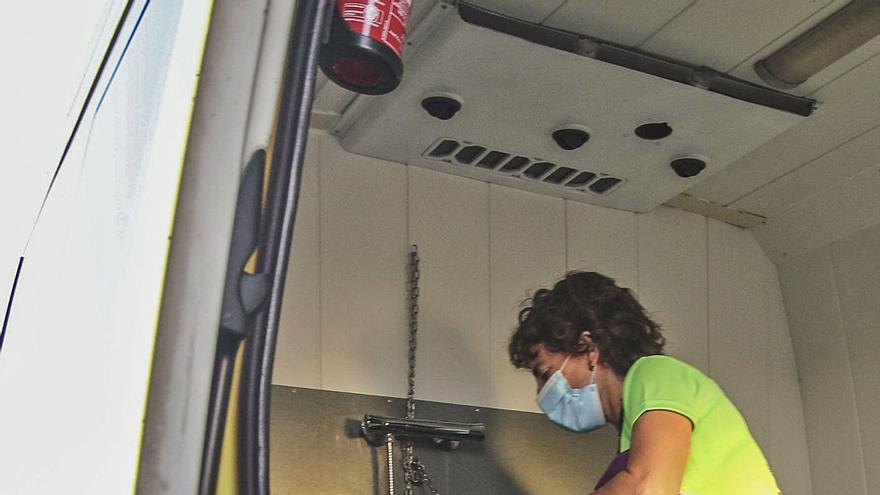 And how do you reinvent a business? The recipe is broad: from changing the model or sector to sharing space two complementary activities (such as a men's fashion store and ceremony and florist) to entering the digital world combining the physical store with multiple channels -all digital sales platforms- , "Which is what will allow us to move forward," says Vicente Armengol, president of the association of merchants Corazón de Alicante and recently elected second vice president of the employer Facpyme.
Brothers Rubén and José Francisco Camarasa In the midst of the pandemic, they decided to turn around their fruit and vegetable wholesale business in Mercalicante (Bioko), founded in 2013 to sell the product on site to greengrocers that went by gender, and serve school canteens and the hotel industry. With the forced closure of this sector due to the pandemic, they lost more than half of their business and had to reinvent themselves. The pilot test was confinement, when they began to deliver at home, "it was not bad and we decided to keep the service. People are accepting it very well, which has surprised us a lot, "explains one of the promoters of this family business. The sale to the door of house already supposes 20% of its invoicing.
The Camarasa brothers publicize their two fruit and vegetable stalls in Mercalicante through Instagram and Facebook, "they get in touch, call us, ask questions and buy. We carry all kinds of fruits and vegetables at home, a very varied genre, fresh because we work it every day, from Almería, from Vega Baja, all national products, which have a lot of stamina ».
They already serve fifty customers at home a week, in Alicante, Elche, Torrellano, Sant Joan, Mutxamel, San Vicente and El Campello, with minimum orders of 20 euros and there are customers who buy goods for 15 days.
"Confinement allowed us to make the leap and have a source of income that we did not have. It is increasingly accepted and we will continue to carry it, "explains Rubén Camarasa.
The dog groomer Elisa Jordan He travels the towns of l'Alacantí and rural areas in his own business that runs on wheels: it is a van in which he fixes the dogs and for the moment it is doing well. "It occurred to me when I was working as a hairdresser in a veterinary clinic, where I was 15 years. I realized that they did not bring the field dogs because people had to put them in the car, or else they had to go for them and charge them for the trip, which threw them back. With Pekedog, which is what his business is called, he moves freely around the suburbs and districts. «I upload them, fix them inside and hand them over again. The van is equipped as a dog groomer, with its tanks for hot water and its approved permits ". When the confinement ended after the first state of alarm, he experienced a major boom in his work after months in which the owners could not fix their dogs, giving them a hose from time to time.
«The elderly people from Mutxamel or San Vicente called me because they were afraid to leave the house. He would go with the van to his door to fix the dogs and deliver them again. For them it is more comfortable, and for me a way of reinventing myself and maintaining an economic activity because nowadays it is difficult to pay for a place ". The dog grooming on wheels It has become the livelihood of this little businesswoman, who is also a dog trainer. «I survive on both things. Right now I have seven dogs from the same house, maybe in one day I have four or five dogs ». On average, a hundred a month who cut their hair, bathe, trim their nails, clean their ears and empty the glands. He pays the self-employment tax and the ITV of the van twice a year, "but I save the rent of the premises and I have the freedom to move. In an establishment the days are long.
However, he admits that "it is complicated because there are many people without work and when one is unemployed taking the dog to the groomer is not a priority. Now summer is coming and it shows. Until August the hairdresser will be at full throttle ». In its price list there is the bathroom at 16 euros, the haircut for a small dog at 20 euros, a large dog at 48 euros, and «55 euros if we get into a mastiff, although I advise not to cut it but to bathe and comb them. good". Elisa also promotes her business on the internet and social networks, for which she gets a lot of work despite the fact that, she confesses, she was not very fond of it. He believes that many businesses are being reformulated in the wake of the pandemic. Now he is considering doing videos and canine education seminars and courses online.
A personal trainer for 25 years and an expert in martial arts, Cristian Benito, 45, works out at home. His sights when working are set against sedentary lifestyle, he confesses: "that people move more and improve their physical form, is my goal and my line of work," he explains. His idea of ​​going to his clients' houses to exercise them was born after his wife, also a professional in the sector, and himself, became unemployed after going bankrupt five months after starting a new project that they were leading due to the covid pandemic. -19.
"They had to close, they fired us and we decided to take our profession home," says the coach. They have clients all over the province, with two or three weekly sessions each, and at the moment he gives them to survive by adding to his facet facet the work of his online wife, focused on the line of meditation, yoga and mindfulness. The average of the customers of the brand founded by this athlete, Natural Free Move, are people over 40 years of age "not very active, sedentary or with some ailments that need basic strength training." The couple believe in their line of work and want to continue on their own, like more and more people. "I know health professionals, such as physiotherapists, who go to home, and other entrepreneurs who are adapting to work on their own thanks to the digital world. From the entire sector of sports, nutrition, psychology and even professionals who teach music classes online.
The digital universe is the new business medium for Bazar Madrid, a traditional four-generation store founded by Antonio Carrasco at the end of the 1940s on the Rambla, when tourism began and castanets painted with bulls, beach hats and souvenirs were sold. . The store, which was changing headquarters based on demand (Portal de Elche, Alfonso el Sabio, Navas) was later in the hands of Isabel Rodriguez, 73 years old; and in its most recent stage it has been directed Cristina Carrasco placeholder image, the 49-year-old granddaughter who left her job at a consultancy to continue the family tradition. A few weeks ago it pulled the blind to disappear as physical commerce. Now he is only on the internet and manages it in the fourth generation Isabel Cano, 21 years old, who has been trained in Business Administration and Management. The festive crafts they have always specialized in can be found in the digital universe. The crisis caused by the covid has forced them to convert this specialized business into an online store (they sell fans to France or Italy through the network) since with the drop in consumption and turnover by 90% it was impossible for them to pay 1,000 euros per month for local rental. Another example of a new commercial format is the alliance of different varieties of food such as bread, meats and fruits united in the same place, a new business of which there are already examples in the province of Alicante.
Social networks and web channels, new tools
Businesses and economic activities have found a great ally to spread on social networks and online sales through web channels, as well as on WhatsApp. The merchants consulted affirm that it has become a means of direct communication with their customers "and soon we will even be able to sell through instant messaging." They consider a good positioning in search engines such as Google essential so that potential customers can find them more easily and generate the necessary traffic to sales channels. Without this adaptation, they fear that 70% of the province's commercial fabric could be lost along the way. Hence, the acceleration of the digitization of businesses: online sales grew by 20% in the last quarter of 2020.

www.informacion.es
Eddie is an Australian news reporter with over 9 years in the industry and has published on Forbes and tech crunch.