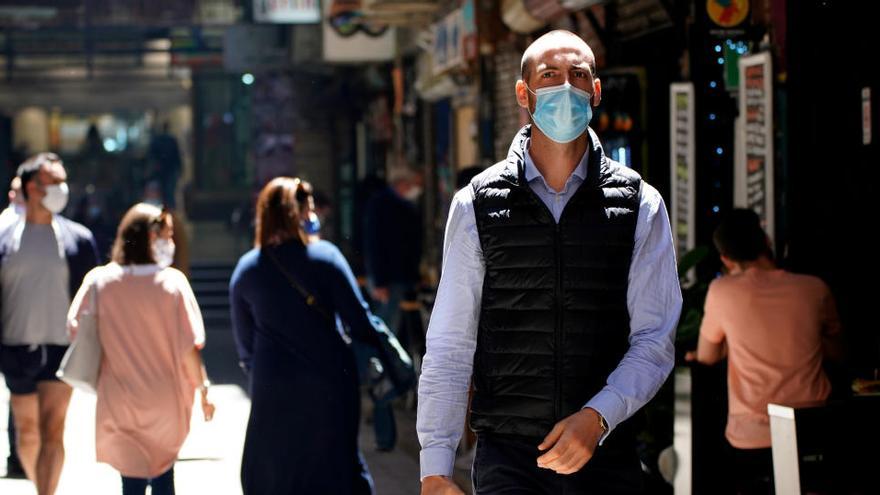 The new coronavirus pandemic has registered in the last 24 hours more than 640,000 new cases worldwide, below 670,000 on Saturday, to exceed the 66.5 million affected globally, and has left another 10,198 more dead since the day before, according to the balance published this Sunday by Johns Hopkins University.
With the 640,593 cases registered on Saturday, the total number of affected already amounts to 66,561,559 infections, while the global death toll stands at 1,529,134. More of 42.7 million people have managed to overcome COVID-19, the respiratory disease caused by the coronavirus.
By countries, The United States at the top of the list, has registered in recent weeks the worst case data of the entire pandemic and counts in this Sunday balance more than 213,000 new positives and another 2,254 deaths, with a total of 14.5 million infections. The fatalities from COVID-19 on US soil amount to 281,816.
India, on the other hand, continues with the downward trend of the rate of infections in recent weeks, although it already exceeds 9.6 million cases and accumulates 140,182 deaths. The Asian country is the one that has registered the most recoveries to date, more than 9 million.
Brazil remains in third position of this classification that is configured from the data of 191 countries and territories with coronavirus cases. The South American giant has registered more than 6.5 million cases and 176,628 deaths.
After several days in which it has added more than 25,000 cases, Russia remains in fourth position globally, with a total of 2.4 million infections and 42,228 deaths. In France there are 2.3 million infected people and 55,073 fatalities.
UK overtakes Italy and Spain and it ranks as the sixth country most affected by the pandemic, with 1.7 million infections and 61,111 deaths, after adding more than 15,000 positives on the last day. The transalpine country, then, registers 1.7 million infections and 59,514 deaths, for 1.68 million affected in Spain, which accumulates 46,252 deaths. Argentina, the second country with the most cases in Latin America, adds 1.45 million infected and 39,632 deaths.
Over a million cases Colombia is also located, with 1.36 million positives and 37,633 fatalities; Germany, with 1.18 million infections and 18,839 deaths; Mexico, which records 1.16 million positives and 109,456 deaths; Poland, with 1.05 million infected and 19,861 fatalities, and Iran, which exceeds one million positives with 50,016 deaths.
Still below a million, Peru has 970,860 people with coronavirus and 36,195 deaths, ahead of the 822,985 infected and the 14,044 deaths that are registered in Ukraine. South Africa, the country most affected in Africa by the pandemic, has 810,449 infected and 22,067 deaths.
For its part, Turkey accumulates 797,893 cases of COVID-19 with 14,705 deaths, while Belgium –589,942 positives and 17,254 deaths–, Indonesia –569,707 cases and 17,589 deaths–, Iraq –562,520 infections and 12,411 deaths– , The Netherlands –559,716 cases and 9,743 deaths–, Chile –558,668 cases and 15,592 deaths–, Czech Republic –544,179 cases and 8,815 deaths– and Romania –508,345 cases and 12,186 infections– also listed above the threshold of half a million.
With more than 400,000 positives Bangladesh, with 475,789 infected and 6,807 fatalities; The Philippines, with 438,069 cases and 8,526 deaths; Pakistan, with 416,499 positives and 8,361 deaths, and Canada, with 412,543 positives and 12,607 deaths.
Already in the arc of 300,000 infections are Morocco (376,738), Saudi Arabia (358,526), ​​Switzerland (344,497), Israel (344,066), Portugal (318,640) and Austria (300,689) while in the range of 200,000 to 300,000 infections are Sweden (278,912), Hungary (243,581), Nepal (239,885), Jordan (237,513), and Serbia (213,843)
By over 100,000 positives They are Ecuador (197,391); Kazakhstan (179,344); Panama (175,907); United Arab Emirates (175,276); Japan (160,870); Bulgaria (160,844); Georgia (158,154); Dominican Republic (147,655); Croatia (147,454); Bolivia (145,492); Belarus (145,279); Kuwait (144,164); Costa Rica (143,685); Azerbaijan (142,323); Armenia (140,959); Qatar (139,783); Lebanon (135,876); Guatemala (125,352); Oman (124,329); Egypt (118,014); Moldova (115,557); Slovakia (115,462); Greece (114,568); Ethiopia (112,740); Honduras (109,960), Venezuela (104,177) and Tunisia (102,991)
China, the country where the pandemic originated, has 93,467 infected and 4,746 fatalities.

www.informacion.es
Digsmak is a news publisher with over 12 years of reporting experiance; and have published in many industry leading publications and news sites.