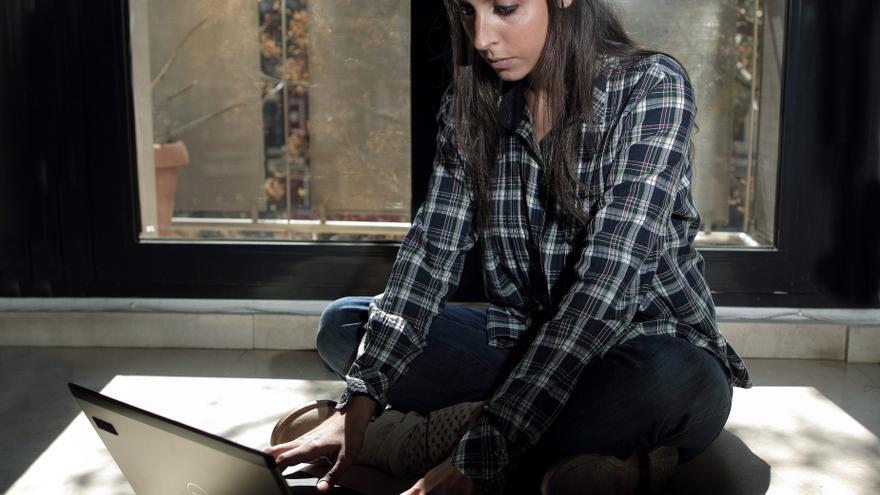 A study in which 753 students of Compulsory Secondary Education and Vocational Training in the province of Alicante have participated reveals that 51.5% (388) shows concern for your privacy, for the protection of your online exposure and for greater technical protection, compared to 48.5% (365) who show a lower degree of concern about these issues when they use the new information, communication and leisure technologies. This report has been prepared by the Good Use of ICT Chair and promoted by the Department of Innovation, Universities, Science and Digital Society, in collaboration with the Miguel Hernández University (UMH) of Elche.
The students participating in the study, entitled 'Privacy attitudes and behaviors in a sample of adolescents from the Valencian Community', are between 12 and 17 years old and belong to nine public educational centers in five towns in the province of Alicante. The purpose of this work is to know the levels of privacy and security attitudes and behaviors online among adolescents in the Valencian Community.
Minister Carolina Pascual highlighted "the importance of launching initiatives that allow adolescents to acquire self-protection tools." In this sense, it has stressed that "although we may think that they are digital natives, they also need support and take measures that reduce their exposure, while making their socialization on the networks positive and responsible." For her part, the general director for the Fight against the Digital Divide, María Muñoz, added that the Chair of Gap for the Good Use of ICT "has among its functions to detect this gap among the adolescent population, in order to adopt preventive measures and turn young people into agents of change in its environment".
Specifically, the analysis indicates that the profiles of minors who are characterized by greater concern for their privacy, exposure and protection, connect fewer hours to the Internet, have fewer contacts in their social media and more active parental mediation. In addition, this group has or has had fewer cyber-victimization or unpleasant experiences online.
On the other hand, the students least concerned about their privacy, exposure and protection are the ones who connect the most hours, the one with the greatest number of contacts on their social networks, as well as the one with the least degree of active parental mediation, in addition to having had greater number of experiences of cyber-victimization or nasty on the net. Based on sex, the analysis of these profiles indicates that boys tend to show a lower degree of concern and protection. Thus, 57% of the girls belong to the profile with greater privacy, compared to 43% who present a profile with less privacy. In the case of boys, these percentages are reversed.
By age, concern about privacy declines significantly as the age of minors increases. A higher percentage is in the profile with the least degree of concern and privacy protection, going from 41% at 12 years to 68.2% at 17 years. The report also indicates that the age of beginning of use of the new technologies of the information, communication and leisure On the part of adolescents, it is 12 years old and that 66% of the total connect to social networks on a daily basis and 40% do so for more than two hours a day. Regarding the number of contacts in social networks, 24.4% declare having more than 300 'friends'.
Likewise, of the total number of students interviewed, 93% prefer to connect with the smartphone and 10% use all available technologies without distinction. In this regard, the director of the Chair of Digital Divide and Good Use of ICT, UMH professor Daniel Lloret, has indicated that "interacting and communicating online is a daily activity among minors. 70% of adolescents between the ages of 15 and 17 connect daily to social networks and one in two more than two hours a day and, in these relationships, they try to maintain a balance between the concern to protect their privacy and the pressure to share personal information ". In addition, the UMH professor added that "in an increasingly digital and media world, being aware of privacy protection is vital for our security. In this sense, the European Framework of Digital Competences DigiComp 2.1. identifies privacy as one of the five key skills for proper digital literacy. To approach this phenomenon, we have analyzed three aspects of the protection of our digital identity: the degree of voluntary exposure of personal information, the use of techniques, configuration of profiles and software, and the level of awareness and concern about privacy ".
Despite the increase in research in this field in recent years, in Spain and in the Valencian Community there are few studies that have described privacy behaviors in adolescents and have taken privacy into account as a risk / protection factor in the study of uses, habits and risks online. Nor have profiles been proposed based on their privacy attitudes and behaviors. Therefore, the analysis carried out focuses on identifying profiles that help to understand what factors related to the levels of privacy and exposure of minors in social networks may be related to a greater risk online. Also, investigate sociodemographic characteristics (sex and age) and contextual characteristics (intensity of connection and number of contacts in social networks / messaging applications) of the sample of students.
In general, the study sample is characterized by medium levels of concern for your privacy and protection in exposure. The concern for technical protection, in general terms, is less. Even so, between 8.9 and 38.5% of the students report behaviors that do not protect their privacy. Specifically, one in 10 publishes photos that their parents would not like, publishes their entire life on social networks and enters personal data whenever a website he asks for it. Four out of 10 accept the most friend requests and three out of 10 do not use pop-up blockers or delete cookies regularly. Half of the sample do not change their access passwords regularly and a third do not worry about others forwarding their messages and photos. Likewise, three out of 10 do not read the privacy conditions before registering on a website or social network. In terms of connection intensity and number of contacts, adolescents who connect on time show a greater degree of protection in their exposure online than those who connect a greater number of hours a day. Similarly, the group of minors with fewer contacts shows greater concern for privacy than the groups with more than 100 contacts.
Protect personal data and privacy in digital environments, understand how to share personal information while protecting yourself and others, or learn how digital services use a "privacy policy" to state how data is used. personal information are skills necessary for digital citizenship. Therefore, objective of the European Digital Competences Framework DigiComp 2.1.
The concern of the population, the experts and the public administration has prompted a growing interest in the research in this field. However, there is no evidence of the existence of valid and reliable instruments that allow evaluating privacy attitudes and behaviors in adolescents. Therefore, an objective of continuity of this study is to develop and validate a scale that makes it possible to detect the level of vulnerability of minors. Such an instrument would help to make decisions about the protection measures to be implemented. Another line of work consists of the design, implementation and evaluation of training and preventive interventions that reinforce protection in environments online among teenagers.

www.informacion.es
Eddie is an Australian news reporter with over 9 years in the industry and has published on Forbes and tech crunch.