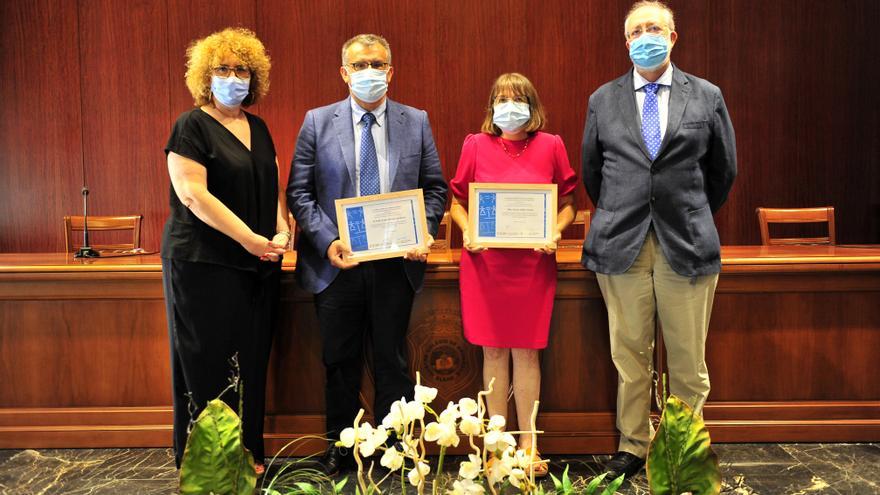 More than half of the 700 registered lawyers in Elche They are assigned to the duty shift. The city surpasses the barrier of 400 lawyers who provide free legal assistance and the number has risen to 35% in the last five years. The figure has shot up especially since 2020 due to the coronavirus pandemic, which has unleashed a social emergency that now makes this assistance more important for the right to defense of anyone who cannot afford the fees of a professional.
This was explained to INFORMATION this Monday by the dean of Elche Bar Association, Vicente Pascual Pascual after an act to celebrate the Free Justice Day and Office Shift that has been commemorating since 1996 when the Free Legal Assistance Law.
The day served to honor this year the professional career of Pedro Pablo Martínez de Heras Y Aurora Salido Vicente, two lawyers linked to the duty shift for more than three decades.
Both took advantage of the recognition of the College, which gave them a diploma, to value the important value they exercise and demand improvements for a shift that has always been certainly reviled by low pay, which makes it impossible for the vast majority of lawyers to not be able to live off this assistance and have to combine it with private initiative in their offices.
The Bar Association stressed that the collective's remuneration has been improved in the last seven years, normalizing the periodic collection "because before it was possible to have more than a year of unpaid remuneration pending." Even so, they estimate that the amounts «they are still improvable».
On the other hand, the dean understands that "the number of subscribers that the Ministry of Justice foresees according to its scales that can attend the attendance of come sometimes is not enough, and the number is not flexible."
Thus, Gabriela Bravo, Minister of Justice, also pointed out this Wednesday to celebrate the anniversary that since the new model of free justice was launched in 2017, work has been done to promote specialization, encourage proximity and improve remuneration. To this thread, he assured that at the regional level they have increased the modules and scales of the Duty Shift "so that the Valenciana is the community where the lawyers who provide free legal assistance are paid the most," he said in a ceremony in Valencia .
He recalled that the budget of the Generalitat consigned 48.7 million euros, more than double that in 2015 and also remarked that work is being done to ensure the effective judicial defense of immigrants, people with functional or intellectual diversity and in the penitentiary field . He highlighted that the province of Alicante has approved 40,933 requests in the last year, almost half of the total at the regional level.
From the Bar Association they insist, even so, that the administration of Justice "should bring the ex officio Justice closer to the citizen. Facilitate preventive treatment and improve compensation for colleagues ". They also demand that the success model be extended to ex officio mediation «and we demand it because the Department has preferred not to use the ex officio success model if not wanting to deal with the designation model from the Ministry of Justice and not from the bar associations ", according to Vicente Pascual. With this decision they understand that "the appointment of mediators is politicized and should be rectified," asserts the dean of the Elche institution.
Experiences
Regarding experiences, Pedro Pablo Martínez de Heras, one of those honored this Monday in Elche, narrated that he entered the duty shift in 1985 but years later he dropped out until in 2015 he returned to duty because his wife encouraged him, "I saw that when I returned, everything had changed a lot for the better, everything works in a more coherent way."
In the same way, he stressed that despite the fact that the general population «thinks that it is poorly paid, it is paid and punctually» and wanted to clarify that free legal assistance is not of worse quality «or second-rate, I understand that it is not , because when a lawyer assumes the defense, he defends it as best he knows how »
He stressed that ex officio consultations should be enabled for those who cannot resort to a law firm. Likewise, he pointed out that from his experience he would appreciate having more communication with his clients because he has encountered situations in which "I only get to contact the day of arrest and trial.
The other honoree, Aurora Salido Vicente, wanted to remind the board of the bar association that "never stop defending free justice because what it does is equalize citizens by allowing access to a lawyer." He wanted to claim that no distinctions should be made between types of customers.
He recounted his beginnings in the court of office more than three decades ago and took advantage of his recognition to tell that the first lesson in the world of law was given to him by the first client, on the side of the accused, when he told him not to give so many laps in the corridors, because of the nerves she had, because it seemed that she was the condemned one, she remembered.
AURORA SALIDO VICENTE | ATTORNEY OF TRADE FOR THREE DECADES
"Being a public defender makes you humanize Justice and stay up to date"
At what point did you start on the duty shift?
As soon as you finished your degree, and at that time you could register. I think that the duty shift makes you learn, stay up to date and stick to reality makes you a better person and see things differently. I think I will continue until I retire.
What have you learned all this time?
I mainly carry criminal matters and you always wonder how these people have come to this. Humanizing justice helps you, because you think that everyone has the right to defense, that what we call mitigating circumstances and the life that they have had is taken into account. Not all the same people have the same opportunities and that is the reality.
Do you also agree that it is poorly paid?
I think there is no lawyer who says that this is well paid. Preparing a trial can take several hours, even more than a day, and any process has many parts. The State is the one that should consider that if it pays its lawyers better, things will go better.
PEDRO PABLO MARTÍNEZ | PUBLIC ATTORNEY SINCE 1985
"You try a dignified defense and sometimes very complex issues come up"
What does it mean for you to combine your office with being a public defender?
It means being in close contact with real society, because it enriches us.
Do you think that you learn more than in a cabinet?
You see very varied things, related to very different people and they are not always theft or divorce issues, sometimes they have truly complex issues, but you try to make a worthy defense. The troubles are satisfied when you solve a serious problem and the opposing party is someone powerful. It gives you satisfaction when that person thanks you from the heart.
What improvements would you like?
That it was better paid. Now it is paid and punctually. I think the scales should be higher, but it is what there is at the moment because there are probably issues of more social need.
How do you see the new generations of public defenders?
People are very well prepared, better than when I started.

www.informacion.es
Eddie is an Australian news reporter with over 9 years in the industry and has published on Forbes and tech crunch.