It is not that Africa is moving, it is that the continent is boiling: 36 million Africans migrated in 2017, that is, 14% of the 258 million that were registered last year worldwide, according to the United Nations' 2017 Migration Report. But they don't move like we think. It is often taken for granted that the flows between Africa and Europe or North America are the only ones, or the ones with the highest volume, but 75% of those who changed of scene in sub-Saharan Africa stayed within the continent, did not travel to others, according to the study Africa on the Move: Dynamics and Drivers of Sub-Saharan Migration, published by the UN agency for food and agriculture (FAO) and the Center for Agricultural Research for Development (Cirad) last November. This is the first atlas in the world to analyze the interrelationship of the factors that drive the inhabitants of the black continent to leave their homes.
Through various maps and the in-depth study of four examples (Senegal, Madagascar, South Africa and Zambia), the publication tries to facilitate the understanding of the dynamics and trends of migratory flows. Migrants have shaped the world we live in today, they have driven progress, and human movements are not going to stop. For this reason, it is preferable to promote actions that increase their potential and reduce the possible harmful effects. This atlas tries to find patterns that serve to develop more efficient policies. "Migrants can be agents of development, so taking advantage of this is of the utmost importance," says the research. These are some keys:
More rural population, and employment as a great challenge
The population in sub-Saharan Africa continues to grow on an unprecedented scale. By 2050 it will increase by 208 million people, reaching 2,200 million. This growth represents a larger change than those experienced by China and India in the past. The region will remain primarily rural due to the relatively recent growth of cities: in 2015, 62% (602 million) of Africans still lived in the countryside. By 2050, it will be at 980 million, that is, one third of the world's rural residents. As a consequence, the workforce will increase by 813 million by 2050. Almost 35% will come from the countryside, with 220 million workers.
The economically active age group (15 to 64 years) also increases, something that is a great advantage for economic growth. But if a favorable economic and institutional environment does not develop, this potential benefit could turn into a demographic fine (many unemployed), something that can cause social and political tensions. The biggest challenge for sub-Saharan Africa is generating enough jobs to absorb its booming workforce. The evolution of the agricultural sector will depend on the pressure on resources and their management.
It migrates more within Africa
In 2015, around 33 million Africans lived outside their countries of origin, although those who move within their continent account for almost 75%. The porosity of borders and regional regulations to facilitate the free movement of people favor movement. Rural and urban migration patterns present very different characteristics. The former usually move to cities if they stay in their country. On the contrary, urbanites are leaving, in general, to other continents and urban areas. Migration between rural areas arises when access to land is possible and when new activities are developed, such as artisanal mining. However, most of the time it results from the lack of employment in the cities and the greater supply in production areas of cash crops such as cotton, peanuts, cocoa, coffee and rice.
These dynamics show that the links between rural and urban are less and less static. Migration supports diversification of household livelihoods and access to employment opportunities. Strengthens the role of small towns and intermediate cities, as well as local and regional dynamics. This new territorial reality, shaped by migration, should facilitate a better match of political actions with local needs.
Profile of African migrants
In 2015, Africa had the highest proportion of young international migrants (aged 15-24) with 34% of the total. The mean age was 29 years. Taking a closer look at a group of countries (Senegal, Burkina Faso, Nigeria, Uganda and Kenya), one finds similarities: young people move within their country and make up the bulk of rural migrants. About 60% are between 15 and 34 years old and women are generally younger, although they are older: between 60% and 80%. The region is also characterized by having very large families (often seven or more members) that are generally more likely to have migrants. This reflects the difficulties young people have in accessing and inheriting agricultural land, which is an incentive to leave
Peasants have lower educational attainments than their urban counterparts, and those who decide to leave the countryside are no exception. Migrants tend, however, to spend more years in school, and the majority of rural migrants come from households with better-educated members. When looking at employment, most of those with limited or no formal education end up in self-employment, while those who have reached the level of secondary education are more likely to enter salaried employment. Average daily income per person in rural areas is very low. About 60% of household members earn less than a dollar a day. The earnings of migrant households are slightly higher.
Importance of remittances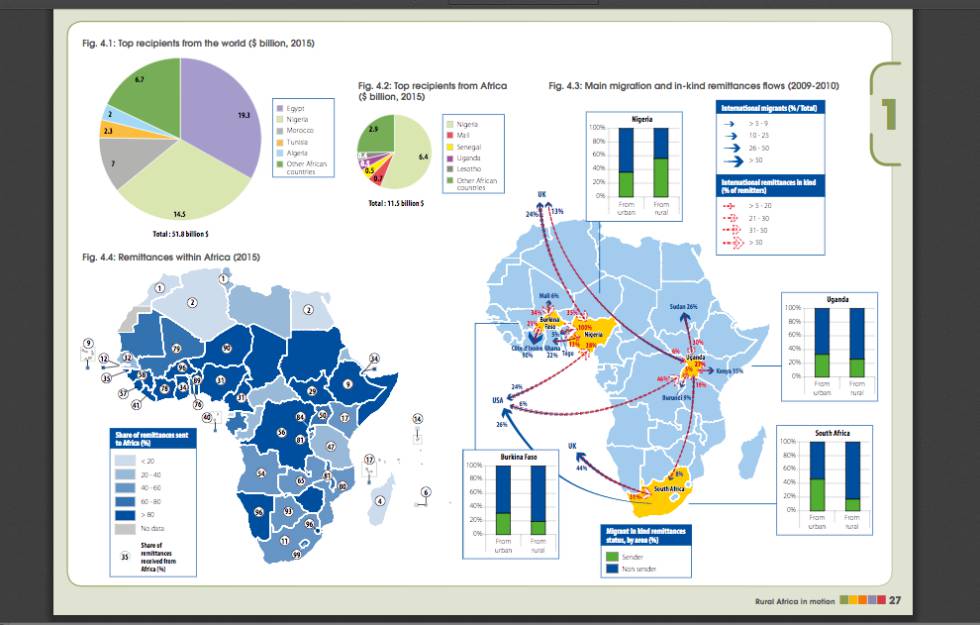 The most tangible development engine of migration is the money migrants send home. Sub-Saharan Africa received roughly $ 32 billion of the $ 580 billion that was sent around the world. However, the real figures must be higher because many send informally and because others do so in the form of goods, in kind, and this is not reflected in the statistics.
Sending remittances transforms the lives of families in the country, alleviating poverty and improving household consumption, but they can generate problems if they disrupt traditional institutions and systems, or if they end up causing dependence on the receiving family. the person sending. Still they help improve livelihoods for many. According to the authors, Africa should prioritize reducing shipping costs and promoting competition, efficiency and transparency. "African states should also reform their banking and financial systems to facilitate the ability of migrants to remit money through financial institutions," they recommend.
The importance of climate change
Climate change is a global phenomenon that is increasingly harmful to humans. Temperatures and changes in rainfall can have serious impacts on livelihoods. It is estimated that the losses in cereal crops will be around 20% and that the sub-Saharan region will be one of the hardest hit, with scenarios that project a 20% increase in malnutrition in 2050 if measures are not taken.
In high-risk countries with mitigation mechanisms, people can better survive this phenomenon. The ability of governments to respond to basic needs after natural disasters could, for example, enable people to rebuild their livelihoods without the need to migrate. In most sub-Saharan African countries, problems such as political instability, poor governance, lack of capacities and limited financial resources impede the effective use and good implementation of prevention and adaptation mechanisms. To achieve them, development strategies must be designed based on a long-term look at the possible scenarios to achieve an adequate and efficient design of public policies.
You can follow PLANETA FUTURO in Twitter and Facebook e Instagram, and subscribe here to our newsletter.



elpais.com
Digsmak is a news publisher with over 12 years of reporting experiance; and have published in many industry leading publications and news sites.