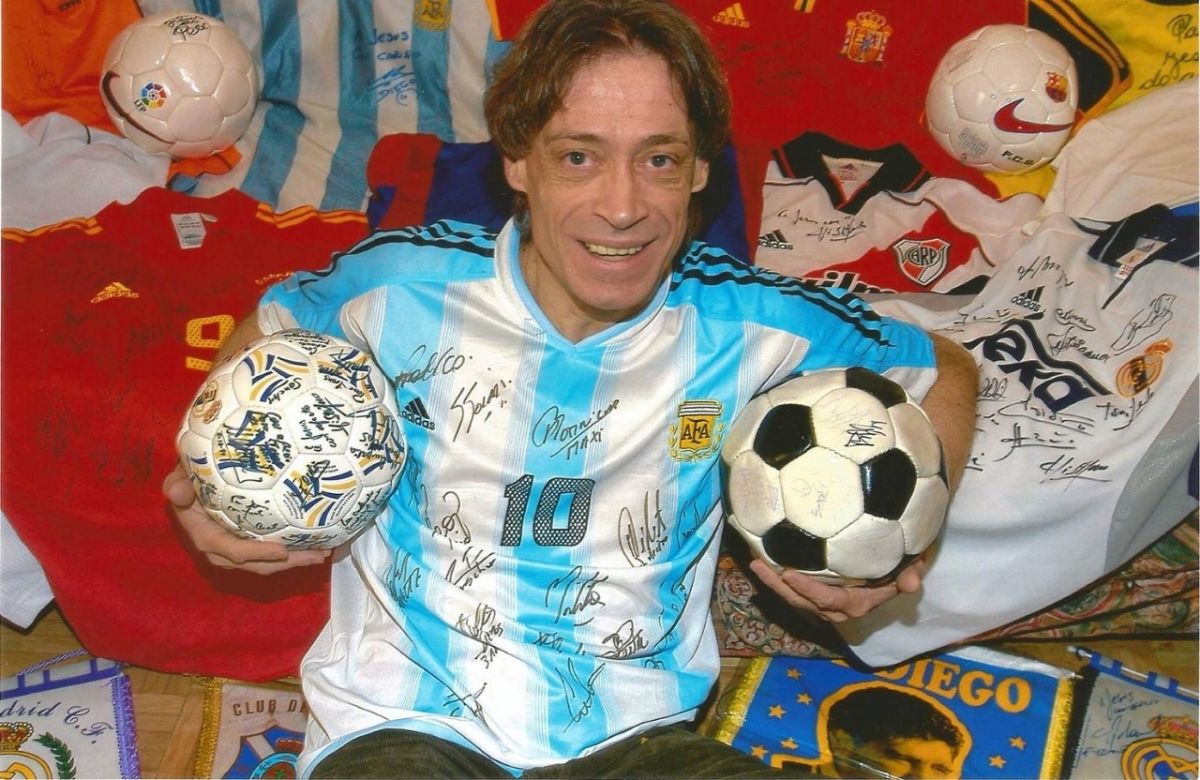 Jesus Ferro (Lomas de Zamora, Argentina, 1953-2022), the tireless traveling journalist who, as freelance lived the passion of football in the five continents and who accompanied the narrator Héctor del Mar on Radio Intercontinental in the 1980s, died last Sunday in Lomas de Zamora at the age of 68, after a long illness, still keeping the treasure of "the most valuable ball in the world".
A unique ball that summarizes the traveling and journalistic career of Jesús Ferro, passionate about football and Boca Júniors in equal parts. A ball that he cared for like a treasure, since contains the signature of the 40 most important soccer players in history, from Di Stéfano, Pelé and Maradona to Messi or Cristiano Ronaldo, passing by Eusebio, Kopa, Beckenbauer, Joan Cruyff, Van Basten, Falcao, Zico, Riquelme
Ferro, who sculpted the ball with such famous signatures for give it to his nephew Germán, who works as a doctor in Germany, described the ball as unique, "because there is none like it and, therefore, there is no way to value it. It is historical, because brings together the entire history of football in their segments". Ferrito was not without reason, who emphasized that his jewel had the signatures of 13 world champions and former players from 14 different countries.
"I think it is the most valuable ball in the world. It has thousands of kilometers rolling with its owner, inside a bag with the logo of Italia 90 that they distributed to us in that World Cup", he said.
The story of Jesus Ferro
The Argentine represented a kind of classic journalists, away from technology, who never submitted to the discipline of a daily work company, but rather his traveling vocation took him to visit more than 140 countries and to work on a temporary basis, sometimes in functions far from journalism, in exchange for being able to be present at the most important sporting events.
Thus, he was punctual in the World Cups Spain 82, Italy 90, Germany 2006 and Brazil 2014, and in Olympic Games such as Seoul'88 and Barcelona'92, among others.
Ferro graduated in 1977 from the Circle of journalists in Buenos Aires, was part of the Champions car team, with Carlos Legnani, had as "godparents" the rapporteur Bernardino Veiga and Luis Elias Sojit, who commissioned Juan Manuel Fangio a valuable album of his black and white photos from his early days. Thus he established a close relationship with the five-time world champion, and then lived three years in Brazil, three others in the United States until establishing itself for more than three decades in Spain.
Ferro, versatile man, began to collect the autographs of the great soccer stars from the World Cup in Italy 1990, at which time he was already working as a football commentator on Radio Intercontinental in Madrid along with his compatriot Héctor Del Mar, "The man with the goal", who nicknamed Maradona Fluffy and Emilio Butragueño Vulture, also on Radio Marca, where he commented on the 2002 World Cup together with former Argentine player Ramón Heredia.
Traveler, not tourist
Ferro I only got a one-way ticket when traveling to ortro country. "The traveler knows when he leaves, but not when he returns; and even whether he is going to return or not, while the tourist wants to have his return reconfirmed", paraphrased the American writer Paul Bowles.
The Argentine, who came to give the around the world in 80 days, from September 4 to November 22, 2011, leaving and arriving at Puerta del Sol in Madrid, had a uncanny physical resemblance to Mick Jagger, vocalist, of the Rolling Stones. This it meant a good handful of anecdotes, such as his participation in the Martian Chronicles program on Tele 5, where 2 million people saw him. That night, a component of the RollingKeith Richards was unable to attend the show due to injury and they turned to Ferro.
His "rolling" aspect also allowed him to enjoy contracts with the British company Look a Likes (Similar).
"It was a great impact, because the day I arrived Elizabeth Taylor opened the door for me, she introduced me to Clark Gable and Elton John, and I ended up having 5pm tea with queen elizabeth, although all of them were similar to him ", he counted in a humorous tone, as reflected in Infobae by his friend and reference of Argentine sports journalism Sergio Levinsky.
"The ball is most international toy in the world, and besides, it's round like him. don't know about borders or passports or visas. Everyone can play with it, from Portugal to China, from Tunisia to South Africa, from Canada to Argentina. It has to be pampered with the tenderness that only a mother can lavish on her son, or a lover to his girl", Ferro wrote in his inseparable notebook.
The journalist did not fulfill his dream of set up a sports bar, full of screens with the best matches; but the most valuable ball in the world will reach Germán, with the signature of the stars and the love of a fan of travel, life, football….
You can also read:
– The sale of tickets for the Qatar 2022 World Cup begins
– The most successful coach in the history of Norwegian football died



eldiariony.com
Eddie is an Australian news reporter with over 9 years in the industry and has published on Forbes and tech crunch.