Fiber and mobile offers are common in telecommunications operators throughout the year, with summer and Christmas being one of the most traditional, although in recent years, back to school and the beginning of autumn have become in one of the best times of the year to switch carriers and save a few euros.
With Digi leading portability for months, and becoming one of the main low cost referents of the market for its rates, it is not surprising that operators as established as Movistar, Orange, Vodafone or MásMóvil have finished reacting on different levelsso the white brands of the same operators also come into play, among which O2, Simyo, Lowi or Pepephone stand out respectively.
The result is a fall of 2022 in which we find more definitive improvements in rateslonger-lasting discounts for new customers, and the stronger return of free mobiles and other devices. But let's see it in parts.
Offer of only fiber, better in Vodafone
Vodafone's student offer for this year has ended up snatching the cheapest fiber-only rate from Digi, O2 and Simyo, by offering twice the speed and landline for the same price as its rivals. Specifically 600 Mbps for 25 euros. In addition, this offer meets the three main requirements for students: it has coverage in university cities, it has the cheapest prices, it has high speed enough for all devices to connect quickly, and its permanence is only three months.
Those interested in the highest fiber speed will have Digi as their best alternative, where 1 Gbps costs 30 euros per month (or 20 euros per month in one of the cities with its own fiber coverage). A very similar price to that also offered by Movistar and Orange, although only temporarily, for 9 and 12 months respectively.
Those who, on the contrary, are in reduce the monthly payment to the maximumXenet currently reduces the price to 17.90 euros for 100 symmetrical Mbps.
With other fiber coverage available, other cheap alternatives are found in Jazztel from 19.95 euros, in finetwork from 21.90 euros, or in O2 from 27 euros. The complete offer of fiber-only rates is as detailed in the comparative graph:
Combined fiber and mobile: cheaper or with unlimited data
If what you are looking for is a combination of fiber and mobile, the main options are divided among the operators that offer unlimited mobile dataand their white markings with the cheaper ratesalthough Digi is the only one that brings everything together in one.
As a reference in minimum prices for combined fiber and mobile, the following rates stand out:
the fiber to 100 Mbps and mobile with 12 GB for 26.49 euros from Simyo, or with 20 GB for 28.99 euros in almost the entire territory. Xenet is also one of the cheapest, offering from 14 GB for 23.80 euros, although only under MásMóvil fiber coverage.
the fiber to 300 Mbps and mobile with 10 GB for 30 euros, or with 20 GB for 31 euros, 50 GB for 34 euros or 100 GB for 37 euros from Digi. Lowi, finetwork and Simyo offer very similar alternatives.
the fiber to 600 Mbps and mobile with 25 GB for 34.90 euros from Finetwork, or with 50 GB for 39.90 euros in Finetwork and Lowi. Pepephone, O2 and Jazztel also offer similar rates.
the fiber to 1,000 Mbps with mobile from 10 GB for 35 euros from Digi.
Families who, in addition to fiber, are interested in contracting at least two mobile lines under the same owner, will be able to enjoy discounts on additional mobile lines with some operators, so that cheapest family mixes on the market They remain as detailed in the complete comparison of combined fiber and mobile.
If you opt for a rate with unlimited mobile data, Digi has the cheapest combo from 40 euros (or 45 euros with fiber at 1,000 Mbps), but it will be the only operator no access to 5G. Of the rest of the alternatives with 5G, the cheapest are:
Fiber at 600 Mbps and unlimited mobile (with speed limited to 10 Mbps) of Vodafone is available forever 46 euros if you hire before the end of October. Or for 50 euros per month, at 5G speed and an essential television package with 14 premium channels (plus DTT and international channels).

Fiber at 500 Mbps and unlimited mobile (with speed limited to 2 Mbps from 30 GB) and an essential television package with 16 premium channels (plus DTT and international channels) from Orange for 57 euros. Or for 77 euros per month, at 5G speed, two unlimited mobile lines and fiber at 1,000 Mbps.

Fiber at 300 Mbps and unlimited mobile (with video streaming limited to SD) from Yoigo for 59 euros. Or for 62 euros per month with two unlimited lines.
Great discounts on football, movies and series
In addition to discounts on fiber and mobile, those combined with television are also improved for those who contract during the month of October. Users interested in a combined offer of fiber, mobile and television, they will be able to choose mainly between the Movistar and Orange rates if they want to watch football, while without football, Orange does not offer deco, and Movistar and Vodafone have the cheapest, most complete and flexible rates. Besides, Vodafone includes fewer channels by default than its rivals, but in return, it includes HBOmax or Disney + for free.
for price, Vodafone has the cheapest packageall inclusive for 50 euroswith two mobile lines for 60 euros, and with the most complete television package (in addition to HBOmax, Amazon Prime and Disney+), it has a final price of 80 euros forever if you contract in October.
The next in the escalating prices is Movistar, which starts from about 65 euros with fiber at 300 Mbps and without unlimited data, while with unlimited data and fiber at 1,000 Mbps, the price starts at 80 euros (or 60 euros until March 2023). And for 15 euros more, add a second unlimited mobile line.
Orange will be the operator with the most expensive television prices (deco included) as it includes by default the channels in charge of broadcasting all football, although thanks to its current promotion in October, the starting price is 85 euros with fiber at 500 Mbps, or for 100 euros with twice the speed of fiber and two totally unlimited lines.
Mobile phones, televisions, smartwatches and other "free" devices
Despite the official end of telephone subsidies years ago, operators have been flirting with their return for some time through different formulas, which in practice allow access to all types of devices without paying anythingor paying a nominal price for high-end smartphones.
Movistar was one of the operators that has most seriously opted for a return to subsidies, camouflaging it behind a device leasing program that can be accessed in exchange for a commitment to the operator of four years. A system similar to the one used by Yoigo, although in this case, the tenure is two years there is a monthly fee of 1 euro, and a high cost applies after the first 24 payments if you want to keep the phone as your own.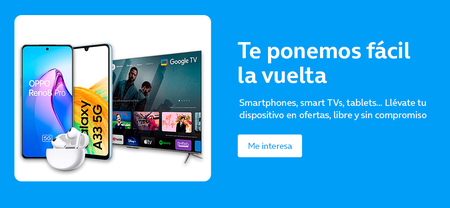 Other operators are also betting on including free or cheap devices, although in a more timely manner. The most outstanding models are the following:
Other rate comparisons
George is Digismak's reported cum editor with 13 years of experience in Journalism