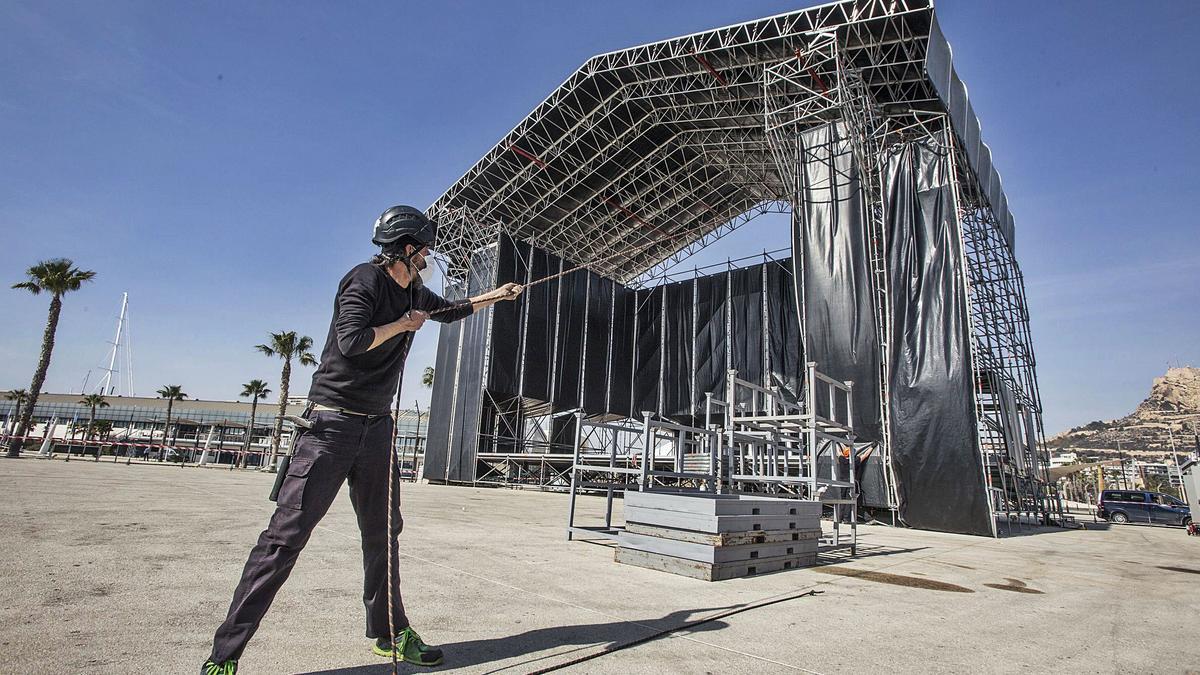 The Mediterranean Nights cycles, which brought 40 performances to Alicante through which 24,000 people passed without causing any contagion the past will seeor, it now becomes Pier 12, a broader concept of cultural and outdoor leisure complex that will display your offer of March to October. Pier 12 will be an enclosure of 5,000 square meters installed in the port of Alicante which will offer concerts of music, opera, performing arts, monologues, gastronomic tastings or children's workshops, accompanied by a restaurant area.
From the hand of Baltimore Productions – Alicante company responsible for festivals such as Low, Spring or Fuzzville – its co-director, Jose Manuel Piñero, explains the objective clearly: «Life a year ago was one way and now it is another. This is a space created for the times of now, for life in a pandemic. We raise it outdoors with all the health and safety measures -with check-in, social distance, constant cleaning service, masks and hygiene measures …- and with the intention of injecting a bit of responsible positivism. It is a commitment to Alicante, so that the city is alive ».
Although the project will be presented next week in more detail, the venue began to be installed on Tuesday and the 14-meter-high stage was assembled yesterday. "It is bigger and more solid, with more counterweight to withstand the wind," says the production manager, Lucia Zuloaga. Twenty-five people work to have the assembly completed in two weeks.
The activity plans to begin on March 6 with the first concert of the banda Second. The poster closed until the end of March proposes a dozen live music activities with morning performances -Sidonie, Mala Rodríguez, El Kanka, La Pegatina, Carlos Sadness and Juan Perro, among others- and humorous monologues in the afternoon with Pablo Ibarburu, David Suárez and Ni Puta Gracia.
In March there will only be activity from Friday to Sunday but in April it is planned to open five days a week. There is a program underway for all the public, "from a Víctor Manuel concert to a children's workshop or a wine tasting," they point out.
The venue, called multiopen space in English, is divided into two areas: the auditorium, for shows, and the terminal, for restaurants. Although it is still difficult to know the capacity that it will finally be able to accommodate, depending on the situation and the sanitary restrictions, "we believe that we will start with 800 people for concerts and 400 restaurant places," says Piñero, adding that until the Generalitat announce on day 1 the new de-escalation measures «we will not know how it will affect us, nor if they will treat us like a theater or an auditorium, but 800 was the maximum we had this summer and we understand that if 18,000 people pass one day in a closed shopping center , we can have at least 800 outdoors. We will adapt.
The distribution of the public – always seated – is carried out in three sectors, from 1 to 4 people maximum, and separated by a meter and a half apart.
For the restoration, the maxim of kilometer zero is followed: "All our suppliers and distributors are from here and the five restaurant stands are also local," concludes Piñero, who appreciates the collaboration of the Department of Culture and Tourism and the Port of Alicante .

www.informacion.es
Eddie is an Australian news reporter with over 9 years in the industry and has published on Forbes and tech crunch.