What is a tronista? The stylist Alfredo Santamaría has it clear: "The first thing that comes to mind is the ankle in the air, the pinkie [calcetín tobilero], tight skinny pants almost like the mesh of a troubadour and, of course, a high, very high toupee ". Jose Viruete, a Mediaset contributor as well as a writer and pop culture expert, defines it as follows: "He is a young man who likes to go out, flirt, go to the gym and, above all, would kill to be part of the Mediaset universe".
The tronista, One of the most powerful neologisms that have appeared in our language – although it does not appear in the RAE nomenclature -, loses the substrate of its creation. The program Women and men and vice versa has come to an end this March after 13 years in Mediaset and it remains to be seen if his most important contribution to our popular culture, that of tronista, survives him. This is how the participant who sat on a throne and received suitors who aspired to conquer his heart was called in the program. Whose style ended up being, for years, the most frequent aspect of the young man in much of television. And also on the street.
"It is not the type of clothing that everyone wears, it does not reach all layers of society and it is still from an urban tribe, but it is becoming larger and more visible," says stylist Baptiste Lauron. With the tattoos, the V-neck, the faded haircut, the plucked eyebrows and the fitted T-shirts or sweaters (which at the least flew through the air) as a hallmark, the tronista he jumped from his original show to other shows, and then onto the streets. His legacy became massive.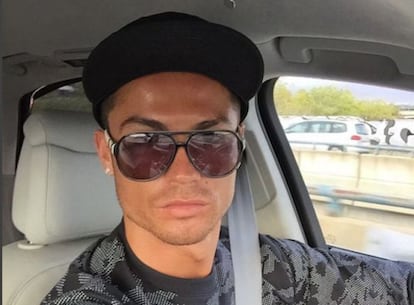 In other countries, programs like the American Jersey Shore On MTV they were a mirror of this stereotype, which responded to a very complex sociological reality, encouraged by the economic crisis and the power of fame for its own sake. Certain celebrities were famous for being (Paris Hilton is often credited with the honor of starting that trend.) And it was not an innocent term: it implied criticism and contempt for the one who received the nickname, considered almost a caricature. The screenwriter and writer Diana Aller, a regular contributor to Mediaset, explains: "At first it didn't have to imply something derogatory, but the use that has been made of it in the aftermath at the end tronista it refers to a class and places the speaker above it. We cross out of tronista what we used to call choni".
The ultimate incarnation of tronista male was the biggest star he gave Women and men and vice versa: Rafa Mora, first suitor of contestant Tamara Gorro, tronista later, a mass phenomenon later and today a regular contributor to several Mediaset programs, always ready to make a success profitable by giving it feedback to his entire grid. Mora assumed the role of pimp, the classic pimp who was suddenly capable of singing a David Bisbal song for the purpose of his sleepless nights. "In the end he had enough intelligence to know when he had to abandon that role and start doing something else," reflects Viruete. But I think it has not yet managed to reinvent itself. He has a formal girlfriend, he has softened the speech … He is trying, but before Rafa Mora was the biggest rooster in Women and men and now he is one more collaborator in Save me. He needs to star in some great moment in his new identity ".
At the height of the show's success, Rafa Mora was touring the nightclubs in Spain attracting crowds of young people who dressed, spoke and acted like him, or at least tried. Some of them ended up being tronistas or participants of other television programs, with which the concept was fed back. Diana Aller develops: "It has been 13 years of broadcasting and this has greatly influenced the styles of other programs such as Big Brother, where they had a clothing and a type of being that was completely mutating to that of the participants of Women and men and vice versa. The boys were as is! I remember, for example, Suso, a muscular and handsome boy who entered Big Brother at the peak of the program ". In an exercise of coherence, Suso would also end up being tronista, in it tour usual by shows by Telecinco –Women and Men, Big Brother, VIP Big Brother, Survivors, later The island of temptations– which end up giving the ―in principle― anonymous characters who showed greater charisma and popular pull.
It was also the case that the looks Most representative of this stereotype were until very recently the heritage of part of the gay world. Alaska reflected on this in 2013 in an interview with The weekly country: "There comes a time when you see the polygoners with the earrings and diamonds and the plucked eyebrows, the shirt, the muscle and you think: 'Well, it seems to me that no, that he is not gay, the radar is failing me.' We have triumphed, we have imposed extreme aesthetics that long ago were fagots, whores and transvestites. I love it".
Something similar is what has happened with the display of men's physique, turned into an object of desire and display at a very similar level to which female bodies have been for decades. This reification was once associated with gay dating apps and then the world. tronista, but today it is already omnipresent. "MYHYV it normalized certain things like showing the male torso to the minimum ", comments Diana Aller. "We have to thank him for his disregard of the male body, which, on the other hand, entails tremendous demands since it is sculptural bodies that have become normative because of or thanks to them. Male aesthetics have changed a lot. Now it is a very hedonistic aesthetic, they are in front of the mirror or the camera, they adopt those poses on their dates and, for years, on Instagram ".
In part, if the universe tronista has become so recognizable is because it managed to transcend that label of choni to even become something aspirational linked to the elitist. Baptiste agrees: "The border has been erased and what we saw before as something vulgar and ordinary can now be cool and can be vindicated. It is, for example, everything that happens with the chandalismo or what dogs". "Now reggaeton sounds in any room with bottles at 1,000 euros," concludes Alfredo. "And brands like Vetements or Balenciaga have been researching the chonismo and the aesthetics of a disco doorman ". During a talk with EL PAÍS, the stylist and fashion expert Josie also left her opinion on the triumph of sportswear over dress: "Right now, the less you smell like cologne, the more garters. We have become more primitive: people prefer to smell like skin than Álvarez Gómez. Today the elegance pulls back a massive public ".
In his day, the muscular, well-groomed and exfoliated look was called spornosexual, which differed from metrosexual in that he no longer cared for himself and did not embrace his feminine side to attract women, but to conquer himself from the mirror. Idols outside the orbit of television, such as Cristiano Ronaldo or Mario Casas, have also joined this aesthetic. Did they copy the tronistas? No. And the other way around? Either. Everything is part of a pact between the media and brands and society itself to put sex on the table, to celebrate skin and meat like never before. The tronista It could be the male answer to the Kardashian aesthetic. The sisters' famous reality show (which is also coming to an end this year) began airing just a year before. Women and men and vice versa. In 2009 it would arrive Jersey Shore, which in Spain knew its adaptation (Gandía Shore) in 2012. Did the paths of tronistas, participants of Gandía Shore and Telecinco programs and contests? Of course.
Perhaps its aesthetic is already so accepted that it has completely detached itself from the world tronista, but it remains to be seen if other aspects of the concept, somewhat more conflictive because they are associated with toxic masculinity, do the same. "Natural wear, the pandemic, The island of temptations [hija natural de Mujeres y hombres y viceversa y su firme sucesora a la hora de crear nuevas celebridades para Mediaset] and social media is done with tronista"Sums up Aller. But, perhaps with another name and completely unrelated to the program that saw him born, some predict that this male stereotype will survive. "A lot of kid needs that lighthouse to orient himself to so much message that confuses him," concludes José Viruete. Is it the most suitable lighthouse? Maybe not, but it is the one that shines the most.
You can follow ICON on Facebook, Twitter, Instagram, or subscribe here to the Newsletter.



elpais.com
Eddie is an Australian news reporter with over 9 years in the industry and has published on Forbes and tech crunch.