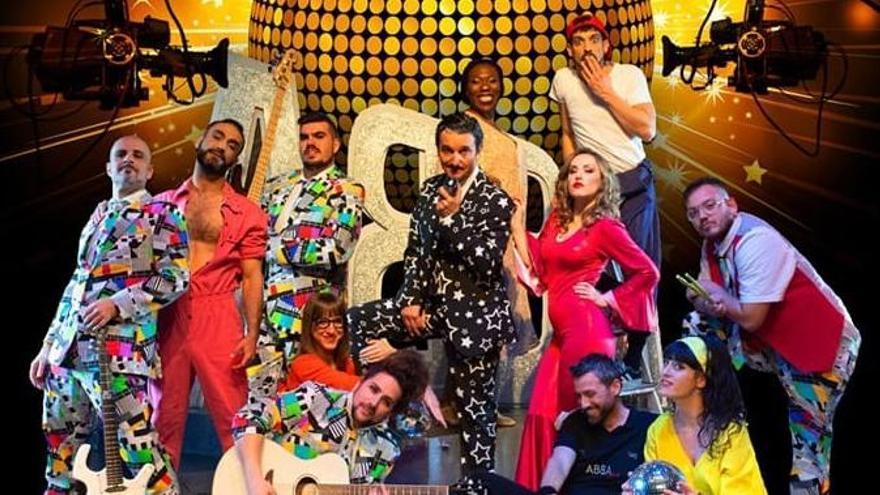 Musical lovers cannot miss a unique opportunity this month of December, since they will be able to enjoy their favorite shows in the city of Alicante.
From December 12 to 23, the schedule of the Alicante Provincial Council Auditorium (ADDA), is filled with musicals for all audiences: the best tribute to Mecano, the songs of ABBA, the best of Broadway and, for the youngest of the house, the wonderful story of Sleeping Beauty.
The force of Destiny. Tribute to Mecano
December 12, 2021 – 6:00 p.m. and 9:00 p.m.
Ticket price: € 25 adults
30% discount for those under 30 and over 65 years old.
The music of Mecano has penetrated very deep in several generations. This show created by musicians, singers and dancers from Nacho Cano's musicals transports us to a subway ride, where the stops become Mecano songs. A journey through the soundtrack of our lives. The format combines live music, dance and performance of the characters that give life to these songs; all supported by a great audiovisual montage. Pop, rock, rumba, salsa, flamenco, soul or jazz are the great attraction of this show for everyone.
The stage manager Hansel Cherry (La Fura dels Bahus, Cirque du Soleil, National Ballet) has participated in this show that has been touring the Spanish stages for more than 9 years.
Mecano has not only been one of the most international Spanish pop groups in recent decades. Their songs, 30 years after its composition, continue to be cultural hymns that reflect the way of living, feeling and thinking of a broad generation of Spaniards.
Those hymns are not only songs that survive in time, but also cultural landmarks that serve to understand some of the moments in our history more recent.
It is there, in this context, where it is born The force of Destiny, not only as a reminder of an interesting stage in Spanish musical history, but also as a musical, choreographic and theatrical show of experiences and memories.
The wonderful story of Sleeping Beauty
December 18, 2021 – 12:00 p.m.
Ticket price: € 20 adults / children under 16: free
The wonderful story of Sleeping Beauty, it is one of the most anticipated family musicals, produced by Barabú Producciones and ToyProducciones, who have taken the utmost care and dedication to make it one of the most wonderful and unforgettable shows for all audiences. A magnificent staging, fantastic scenery, wonderful costumes, original puppets, which will make up one of the most important musicals in Spain in recent years. All to the rhythm of great musical numbers that go from Pop to Gospel. A great show that will help attendees move into the wonderful world of stories with the aim of exciting and amusing with a beautiful background message.
Professional actors and singers who have participated in shows and musicals such as "Grease", "Hair", "Peter Pan" and a long list of others give life to the characters created by the writer Charles Perrault, and in this case it is about a free adaptation by Jesús Sanz Sebastián of the original script by Alfredo Ávila that tells us a different, hilarious and romantic vision of the Story of Sleeping Beauty. The Show is directed and written by Jesús Sanz-Sebastián, director and scriptwriter of musicals such as "Forever King of Pop" "350 Shades" "The Great Adventure of Pinocchio", "The Little Mermaid and adapter for DISNEY series and films such as" Tinkerbell "
One of the most active directors in the Musical Theater scene in Spain, who has just received the CREA award at the Musical Theater Awards, offers us this show where children entertain and empathize with the characters of this peculiar update of the classic tale. The characters of Charles Perrault are transformed into something alive and palpable, which will be an experience that children will never forget.
ABBA Live Tv
December 18, 2021 – 8:00 p.m.
Ticket price: € 25 adults
30% discount for those under 30 and over 65
An empty television set will soon be filled with cameras, lights, sound, councilmen, makeup artists, stylists, entertainers, presenters, musicians, dancers and singers who have come together to record a live program about the most famous group of all time: ABBA. With this plot premise, Barabu-Extresound presents a dramatized concert that will undoubtedly become an unforgettable experience for the viewer: ABBA LIVE TV.
Era early 70s, and the world of pop music needed a change. It was in Sweden where a group formed by two men and two women was born who would reach the top of the music scene, creating bestsellers that still remain in the memory today …
ABBA unleashed the madness of millions of fans all over the world. Their catchy melodies, simple lyrics, and a recognizable sound of their own made this quartet one of the most important pop music groups of all time. Although their history begins in 1972, it was not until 1974 that they were known worldwide after participating in the Eurovision Song Contest..
ABBA LIVE TV is a concertain dramatized tribute to the Swedish quartet Abba. This is not a simple tribute. The intention is for the public to attend an unforgettable show, with a visually impressive and dramaturgically fun staging, where they enjoy the best voices, impressive choreographies, with comical moments that will enliven a show full of fun and, above all, good live music.
Broadway. A movie musical.
December 23, 2021 -20: 00h
Ticket price: € 25 adults
30% discount for those under 30 and over 65 years old.
Known all over the world, the magical neighborhood of Broadway it was where many years ago it was possible to transfer the most important musical films in Hollywood in a different way of doing theater. This was called musical theater and later it was exported to the world as we know it today: the musical phenomenon.
Broadway review chronologically the greatest hits of musical cinema through the endearing story of a renowned Hollywood film director. It starts at the beginning as Clean shoes on Broadway Avenue, where little by little he will approach this magical world, meet his wife, direct his children and get to dedicate himself to his great passion: Musical Cinema.
Live singers, dancers, acrobats, led screens, incredible props … and more than 200 pieces of costumes make Broadway an unmissable show with which you will spend a unique and unforgettable night through this magical musical journey. 105 minutes of immortal melodies that will immerse attendees in Broadway from the 1930s to today. A quality, fun, family and cultural show that you should enjoy at least once in your life.
Ticket Sales
You can buy your tickets for the ADDA musicals through this link.

www.informacion.es
Eddie is an Australian news reporter with over 9 years in the industry and has published on Forbes and tech crunch.