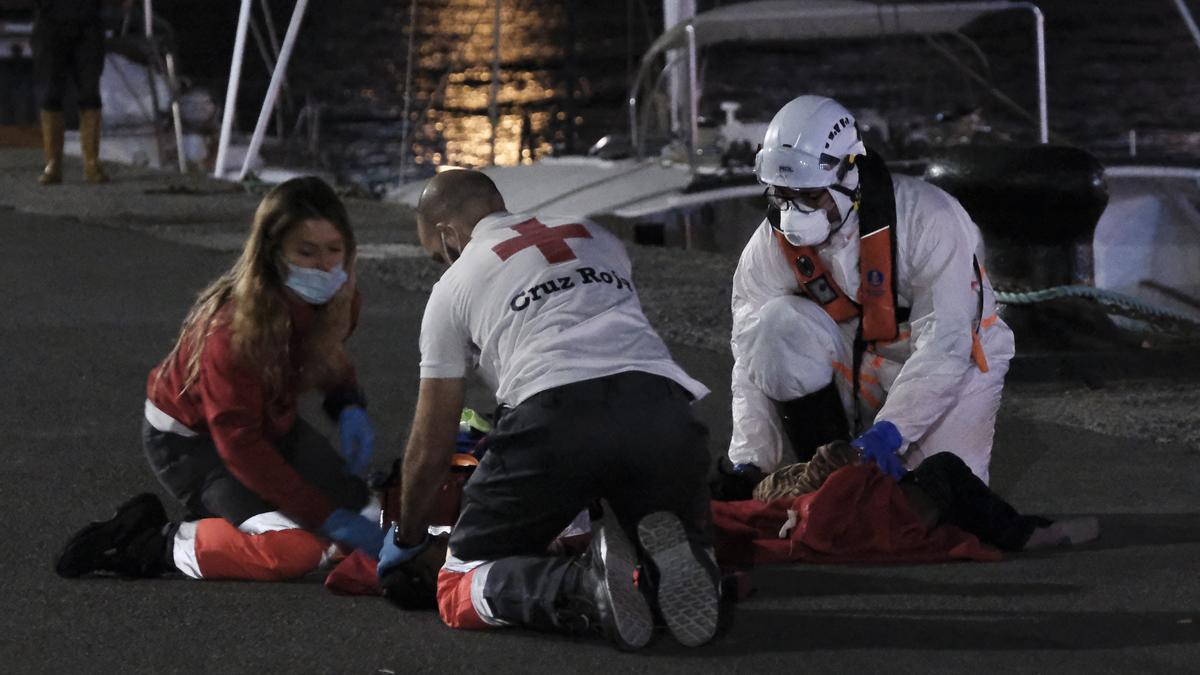 Nabody, the two-year-old immigrant girl who remained in the intensive care unit from the Maternal and Child Hospital of Las Palmas de Gran Canaria in critical condition after recovering from cardiorespiratory arrest upon arrival on the island, has finally passed away this Sunday in the medical center, according to what those responsible have confirmed to Efe.
The little girl, originally from Mali, She had survived since the Red Cross health workers managed to revive her on the Arguineguín pier on Tuesday., who was led by a Maritime Rescue boat that rescued her from a boat in which a total of eight children were traveling, two of them serious, but has not been able to overcome the damage that his body suffered and ended up dying less than a week later.
A time during which he was never able to leave the intensive surveillance unit, because he was always in critical condition and under observation. The efforts of the health personnel who looked after her and who did not give up the hope of saving her to the end have not prevented, in any case, that this Sunday came to an end, in circumstances about which details have not been provided.
The death of the little girl has increased 19 the number of immigrants who have died trying to reach a new country on the Canarian route So far in 2021, taking into account only those of whom there is evidence on the islands, either because their days ended already on land, because they found their bodies in the boats or because their traveling companions have stated that they perished in the sea.
Better luck that Nabody has had another slightly older child who was also admitted seriously next to her but who could already be transferred to the plant on Saturday, as announced by the Maternal and Child Insular University Hospital Complex in a statement. On the same day, a man who arrived seriously ill also left intensive care, where, on the other hand, another adult male was left who until now has not been able to leave them.
The Hospital Complex of Las Palmas de Gran Canaria currently welcomes 19 immigrants from two boats 11 minors and 8 adults arrived on the island this week, in addition to the man who is still in intensive care, according to the latest data provided by those responsible.
"A knock on everyone's conscience"
The President of the Government, Pedro Sánchez, has reacted on social networks to the death of Nabody, the 2-year-old Malian girl who arrived in the Canary Islands on Tuesday in a boat, and has assured that this tragic event is "a knock on everyone's conscience". "There are no words to describe so much pain. Thank you, from the heart, to those who have fought to the end to save his life. It is a knock on the conscience of all of us. Nabody was 24 months old," Sánchez published on his Twitter profile.
The leader of the Popular Party (PP), Pablo Casado, has once again insisted on the need to reach an immigration agreement after Nabody's tragic death, a fact that he has described as "piercing".
Casado has made these demonstrations through his Twitter profile and recalled that five months ago, from Arguineguín, he already asked the Government for that agreement. "You have to face this drama without goodisms or radicalisms, with effective border control and cooperation with the countries of origin ", emphasizes the leader of the popular.



www.informacion.es
Eddie is an Australian news reporter with over 9 years in the industry and has published on Forbes and tech crunch.