Correspondent in Moscow
Updated:
Keep

Since yesterday, Monday, the Russian dissident, Alexei Navalni, is interned in the infirmary of Penitentiary Colony number 2 (IK-2) in Pokrov (Vladimir region), where he is serving a sentence of two years and five months deprivation of liberty. Navalni has been on a hunger strike for a week and yesterday, Monday, according to the Federal Penitentiary Service of Russia (FSIN), he had to be admitted to the prison's medical facilities.
"The convict was transferred to the medical unit, where he is under the constant supervision of the health workers," said the official statement, which also indicated that he had been detected "symptoms of a respiratory disease." Previously, the opposition leader declared through his Instagram account that he had "more than 38 degrees of fever and a strong cough." He further stated that of the 15 inmates that make up his group, "Three have been hospitalized with tuberculosis."
Navalni, who had to go on a hunger strike to get his doctors allowed to visit him under pressure, again denounced "the poor sanitary conditions, the lack of medicines and the bad food." "It is surprising that we do not have the Ebola virus here as well," he declared on Instagram. He complained again of back pain and leg numbness, which is why he asked his doctors to come, not those from the prison infirmary.
Referring to the visit of the former Russian spy, Maria Butina in a report filming on public television, he pointed out that "there is nothing true in what they have broadcast." Bútina told him last week before the cameras that the prison conditions "are better than those of many hotels."
Proper medical care
The lawyer of the opposition politician,Olga Mikhailova, argues that he learned that he was sent to the infirmary by the press while, in the midst of huge security measures around the prison, doctors and activists went to Pokrov on Tuesday to demand that Navalni be allowed to receive adequate assistance medical. The Kremlin spokesman, Dmitri PeskovHe said this morning that he "will be taken care of."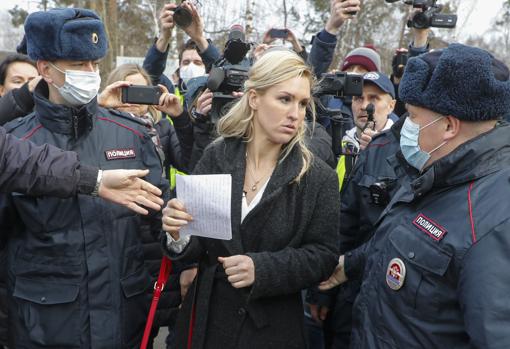 The Police ended up intervening today and detained a dozen people among those gathered near the jailhim, one of them the doctor Anastasia Vasílieva, leader of the organization Alianza Médica. For its part, Julia Naválnaya, wife of the opposition leader, sent to the address of the colony a letter demanding that they allow her husband to receive the identity document, without which, she stated, "she will not have the right to hospitalization outside the prison or to opt for permits" granted for good behavior. The adversary of President Vladimir Putin he has reiterated that prison guards prevent him from sleeping at night as a form of "torture".
After recovering from poisoning suffered in Siberia, the Russian dissident returned from Germany on January 17 and was arrested as soon as he passed passport control. Then, on February 2, he was sentenced to two and a half years in prison for a cause dating back to 2014 that he considers "rigged and politically motivated."
See them
comments

www.abc.es
George is Digismak's reported cum editor with 13 years of experience in Journalism