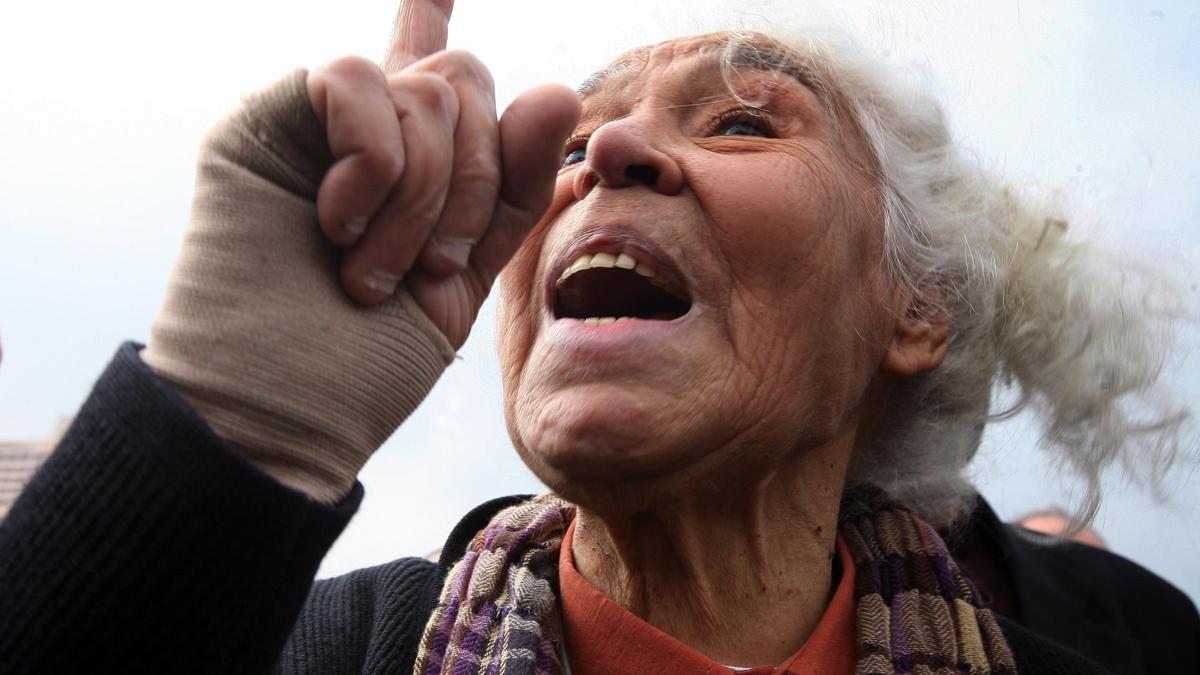 The most prominent feminist and socialist thinker of the last century in Egypt, Nawal al Saadawi, passed away this Sunday at the age of 89, after a prolific writing career and a tireless fight for women's rights, which even took her to jail and exile.
The Egyptian press reported this Sunday of his death, after a disease that has not been specified, in a hospital in the capital where he had lived for just over a decade and where he had offered more and more sporadic lectures and talks.
During his last years of life he always showed himself in public without makeup and without dyeing her hair white to vindicate the role of women in their natural form, and spoke openly criticizing both the patriarchal and capitalist systems.
Al Saadawi was born in 1931 into a wealthy family in the small town of Kafr Tahla, in the Nile Delta, where he began to develop his thinking and wrote her first feminist texts when she saw the discrimination between male and female students in her school. According to his biography, he began to write at the age of 13 in a diary that he kept under his bed and since then he has not abandoned his pen. Neither her imprisonment in the 1980s nor her forced exile from the 1990s to the early 21st century made her give up.
Graduated in Medicine in the 1950s, Al Saadawi he worked as a doctor in his town, where he witnessed the suffering of girls by the widespread genital mutilation, for which a large part of his career was dedicated to helping victims of this practice in rural areas of Egypt. She specialized in psychiatry and became general director of this department in the Egyptian Ministry of Health, from where she founded the magazine 'Health'.
His first book, entitled 'La mujer y el sexo' (1972), was one of his most controversial works, in which addressed society's "fear" of women's bodies and the continued attempt to control it under religious or political pretexts. That work was censored in Egypt and Al Saadawi was fired from his job and the Sanitary Culture Association that he founded was closed: "All this for daring to write about the private and public, corporal and intellectual misfortunes of women," as he recounts in one of his books.
In 1981 she was imprisoned and accused of "crimes against the State", after criticizing the regime of former President Anwar al Sadat and the capitalist system. Between bars he wrote his most outstanding novel; "The Fall of the Imam", in which he denounced how men use religion, politics and morality to control women. To this day it is still prohibited in Egypt. Many of his works have been translated into several languages ​​and adapted into films or plays in France, the United Kingdom, the Netherlands, Australia, Italy, Norway or Senegal.
Al Saadawi had to leave Egypt in the 1990s after receiving death threats from Islamist groups and settled in the United States, where taught at universities and created the subject 'Creativity and Rebellion'. He returned to Egypt shortly before the revolution that overthrew former dictator Hosni Mubarak in 2011 and participated in pro-democracy protests broke out, and in recent years has devoted himself to continuing to spread his thinking.

www.informacion.es
Eddie is an Australian news reporter with over 9 years in the industry and has published on Forbes and tech crunch.