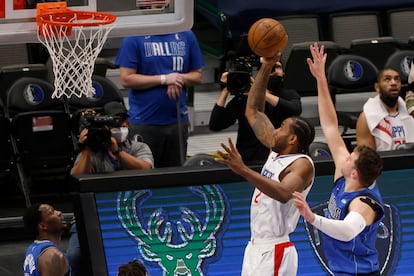 Kawhi Leonard spoiled the party being prepared in Dallas. His magnificent performance, with 45 points, led the Clippers to the victory that forced the seventh and final game of the first round of the playoffs now equaled three. On Sunday, at 9:30 p.m., the duel will be played from which the last team classified for the Conference semifinals will come out, where they will face Utah.
The Mavericks missed a chance to get past the first round for the first time since winning the title in 2011 with Dirk Nowitzki. They have lost all five times since. The tie between Dallas and Clippers has had one surprising constant: all six games have been won by the visiting team.
Leonard, the 29-year-old forward and the star of the Clippers where he turns his second year after winning the ring with Toronto in 2019, broke his scoring record in the playoffs. Since he began his career with the San Antonio Spurs in the 2011-2012 season, he only missed those of 2018, a year in which he only played 9 games due to a mysterious injury.
He had 45 points against the Mavericks with a series of 18 baskets on 25 shots from the field, including 5 of 9 on 3s and 4 of 4 on free throws. He also added 6 rebounds, 3 assists and 2 steals.
Leonard was paired with Luka Doncic quite a few times, although the Slovenian guard had to deal more with Reggie Jackson. Doncic was not successful in the triples, with 2 of 9, but he played an excellent game and finished with 29 points, 8 rebounds, 11 assists and 4 steals. The game was very even and with constant alternatives until the Clippers gave the small but definitive stretch with five minutes remaining.
The Clippers attack was monopolized by three players: Leonard, Paul George with 20 points, 13 rebounds and 6 assists and Reggie Jackson, with 25 points, 9 rebounds and 4 assists. The Mavericks, in addition to Doncic, added in attack thanks mainly to Hardaway, with 23 points, and Marjanovic, with 12 points and 9 rebounds. Porzingis is still far from his best numbers and had 7 points and 5 rebounds. The four Mavericks players who came off the bench contributed only 4 points. Serge Ibaka, injured in the back, is still short.
Dallas, 97; Clippers, 104
Dallas: Doncic (29), Hardaway (23), Finney-Smith (11), Porzingis (7), Marjanovic (12) –equipo inicial-; Kleber (0), Powell (0), Cauley-Stein (2), Brunson (7) y Richardson (6).
Clippers: Jackson (25), Morris (4), Leonard (45), Batum (6), Paul George (20) –equipo inicial-; Zubac (2), Rondo (0), Mann (0) y Kennard (2).
Partials: 26-28, 22-17, 32-25 and 20-31.
18,324 spectators at the American Airlines Center in Dallas.
First round
Clippers-Dallas (21.30, domingo)
Conference Semifinals
Brooklyn-Milwaukee (1.30am, early Saturday to Sunday)
Sixers-Atlanta (19.00, domingo)
Brooklyn-Milwaukee (1.30am, early Monday-Tuesday)
Phoenix-Denver (4.00 am, early Monday to Tuesday)
You can follow EL PAÍS DEPORTES in Facebook Y Twitter, or sign up here to receive our weekly newsletter.



elpais.com
Eddie is an Australian news reporter with over 9 years in the industry and has published on Forbes and tech crunch.