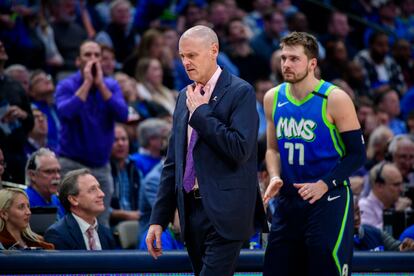 Rick Carlisle resigned as coach of the Dallas Mavericks, ending a 13-year stint during which the Texan team won the only title in its history. It was in 2011, with the German Dirk Nowitzki as the star. Carlisle was Luka Doncic's coach during the Slovenian guard's three seasons in the NBA. According to ESPN, Mavericks officials were increasingly concerned about the tension between Carlisle and the 22-year-old Slovenian guard. Doncic made several disapproving gestures during some games when he disagreed with Carlisle's decisions and even yelled at him in the presence of his teammates and assistant coaches.
The crisis at the Mavericks' leadership began Wednesday with the resignation of Donnie Nelson as president of operations. Nelson, the son of legendary coach Don Nelson, had held the position since 2005. He had previously been an assistant coach on various teams, including Dallas from 2000 to 2002.
Carlisle explained that he has communicated to the franchise owner, Mark Cuban, that he will not manage the team again. "It was a personal decision. My family and I have had an incredible 13 years of experience working with great people in a great city, "Carlisle said in a statement quoting Nelson, VP of basketball operations Michael Finley and the season's title co-stars. 2010-11, Dirk Nowitzki and Jason Kidd. Jason Terry, Shawn Marion, Tyson Chandler, JJ Barea and Pedja Stojakovic also stood out on that team.
Carlisle, 61, has 836 wins and 689 losses during a head coaching career that began in 2001 with Detroit, continued at Indiana and took him to Dallas in 2008. At this time, he was the third longest-serving coach in the league. NBA after Gregg Popovich at the San Antonio Spurs and Erik Spoelstra at the Miami Heat. Since winning the title in 2011, the Mavericks have qualified six times for the playoffs and all six fell in the first round, including the last two, already with Doncic. The Clippers have been his executioner for the past two years. Carlisle's balance in the playoffs it was 33 wins and 38 losses.
Offer to renew Doncic
"I really love Rick Carlisle," Cuban told ESPN. "He was not only a good coach, but also a friend and a confidant. Our relationship was much more than basketball. And I know that will never change. The Mavericks will hire a new director of operations to relieve Nelson, and it will be later when they begin their search for the coach who will replace Carlisle. The Mavericks exercised an option to extend Doncic's contract until 2022. The Slovenian point guard will receive $ 10.1 million next season, but the Mavericks are expected to present him with an offer to renew his contract for five years and about 200 million dollars. Dollars.
Middleton and Anteto decide against the Nets
Milwaukee edged Brooklyn 104-89. The series is tied to three victories and will be decided in the seventh match to be played on Saturday (2.30, early morning from Saturday to Sunday Spanish time). Khris Middleton and Giannis Anetokounmpo made the difference in the sixth game. Middleton completed an excellent performance and excelled in all facets with 38 points, 10 rebounds, 5 assists and 5 steals. Antetokounmpo added 30 points and 17 rebounds. The Bucks dominated on the rebound and added 12 more sacks. Holiday, with 21 points, completed the trio of players who monopolized the Bucks attack. The rest of the team only added 15 points. The Nets accused the loss of Kyrie Irving, injured. His attack was also based on a trio formed by Kevin Durant, with 32 points and 11 rebounds; Harden, with 16 points, 5 rebounds, 7 assists and 4 steals; and Blake Griffin, with 12 points.
You can follow EL PAÍS DEPORTES in Facebook Y Twitter, or sign up here to receive our weekly newsletter.



elpais.com
Eddie is an Australian news reporter with over 9 years in the industry and has published on Forbes and tech crunch.