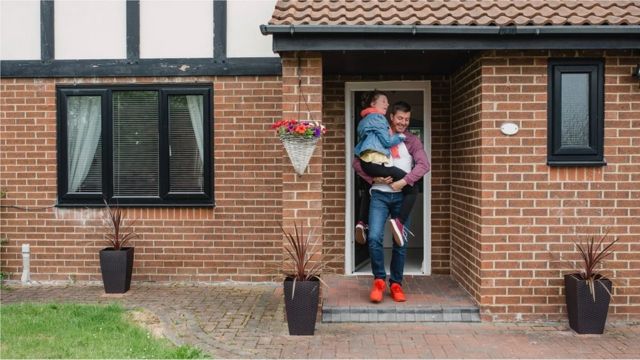 Separating from a partner is always difficult, especially if the children are caught up in the process.
But some parents are turning to an innovative solution to make the process easier.
"Birdnesting", o nesting, is an alternative that allows children stay in your home forever and spend time with each parent.
Each legal guardian is at home during their agreed custody time, and goes elsewhere when "off duty."
The concept gets its name from the way parents raise their chicks in the bird world, keeping them safe in a nest and alternately entering and exiting the nest to care for them.
"We wanted keep stability for children, and not just breaking everything at once, "says Niklas Björling, 38, of Stockholm, Sweden, whose young family" nested "for eight months after he and his wife separated.
"The children had the opportunity to maintain their home, school and friends as usual," he explains, and they also avoid the stress of having to move between two houses.
An upward option
Although it is still a relatively unknown concept globally, the birdnesting it seems to be on the rise in western countries, mainly among middle-class families.
Divorce lawyers have reported an increase in the number of "nests" in places like the US, Australia and the Netherlands.
On Sweden, where the custody of the children is shared equally, it has been an agreement taken by divorced parents during decades: some have done it even since the 70s.
Björling stayed in her mother's spare room during her children's "time away" while her ex-partner rented a room in a shared house.
Those with more resources can choose to buy individual apartments, invest in a second shared property, or convert part of the main home into an annex, says Dr. Ann Buscho, a California therapist who has written a book on "nesting."
For many, it's a "temporary or transitional arrangement," but some of his clients have done it for years, he says.
However, as more families begin to embrace the concept, lexperts are divided on its impact both in children and in parents.
What consequences can it generate?
Buscho says it's important to understand the context behind the trend, including the influence of non-traditional celebrity parenting plans on divorcees from millennials.
The actress Anne Dudek and her husband, Matthew Heller, went public that they were "nesting" after their divorce in 2016.
It is also known that the actress Gwyneth Paltrow he frequently stayed in the house he used to share with the musician Chris Martin, from Coldplay, long after they broke up.
"I think Gwyneth Paltrow's 'conscious decoupling' had a big effect here. They kind of did nesting modified. And I think that just the idea of ​​a respectful and kind divorce had a huge impact on people, "says Buscho.
"There's just more awareness that it's an option available to people," says Ben Evans, an experienced family law attorney at Coop Legal Services in England.
Stephen Williams, another lawyer for the British firm Ashtons Legal says that the mental health of minors is prioritized.
"People have become much wiser about the need to think about their children's development," he says.
Does it really benefit minors?
Whatever the reasons separated pairs are trying nesting, judging its effectiveness is complicated.
Since it is a fairly new trend, there is no comparative data on the well-being of children in these types of families compared to other co-parenting arrangements.
Buscho has interviewed dozens of "nesting" families for her research, plus she did it herself over a 15-month period with her ex-husband and three children in the 1990s.
Strongly believe that it is healthier for childrenas it allows them to follow routines and adapt more slowly to changes in the family.
"If you ask kids, they will always tell you that divorce is not fun. They don't know what a no-nesting divorce is," he says.
"But what they will say is that the parents bore the burden of the divorce and they did not."
That's a perspective shared by Linnea Andersdotter, who is now 36 years old.
She went through that experience in Stockholm for several years, after her parents separated when she was 11 years old.
"Lol it felt like a very dramatic thing when they first let me know – that they were going to split up – but when I found out that I didn't have to move, that really helped me not freak out," she says.
"They kept me in a safe little bubble while they resolved the issue of the breakup. "
But critics argue that can create a "halfway house" situation that does not help children processthe reality of separation from his parents.
Eline Linde, who lived like this near Oslo, Norway, as a teenager says the experience was "strange and confusing."
"I didn't know if it was mom's or dad's house, or if they were testing why they were going to get back together," recalls the 28-year-old.
"I think we should be very careful when promoting the idea," agrees Malin Bergström, a child psychologist and scientist at the Karolinska Institute in Stockholm.
"It is a way to protect children and protect them from reality, basically. I think it is a threat to mental health," he considers.
On the contrary, he says that "facing challenges together with parents, such as moving out of the family home, can give children the tools to become a resilient adult who can handle things in the future."
Bergström also has doubts about the assumption that "nesting" is less stressful for children than moving between two-parent households.
He participated in several large studies at the Center for Health Equity Studies in Stockholm, which suggested that there was very little difference in children's mental health in typical joint custody arrangements, compared to those who lived in a traditional nuclear family with two parents.
What about the parents?
There is also disagreement about the impact of nesting on parents.
Family law attorney Ben Evans believes it works for some couples because it can help "buy a little time and relieve the pressure on them".
Both parties can reflect on future steps, he argues, and avoid impulsive or costly decisions.
Buscho says that a nesting period also provides "respite" to help ex-partners to discover what they want their long-term co-parenting plan to look like, or it could even facilitate a reconciliation.
But Bergström argues that nesting can have a negative psychological impact on divorced parents, by stall your ability to get over the breakup.
"The natural impulse after a divorce as a parent is to create your own life, deal with things, move on," he argues. "And I think the nests go against that momentum."
Åse Levin, a 50-year-old graphic designer from Stockholm, says that happened to her when she tried to nest for six months after she and her partner separated.
The couple walked in and out of the same one-bedroom rental when they were away from their two children: "I know we both had a lot of anxiety being in that apartment … you didn't have your things, so it wasn't a cozy place to go. ", remember.
"These trapped in some kind of bubble or something like that, you can't do anything. You can't go on. "
In the end, her partner stayed at her old apartment and her father helped her buy a small place within walking distance.
While "nesting" can reduce changes in children's lives, it also creates new logistical challenges for adults, from discovering new routines for housework to navigating what happens if someone starts dating someone else.
"A client came home and found a used condom in the bedroom when her turn came. That didn't work out so well," says Buscho. "There need to be very detailed agreements".
"You need to have a good relationship with your ex," agrees Bodil Schwinn, from Sollentuna, Sweden, who says he had a good time for two years and plans to stick with the arrangement for at least another 18 months.
She and her ex-partner divided the cost of someone to clean the house and buy things for the refrigerator according to need: "We never discussed things like 'you bought meat' or 'you ate my meat or my cheese', we just take care of that," says Schwinn.
She put a cap on the fact that her ex's new girlfriend slept in their shared bed every two weeks, so they agreed to turn their home office into a new bedroom.
"A lot of people think this is really weird, but that's fine with me. I'm happy he's happy and found someone," she says.
The future of nesting
Lawyer Stephen Williams believes that"nesting" is not a solution for everyone, and says newly separated parents shouldn't feel pressured to jump on the train.
For starters, some couples will lack the financial resources or support networks to find alternative accommodation during "time out."
It also says that it will not be the right choice if there is still a high level of conflict, if one of the parents cannot commit to the arrangement, or if it just does not feel like the right deal.
"In my opinion, nesting is just one of several positive interventions that can help parents care for their children after separation, "he says.
But supporters of the trend hope it will become more common.
Buscho notes that shared parenting between divorced parents seemed radical in the 1950s, but is now widely accepted as a positive option for many families.
"My hope is that in the future, as nesting awareness grows, it becomes routine, that people begin their separation process with a nesting period of a few months or even longer."
In Stockholm, Niklas Björling enjoys a small rental apartment within walking distance of his ex-partner, which he shares with his children every two weeks, and with his new girlfriend when they are away.
Reflecting on his experience, he says, "I don't regret doing it … But you want to free yourself completely after a while."
Now you can receive notifications from BBC News Mundo. Download our app and activate them so you don't miss our best content.

www.bbc.com
Eddie is an Australian news reporter with over 9 years in the industry and has published on Forbes and tech crunch.