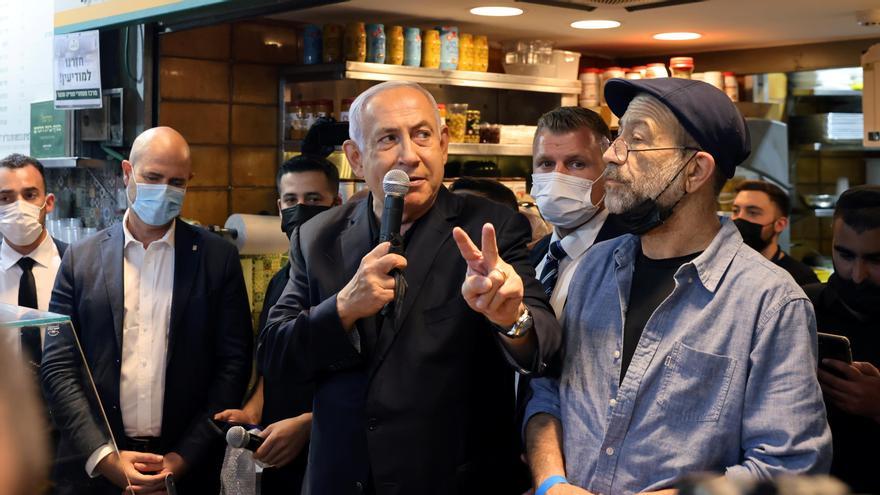 The polling stations opened at 05.00 GMT in Israel, which celebrates its fourth elections in two years, the most expensive in its history, marked by anti-measurescoronavirus and special centers to guarantee the vote of infected and isolated people.
Total, 6,578,084 Israelis over the age of 18 are called to vote in 13,685 voting centers. The day is a national holiday, and public transport is free to facilitate the mobility of people to vote.
Voting will end at 22:00 p.m. (20:00 GMT), when a count begins, which could be delayed for several days due to the increase in so-called "double over" votes, which this time comes not only from embassies, military bases, prisons or hospitals, but also from those who are in quarantine or infected with COVID-19.
Every voting table is equipped with protective plastics and hygiene products to prevent the spread of the virus. More than 4.5 million Israelis are vaccinated with the two doses, which makes many take today's vote more calmly.
There are 342 centers with isolated tents for quarantined citizens who can go by car and deposit their ballot without getting out of the vehicle.
The infected can vote at 409 points with highly protected tents. The Central Electoral Committee travels them with adapted transport. Still, of the roughly 15,000 patients eligible to vote, only about 1,000 registered to vote.
38 voting points are also enabled in hospitals, where there are about 500 infected in serious condition. Likewise, buses that function as mobile ballot boxes were adapted to be used in the event that a school must close due to the presence of virus carriers.
The total cost is estimated at about 170 million euros, almost double than the previous elections of March 2020.
Despite the foreseeable exhaustion of the electorate due to the repetition of elections, the participation of last March 2020 was 71%, higher than the 69.4% of September 2019 and the 67.9% of April of the same year.
A total of 37 lists concur in these elections to obtain representation in a Parliament of 120 seats. The issue that marked the campaign was not the right-left axis, but pro or anti-Netanyahu positions.
Benjamin Netanyahu, prime minister for 12 years and today prosecuted for corruption, will try to revalidate the position, but the polls do not guarantee a sufficient majority of 61 seats together with his allies to form a government.
These are the parties that choose to obtain representation and the forecasts of seats according to the voting intention surveys:
– LIKUD, right-wing, led by Prime Minister Benjamin Netanyahu and favorite to win the elections with 30-32 seats.
– YESH ATID, centrist, by Yair Lapid. It would be second force, with 16-19 seats. He wants to unseat Netanyahu.
– NEW HOPE, the new right-wing party, by Guideón Saar, former Netanyahu Likud minister. 10-8 seats.
– YAMINA, ultranationalist, by Naftali Benet. Its 10-8 deputies could be key to determining a pro or anti-Netanyahu government.
– LISTA UNIDA, coalition of Arab parties, current third parliamentary force and leftist. It would go down from 15 to only 8 seats.
– SHAS, Mizrahi ultra-Orthodox Jews (from the Middle East and North Africa). Netanyahu's traditional partner. 8-7 deputies.
– UNITED JUDAISM OF THE TORAH, Ashkenazi ultra-Orthodox Jews (of European origin). Traditional ally of Likud. 8-7 seats.
– ISRAEL NUESTRO HOGAR, secular and far right, by Avigdor Lieberman. He opposes Netanyahu and the ultra-Orthodox. 7-6 seats.
– LABORIST PARTY, center-left, led by feminist Merav Michaeli. He lost weight in recent years. 6-5 deputies.
– RELIGIOUS ZIONIST PARTY, far-right and anti-Arab coalition. Favorable to a government led by Netanyahu. 5-4 seats.
– BLUE AND WHITE, centrist, by Beny Gantz, partner of the current Netanyahu government. 4 seats, although it could not pass the electoral threshold of 3.25% of votes and be left out.
– MERETZ, leftist and pacifist. Fight to pass the electoral threshold and maintain parliamentary representation. 4 seats.
– RAAM, Arab and Islamist, split from the United List. If he passes the threshold with 4 seats, he could support the pro or anti-Netanyahu bloc.

www.informacion.es
Eddie is an Australian news reporter with over 9 years in the industry and has published on Forbes and tech crunch.