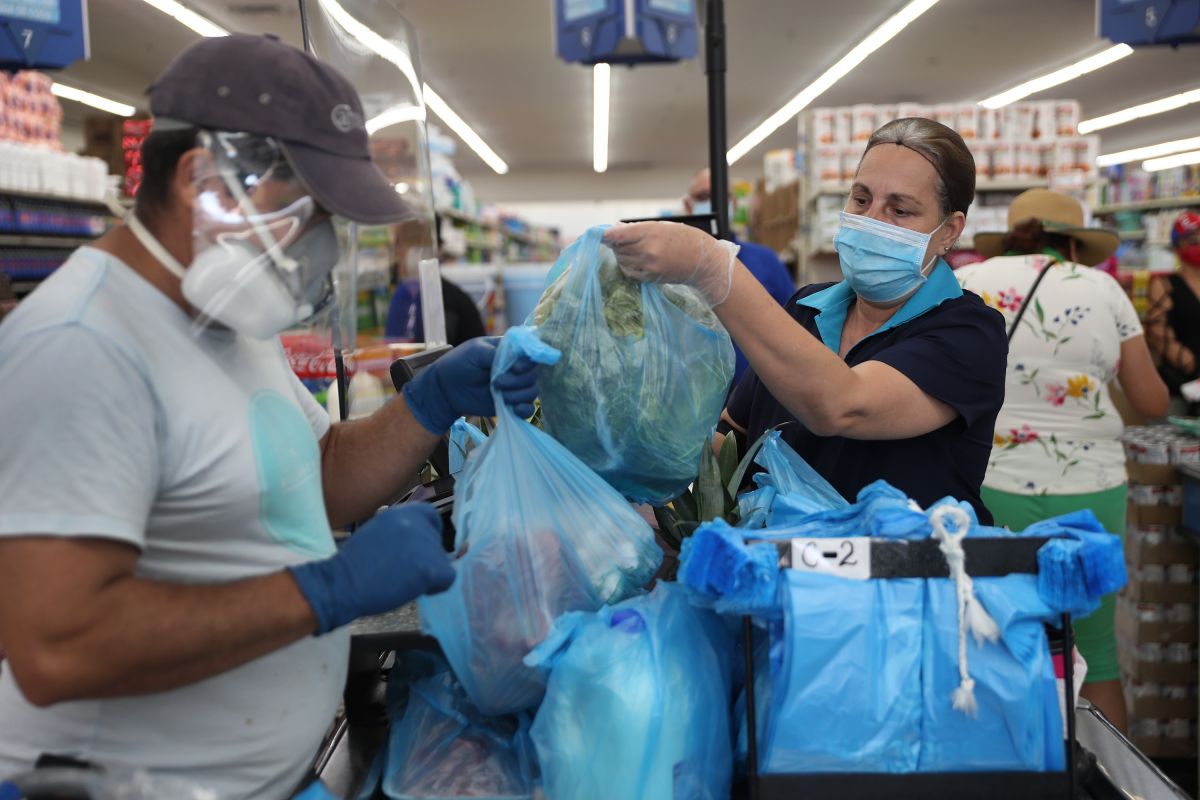 A high percentage of essential workers are undocumented immigrants.
Foto:
Joe Raedle / Getty Images
With the impact of the pandemic on health workers and other areas, a bill was launched in the Senate called LEE THE HERO, o la New York Health and Essential Rights Act (S. 1034), which would require the Departments of Labor and Health to implement applicable minimum standards for workplace safety and which was approved Monday.
The Senate Democratic majority introduced legislation to defend state workers. The "NY Hero Act" has been promoted by the Deputy Majority Leader Michael Gianaris, which requires the creation of health and safety standards against Covid-19 and other airborne infectious diseases in the workplace, ensuring a greater voice of employees at work.
Regulations should include protocols on testing, PPE, social distancing, hand hygiene, disinfection, and engineering controls. Workers would also have a direct role in monitoring and reporting violations through workplace health and safety committees and employees would be protected from retaliation for using their rights under the law.
This project will ensure that agricultural, domestic, restaurant and other industrial workers have the necessary protections to protect their lives and fight this pandemic, regardless of your immigration status.
"The State Senate took the correct and moral step in passing the NY HERO Act to protect New York workers, including more than two million essential undocumented workers across the state," it said in a statement Tuesday, Eddie A. Taveras, FWD.us New York State Immigration Director, who added: "When workers are equipped with the necessary tools to slow the spread of Covid-19, and with which the community and the state's economy will benefit. With the passage of this bill, New York is making sure that we are doing everything we can to save lives and avoid closures, which is not feasible when considering that families and small businesses have to pay rent first. day of the month regardless of whether there is closure or not ".
"As the coronavirus pandemic continues to rage in our state, the NY HERO Act will establish uniform health and safety parameters to protect all essential workers from COVID-19 and other airborne diseases, to reduce outbreaks and protect the rest of the workers. I am grateful to the interim leader of the Senate, Michael Gianaris; and from the member of the Assembly, Karines Reyes, for her leadership in this matter. I urge the State Assembly to urgently pass this important bill. No other life should be lost because we wait too long to act, "said Taveras.
"Too many workers have already sacrificed their health for the benefit of our community. The New York HERO Law will honor your efforts by giving you the tools to protect yourself while on the job. I appreciate the support for this proposal from my colleagues in both houses and from so many organizations in New York, "said Congressman Michael Gianaris.
The NY HERO Act is endorsed by more than 100 labor, community and safety organizations, including the AFL-CIO.

eldiariony.com
Eddie is an Australian news reporter with over 9 years in the industry and has published on Forbes and tech crunch.