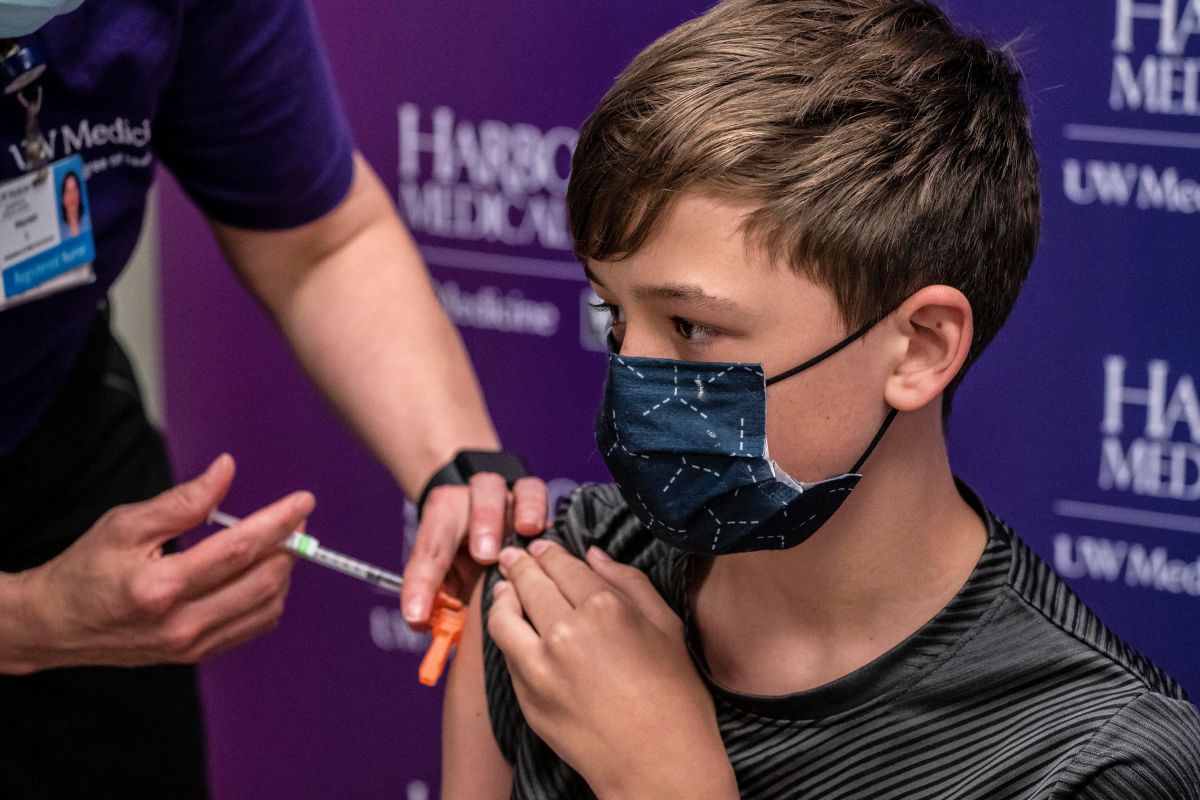 The key word for parents when making the decision to vaccinate their children is "confidence". And to try to get more and more families to trust that the injection will be safe, effective and that it can even save the lives of young people, the City now has a new plan: to bring the immunization process of children to their own schools.
Mayor Bill de Blasio announced this Wednesday the launch of a new pilot plan which will begin next Friday in four public schools in The bronx, which will consist of applying the doses in the same schools that children who are eligible to be injected against COVID-19 attend.
"This is something that will open a world of possibilities for greater vaccination, and for this we are working together with the Health Department, the Education deparment, the UFT (teachers union) and the objective is to turn schools into places where children can also be vaccinated ", explained the Mayor.
The neighborhoods that will participate in the plan are some of those that have been hit hardest by the pandemic, and depending on the results obtained in the Bronx, the pilot program will be extended in the coming weeks to the five boroughs. The objective is to try to reach as many students as possible, taking into account that there is only less than a month left beforeThe end of the school year on June 25th.
The City Council Health Committee Chairman Mark Levine expressed that the great importance of this new initiative, "is that vaccination is being brought to the people, since many are very busy with work, family obligations and do not have time to plan to go to a vaccination center after the school to take their children. And for this reason, if instead they have it right there in the school building, the situation changes completely ".
In addition, the councilor stressed, "schools are an excellent place to do this because there are already records of children's ages, family consents can be easily obtained and there is a relationship and trust with parents."
And to focus precisely on those 12 to 15 years old, they will be middle schools where the mobile vaccination centers will be taken, since the other adolescents of 16 and 17 years in high schools were already eligible to be vaccinated for several weeks.
23% of youngsters vaccinated
"Now we have hundreds of thousands of youngsters who can be vaccinated, something that they could not do a month ago, and that is why we will redouble our efforts to focus on vaccinating these minors and attracting their parents to decide to do so," said the Mayor.
The current number of vaccinated among the 12 at 15 years was up to Wednesday 118,000, which represents 23% of all children under those ages who are already eligible to receive the injection.
De Blasio stressed as a very "interesting" fact that currently New York City is leading across the country, as the place where more young people have been immunized, since at the national level the average figure is 22%. "From the moment we made the announcement that they could now be vaccinated, we have seen a great increase in interest in giving the dose to children."
The City Vice Commissioner for Health, Dr. Daniel Stephens, acknowledged that there is still a lot of ground to gain in this segment of the population that was the last to be authorized to receive vaccines, because there are many doubts among parents, and he sent them a direct message: "We know that this is a decision important, and that is why we want to assure you that the pfizer vaccine for teens it is safe, effective and lifesaving. And another positive side is that after being vaccinated, children can go back to being children again … go to summer camps, play with friends and visit grandparents in a safe way.
The pediatrician indicated that to further clarify the doubts, the Department of Health is carrying out between June 1 to 7, the 'Youth Vaccination Week', in neighborhood blocks to give more information, answer questions and with educational activities family members to publicize more about immunization. There will also be food and music, as well as materials from different municipal agencies and community groups will be delivered. For more information on all these activities visit: nyc.gov/nycmobilevx
The City of New York had managed to administer at least 8,340,355 doses of coronavirus vaccines as of Wednesday, but the goal is to reach 5 million New Yorkers 'full' vaccinated by July.
Aquarium opens as a vaccination site
And with the same objective of encouraging more families with children to get vaccinated and to better enjoy all the options that will be available for family delight this summer, because as De Blasio said "vaccination equals freedom", the Mayor announced the opening another attractive place as an immunization center.
"Now we are opening this new site in the New York Aquarium in Coneand Island, with the idea of ​​encouraging parents to be enthusiastic and bring their children to be immunized in this place ", said the president, adding that for children between 12 and 15 years old" doses of the Pfizer vaccine will be available, and they can receive it only by going to the place without prior notice or by making an appointment ".
And in addition to the injection, children and their families will receive free tickets for future visits to the aquarium, as is already the case with the The Bronx Zoo and the Museum of Natural History in Manhattan.
The site will run until June 30, weekdays from 10 am to 5 pm
"Parents are really responding to these incentives, because it gives pleasure to bring their children to a place that children love, and in addition to keeping them healthy, to see them have a great time in those places they enjoy," said the president.
De Blasio recalled that in addition to being able to go without making an appointment, those who prefer or feel more comfortable making one can call 877-VAX-4NYC or visit the website: vax4nyc.nyc.gov
Youth Vaccination in NYC:
118,000 vaccinated among those aged 12-15 years
23% of that segment of the population is already vaccinated.
8,340,355 doses in total have been put into the entire population.
4.3 million New Yorkers have received at least 1 dose (more than half of the city's population).

eldiariony.com
Eddie is an Australian news reporter with over 9 years in the industry and has published on Forbes and tech crunch.